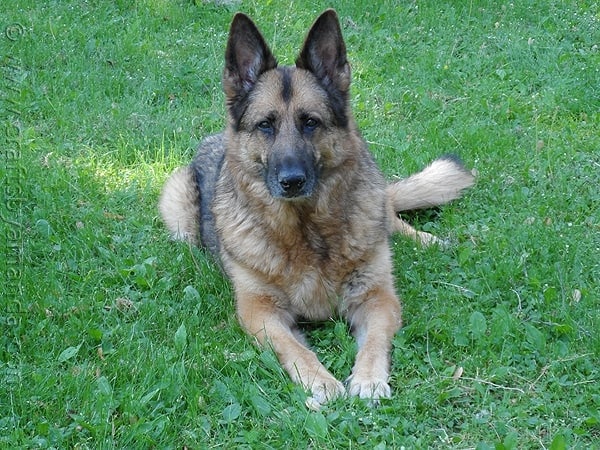 About a month after the Twin Towers fell in New York City my sweet puppy, Angel, was born. I wanted to bring her home the very moment I saw her fuzzy little face, but I had another week to wait. At a tiny and precious 6 weeks old, Angel became a member of our family. That was in November of 2001. Like any puppy, Angel was a handful that could have quickly spiraled out of control if not trained in basic obedience. So it was off to obedience class we went.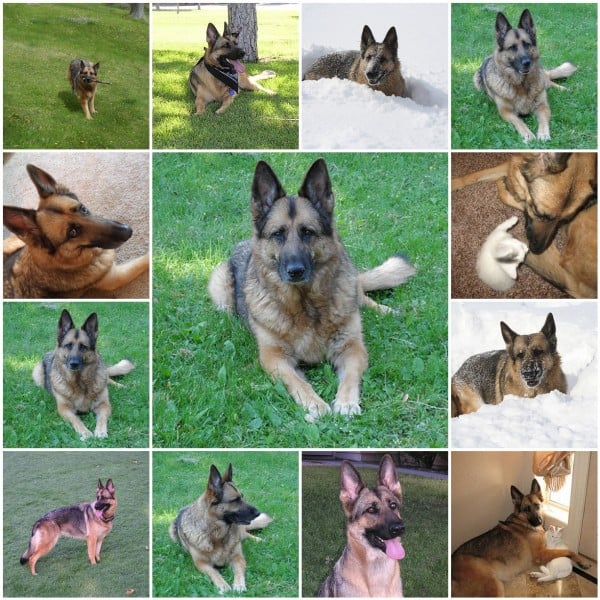 The training classes we attended taught on the reward method, where treats are given when your dog responds correctly. Our trainer suggested Pupperoni because they are soft and easy for dogs to chew, easy to break into small pieces, and dogs just love them. There were all sizes and shapes of dogs in the class, from the teeny tiny to really big, and everything in between. Yet all owners showed up with the suggested treat and all of the dogs responded positively. There wasn't a mouth in the house that didn't love their treats!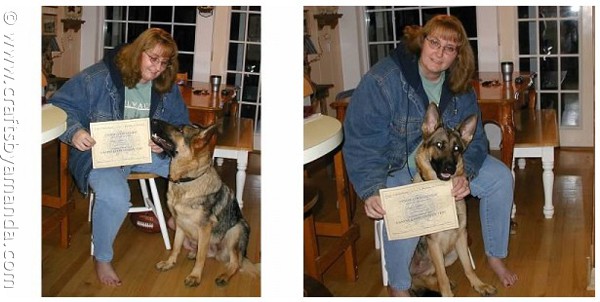 After two levels of obedience classes, when Angel was 18 months old she earned her Canine Good Citizen Award, given by the American Kennel Club. This award is given to dogs who behave in public with strangers and can be handled safely. I was so proud of her, of us. :) We had done it together.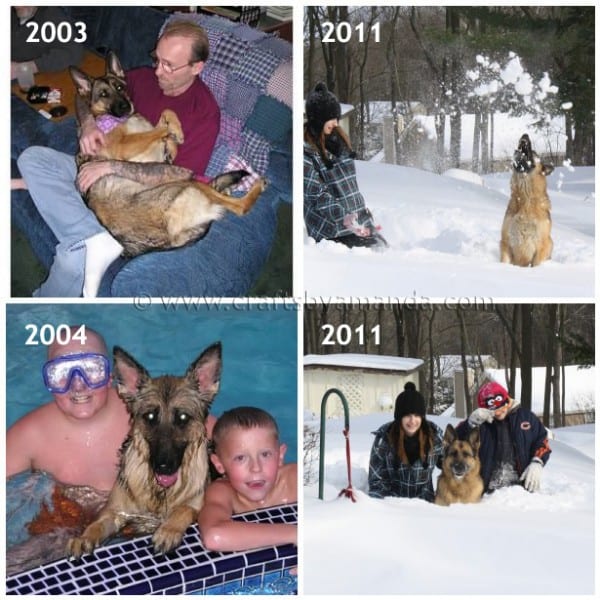 Angel is now 10 years old. She has grown with our family, from screaming, running little kids to bustling, busy teenagers. Our now 13 year old son hadn't even reached his third birthday when Angel graced our lives. My 20 year old son was in fifth grade, so she's definitely grown up as part of this family.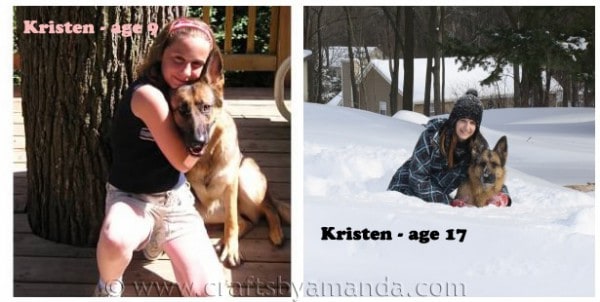 Every morning after she heads outside to do her business, she comes back in for a treat. Like clockwork. She's very much entwined in our lives and due to her age, we are beginning to fear when that inevitable day will come that she leaves this earth. While that day will eventually come, she's still happy and healthy, although a little slower now. She will be forever in our hearts! #iLoveMyK9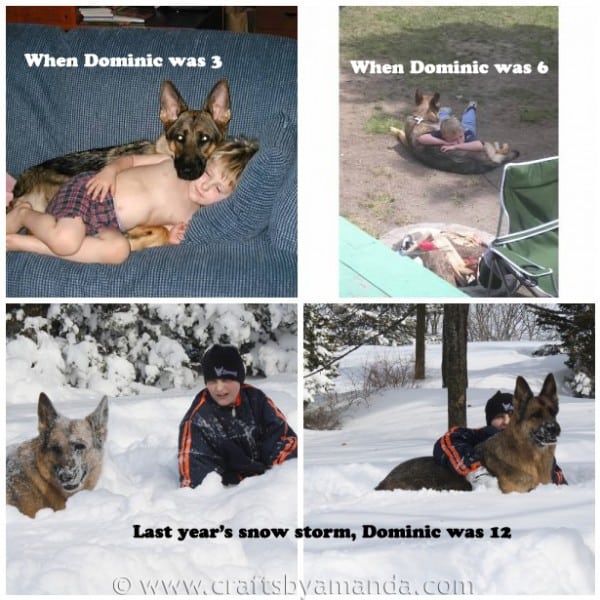 Below is a little video demonstrating me using Pup-peroni treats in the same way that she learned almost 9 years ago.
When asked to put together a small gift basket for a lucky doggie out there, I knew I wanted to include Angel's favorites. She of course loves Pup-Peroni, has been a fan of Milk Bone for many years, and has recently taken a big liking to Milo's Homestyle Kitchen treats too! Milk Bone recently came out with this doggie Trail Mix and Angel just loves it!

So it was off to WalMart to collect the goodies while picking up some for Angel too.

As you can see they have a huge selection to choose from, and from the looks of the shelves I am not the only dog owner who was here today! ;-)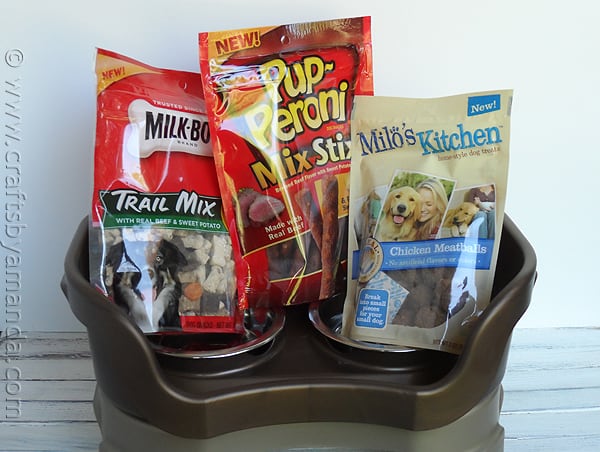 I live in a rural area, so there aren't any animal shelters close by. However, our local grocery store usually has a big barrel near the exit door where shoppers can drop in donations of food, treats, toys, whatever they like, as they head out the door. That was my intention originally, when I discovered that the barrel was still there but all the signage had been removed. :(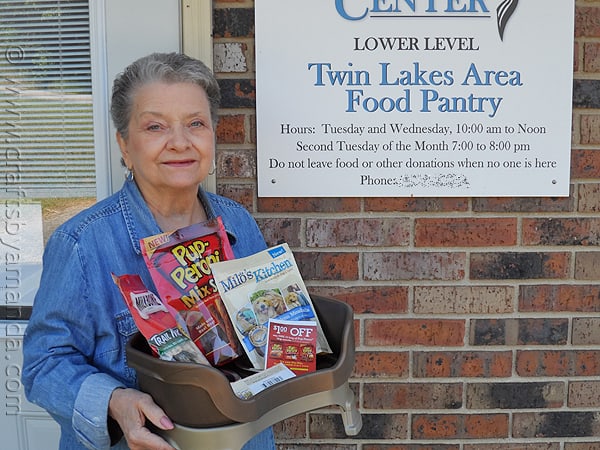 So instead I decided to donate my selected treats and a feeding station to the Food Pantry that is run through the local Catholic church. The Food Pantry offers donated food items to local needy families. Many of those needy families have dogs too! So this was a perfect solution to the barrel-gone-missing. To top it off, they had a basket of coupons in the waiting area and I found one for Pup-peroni AND Milo's! So I added those to the "basket" as well. :)
If you would like to share the doggie love you can follow Milk Bone on Twitter, Pup-Peroni on Twitter, and you can also like Milk Bone on Facebook.
Are you a dog owner? What are your dogs favorite treats?
Disclosure: I am a member of the Collective Bias™ Social Fabric® Community. This shop has been compensated as part of a social shopper insights study for Collective Bias™. #CBias #SocialFabric" All opinion are 100% mine.
Amanda Formaro is the crafty, entrepreneurial mother of four children. She loves to bake, cook, make kid's crafts and create decorative items for her home. She is a crafting expert and guru in the kitchen and has appeared online and in print publications many times over the years. She is also the editor for the Home & Garden channel at Craft Gossip and owner of FunFamilyCrafts.com.
Latest posts by Amanda Formaro (see all)