There will most likely be varied opinions on this project. Some will like it, some will not. I've found that with makeovers, some people are resistant to change and prefer to keep things the way they were. I've found that to be truer with the Baby Boomer age group, and I guess that makes a lot of sense. Because the things that are finding their ways into thrift stores and garage sales are the things that the Baby Boomer generation grew up with. And now the younger set is buying up those items for pennies on the dollar, slapping on a coat of paint and getting rave reviews about their makeovers.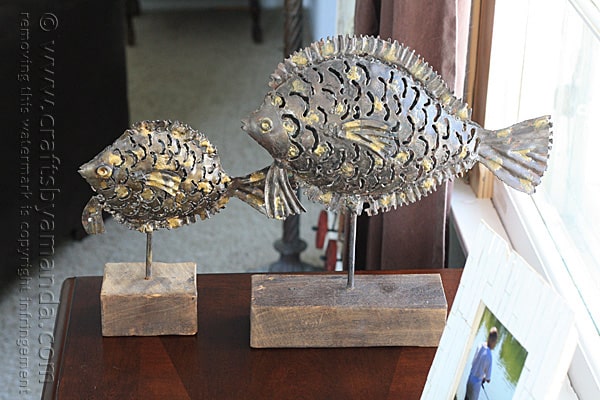 I had that happen with my Ceramic Bird Makeover from back in February. People on my Facebook page had mixed feelings. Some liked the bird the way it was, in its original form. I didn't. Nothing personal, it's just not my style. I like the fresh look that a coat of paint provides so I opted for that. It met with resistance on one side and total acceptance on another. And that's okay! That's what makes this great world go around. If there weren't different opinions, it would be a pretty boring place to live.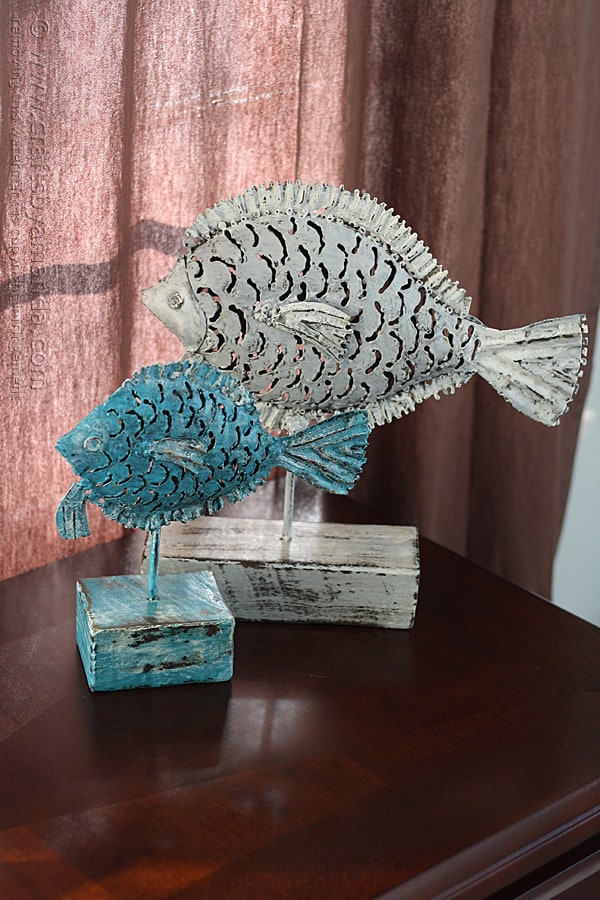 That's how I feel this project will be viewed. I found these metal fish somewhere, and honestly I don't even remember where. I often frequent thrift stores, I love to hit garage sales, and whenever there's a barn sale? You can bet your butt I'm there. So I picked these up somewhere in my travels. Last year, the year before, not even sure when. I just thought they were kind of cool looking. But I'll be honest, I immediately thought of painting them. I never had any intention of keeping them as is.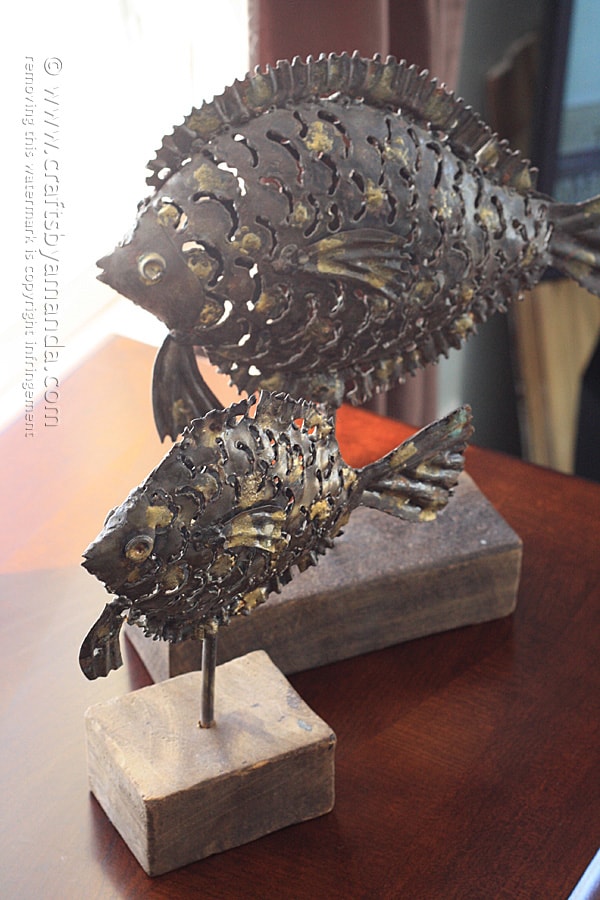 Fast forward to present day. I sat down at the craft table with some nice beachy colors of DecoArt's new Chalky Finish Paint. I lined them all up, then shared this photo via Instagram and Facebook.
HINT: You can find me on Instagram here and on Facebook here. 
There were many different suggestions on how to paint them, but in the end I decided on one muted and one pop of color.
I had also shared this cool looking candlestick on Instagram and Facebook and asked for opinions. I wanted to know whether people would paint it or keep it as is.
There were many different opinions on this one! I have yet to do anything with it, I just haven't decided yet.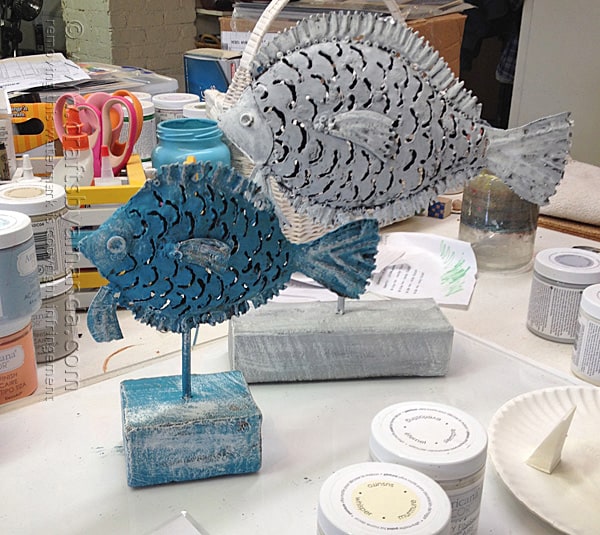 I did end up using the same color as what I painted my stenciled table with. The chalky finish paint doesn't require any primer nor do you have to prep the surface, other than making sure it's clean. So this was simple enough. I used a cosmetic sponge to put on the first coat, then where needed, I dabbed on a second coat.
The bases are wood, so I used some sandpaper to give them a bit of a worn look, but that was it basically.
I happen to really like the way the fish turned out. They have great texture and the blue fish really adds a bit of pop to that area of the room without being overwhelming. My husband isn't as enthusiastic. I think he's allergic to color because he didn't like my stenciled table either. Ha!
When I asked him what he thought of the fish, his response was "Weird." Well, okay. Thanks honey! I think they've grown on him though because he hasn't tried to hide them in a cabinet somewhere. ;-) I like them, and that's what counts.
More Coastal Projects
If you enjoyed this and like the coastal or beach theme, here are several more of my projects that you might like. See all the beach projects here:
Amanda Formaro is the crafty, entrepreneurial mother of four children. She loves to bake, cook, make kid's crafts and create decorative items for her home. She is a crafting expert and guru in the kitchen and has appeared online and in print publications many times over the years. She is also the editor for the Home & Garden channel at Craft Gossip and owner of FunFamilyCrafts.com.
Latest posts by Amanda Formaro (see all)