This is an update. I actually posted this in September of 2008, but hadn't included the pattern or instructions. I've received a couple of requests, so I've decided just to go ahead and add the pattern and tutorial. Would love to hear if you made it!
Original post from 2008: Just a quickie post this morning to show off a design I did several years ago. The bees are dying off and driving me crazy on my balcony, so I thought of this as we close out summer. LOL Hope to post more soon:
Honeycomb and Bees Jar
design by Amanda Formaro
download or print the pattern
Tip: if you are painting on jars, you can prepare your surface by washing the jar, completely removing all labels and glue, then giving the jar a rinse in white vinegar or rubbing alcohol. Allow the first coat of base coat to dry COMPLETELY before attempting a second coat.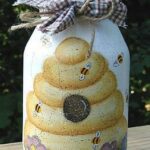 Print Project
Honeycomb Design Jar
Supplies
liner and shader brushes

Micron black craft pen

acrylic matte spray sealer

old toothbrush
Paint Colors
white

antique white

crocus yellow

antique gold

pink quartz

bouquet pink

bonnie blue

navy blue

leaf green

dark forest green

yellow

black

autumn brown
Instructions
Base coat surface with 2-3 coats of white.

trace pattern onto base-coated surface.

Paint entire honeycomb with antique white. Float all edges with crocus yellow, then fine float with antique gold.

Paint honeycomb opening with autumn brown. Darken some autumn brown with a little black and shade opening with the mixture. Paint small highlight line with thinned white.

From left to right, paint the first two flowers with pink quartz, float edges with bouquet pink. Paint third flower with bonnie blue and float edges with navy blue. Paint flower centers with crocus yellow.

Paint the grass blades with leaf green, shade edges with dark forest green.

Paint the bees' bodies with yellow and the wings with white. Use the black Micron craft pen to outline wings and draw on bees' stripes. Use a small criss-cross pattern on the wings. Use the pen to draw dashes for the flight trails.

Splatter completed painting with white and white black using an old toothbrush.

Sign your work! Spray the completed project with 2-3 coats of acrylic spray sealer (matte) according to directions on can.
If you would like to see other crafty creations, visit the following craft carnivals that I participate in!
Latest posts by Amanda Formaro (see all)