So many crafts, so little time, right? One of the challenging parts of crafting is picking out the perfect supplies. And when it comes to glue, it can be kind of confusing to know which glue is right for your DIY project. We put together this list of some of our favorite glues and why they are best for the different crafts you do.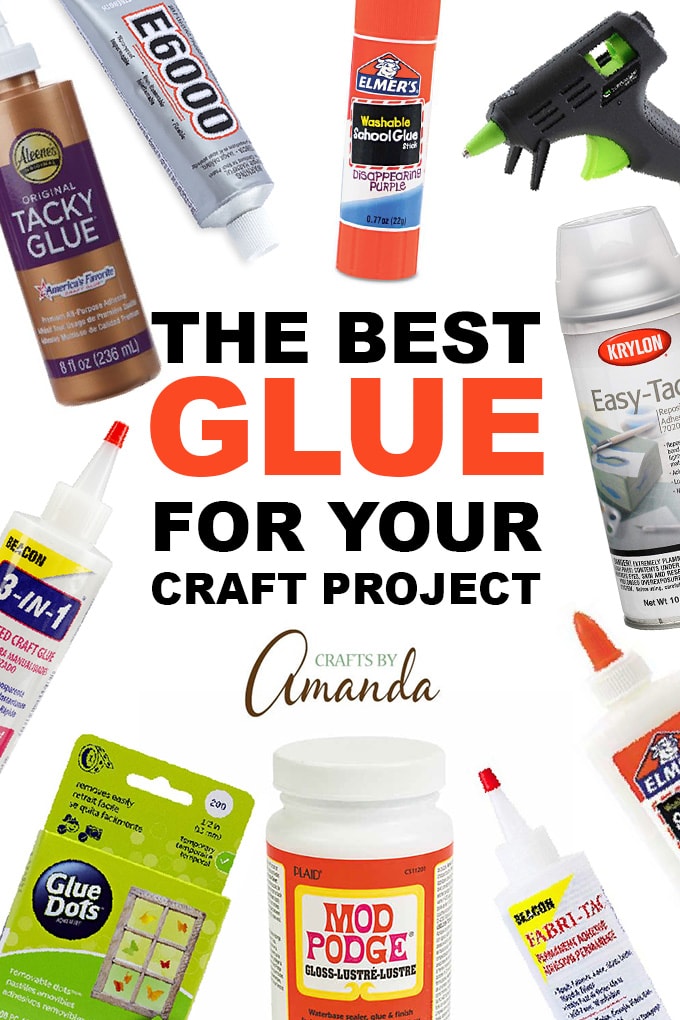 How to Choose the Right Glue for Crafts
Now you can take the guesswork out of choosing an adhesive in the craft store aisle and put that time and energy back into making stuff! Here are some insights on choosing glue and some of our top personal faves!
A little background on glues a.k.a. nerding out on glues
Not all glues are created equal and while most crafters have a favorite go-to, they need different glues for various surfaces and DIY needs. There's not really a "one glue fits all" solution for crafting and DIYs.
The process of making glue is extremely scientific. Don't believe us? Check out this article from

Explain That Stuff

that shares the history of adhesive and forces in glue.
When it comes down to picking the right glue it really is about finding the adhesive that will bond "this surface to that surface" as well as other considerations like flexibility and how it holds up in varying weather temperatures. There are many formulations of glue from water-based (white glue) to polyurethane (Gorilla Glue) to hot glue. Each serves a uniquely different bonding need.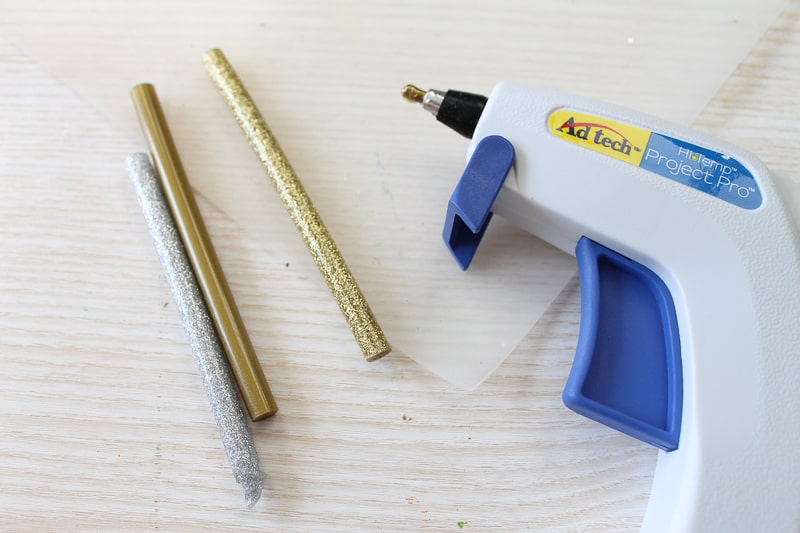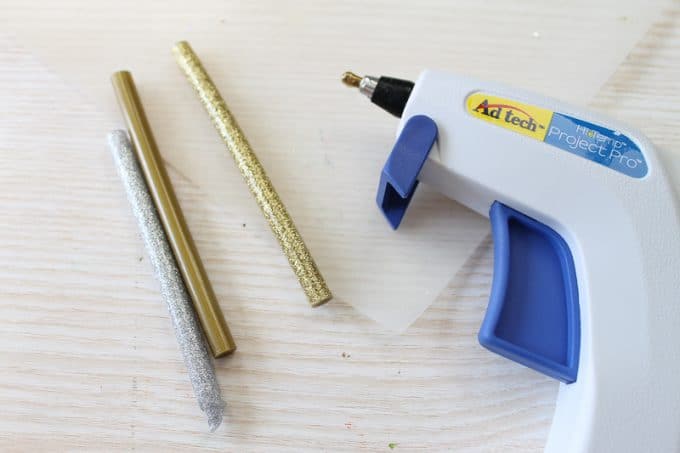 Before you begin working with your glue
When it comes to picking the right craft glue, always do a little test. In fact, from our favorite picks below we encourage you to do a practice project to try out a new glue. Did you know that craft companies who make glue oftentimes do "this to that" tests so they know exactly how their glues bond on different surfaces?
If you're an avid crafter, this may be a fun investigative project for you to try so you gain insight on what your glues can do. If you simply can't test your surface before you glue it, try the glue on a small out-of-sight area of your project so you can have some idea of the results you can expect!
Common Questions About Glue
Craft by Amanda Top Glue Picks
The adhesives mentioned below are widely available at big box stores like Walmart, craft supply stores like Michaels and Hobby Lobby, as well as online through Amazon. For your convenience, a link to each glue on Amazon has been included for you. There you can see reviews and comments and read even more about the product.
Beacon 3 in 1 glue
Average price $7.50 – get it here
If you are a general crafter who jumps from card making to small wood crafts to school projects, this is the glue for you!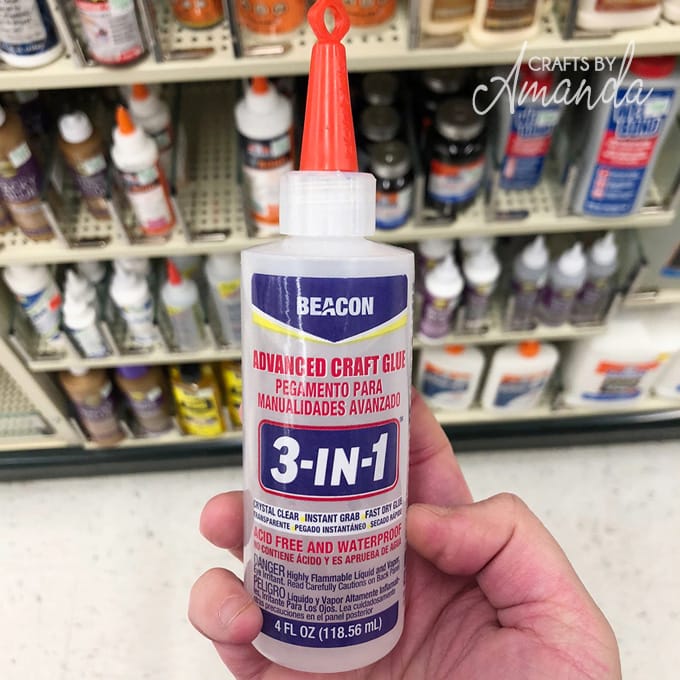 Scrapbookers and paper crafters absolutely love this glue because it doesn't buckle the paper upon application and it bonds embellishments on quickly and securely.

This glue is great for plastic, wood, and acetate and is a favorite adhesive for model-making, dioramas, or batch producing crafts to give or sell.

This glue dries quickly, but you have a little open time to shift your surfaces around after you adhere them.
It is also pretty forgiving; if you get excess glue on your project simply roll it off with your finger after the glue is dry.
The only downside to this glue is that it sometimes can flow out once opened so get that cap back on ASAP.
Project I've made with Beacons 3 in 1 – Ugly Sweater Ornaments
Tacky Glue
Average price $4.50 – get it here
Aleene's Tacky Glue was originally created in the 1950's as a crafting solution for floral arrangements. This is the glue a lot of us grew up with and is a popular white glue perfect for all ages.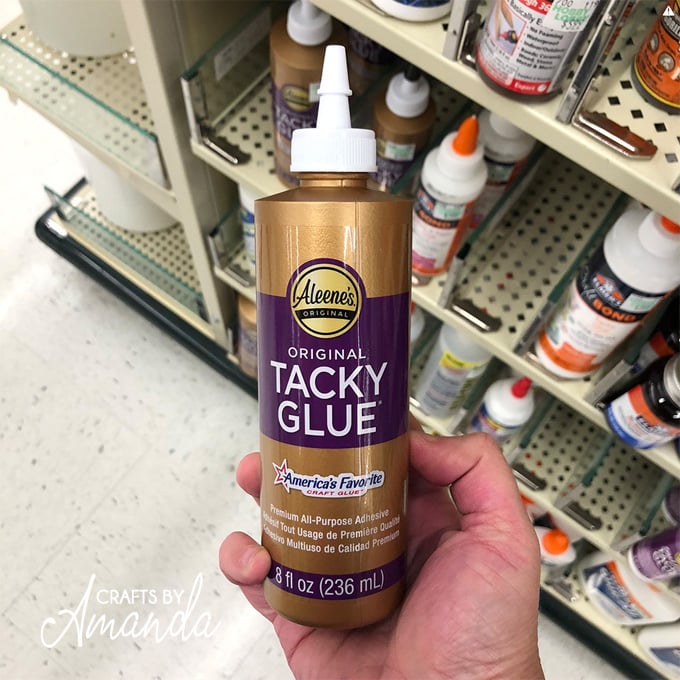 It's the ideal glue for decorating dollhouses, making crepe paper flowers, or even gluing yarn to styrofoam.

This thick glue stays tacky while drying so you have time to reposition your craft if needed.

Sometimes the bottle can be a little difficult to squeeze, so keep your bottle upright (with the cap on) when not in use. This way your glue is always ready when you need it.
Tip – Tacky Glue also comes in a handy "upside down" bottle so the glue is always near the tip!
Project I've made with Tacky Glue – (almost everything on this blog actually, but here's one!) Let It Snow Scrabble Tile Ornament
Elmer's Glue
Average price $1.50 – get it here
Elmer's is the best glue to use when crafting with children, especially in a large group setting. This classic white school glue isn't as thick and secure as Tacky Glue mentioned above, but it's less expensive and you can generally get it in larger quantities for big project use.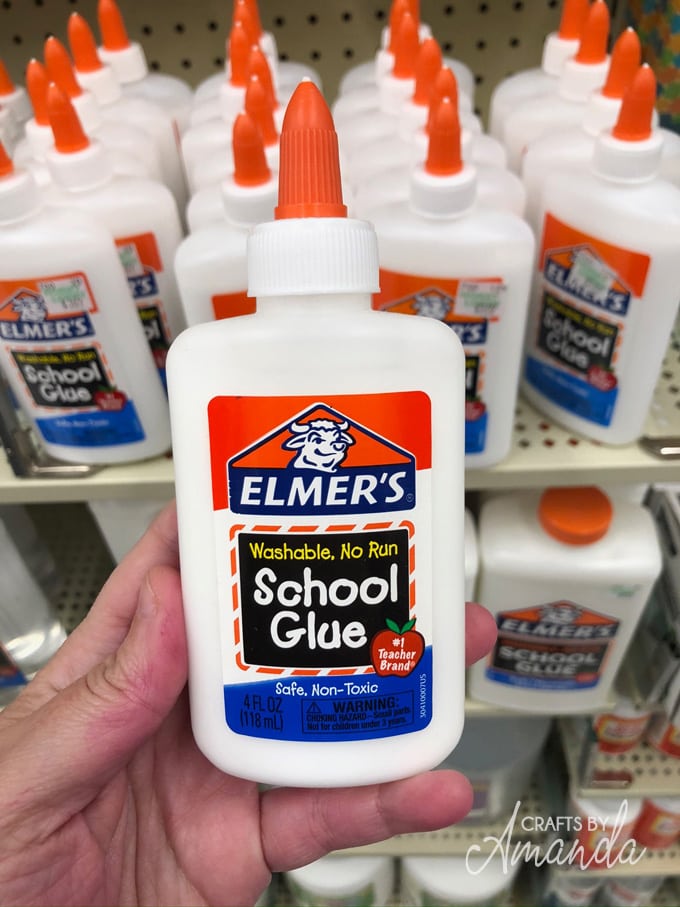 Elmers works well with classroom craft staples like construction paper, popsicle sticks, tissue paper and more.

The best use for Elmer's these days is in making slime! Slime can get pretty really expensive since the entire bottle of glue is used, and Elmer's is a good choice because of the price point and it is a safe and non-toxic product trusted by moms, teachers, and kids alike.

Available in white, clear, glitter, and glow formulations, there's a lot of options to choose from.
Project I've made with Elmer's Glue – Floam Slime
Hot Glue
Average price $10.00 – get it here
Hot glue (also known as thermoplastic) has been a long time favorite of crafters for its immediate bonding ability and its versatility in the materials it can glue together.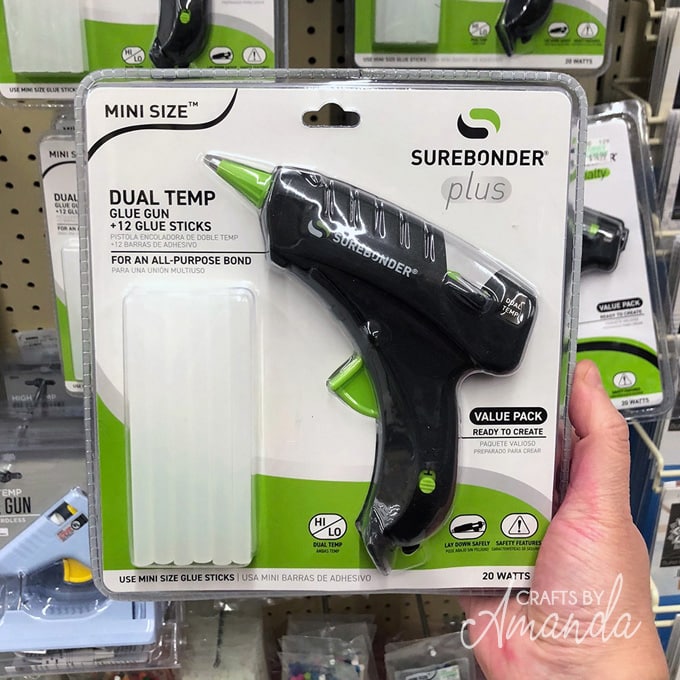 As soon as the glue is released from the chamber it only takes a few seconds for the glue to go from gooey to hard.

Since the '80s hot glue has been an ideal choice for making wreaths, hair bows, glass gem jars, and floral crafts, but generally isn't the best glue solution for small crafts with detail precision.

The name hot glue says it all and many crafters still have hot glue battle scars, but many options like this one by Surebonder offer both hot and cool temps.

Regardless, hot glue is best for adult use or heavy adult supervision.

Project I've made with Hot Glue – Hanging Mason Jars
Beacon Fabri-Tac
Average price $10.00 – get it here
Not only is Beacon's Fabri-Tac one of the top fabric adhesives in the Amazon marketplace, but it's also been dubbed by many crafters as "hot glue in a bottle".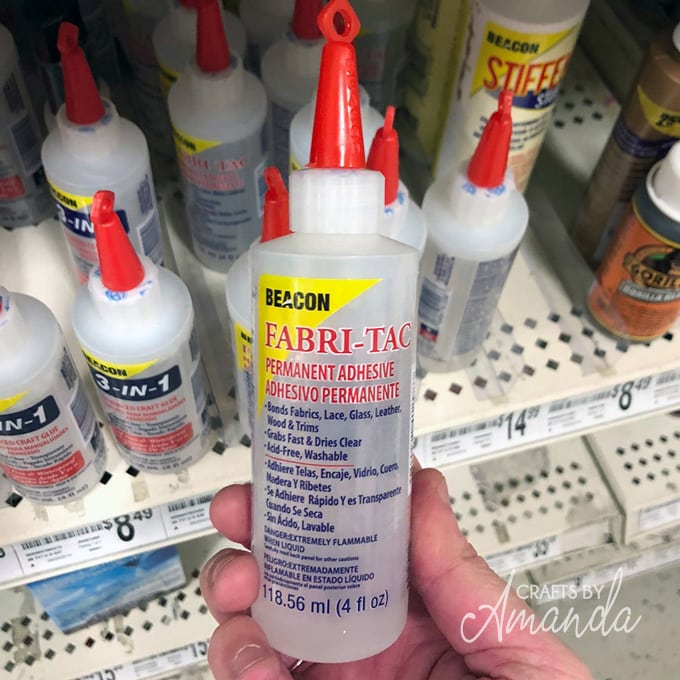 The difference with Fabri-Tac is that when applied to fabrics, felt, and trims, it immediately starts to bond to your fabric upon contact.

This glue doesn't seep through fabrics compared to other competitor fabric glues and it's great for heavy upholstery projects like curtains, Halloween costume-making, as well as no-sew projects like adding on patches or hemming pants.

Crafters love that it dries clear, is flexible, and is machine washable.

The main downside to this glue is that it sometimes produces spiderweb-like strings so you have to be careful when applying it.

It also has a quick drying time so you have to work fast once the adhesive is applied.
E-6000
Average price $5.75 – get it here
Sometimes you need an adhesive that is made with a super strong hold for surfaces like metal, glass, or stone and E6000 is the answer.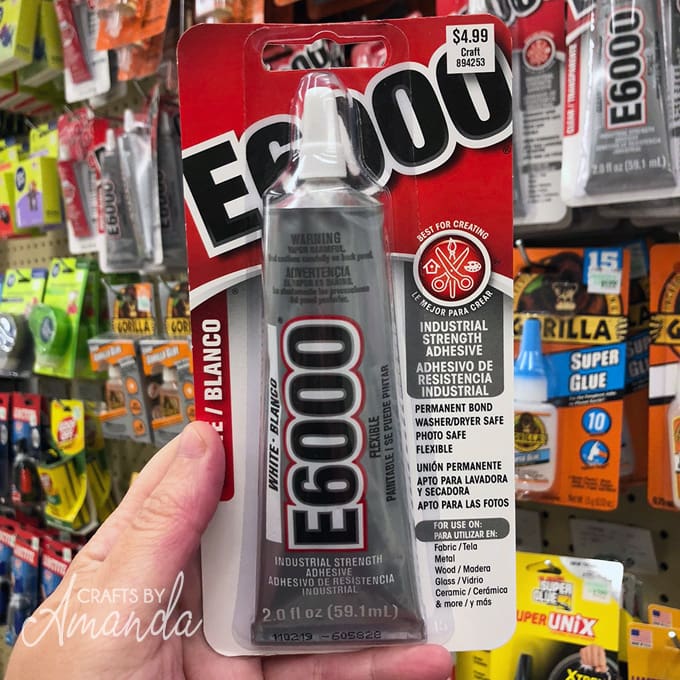 E6000 is ideal for both indoor and outdoor projects where you need serious hold and on the flip side it's a favorite for jewelry and rhinestone application.

This site has used E-6000 as our go-to for outdoor garden markers and wooden signage as well as adding magnets to the back of marbles – it works like an absolute charm every time.

While this is an amazing glue, the toxic odor can sometimes be overpowering, so it's best to craft with it in a well-ventilated area.
And a word to the wise, it's made for adult-use only.
Project I've made with E6000 – Wooden Planter Box
Mod Podge

Average price $6.00 – get it here
When it comes to decoupage Mod Podge is simply the best. It's a multi-faceted crafting adhesive – it's a glue, sealer, and finisher all in one.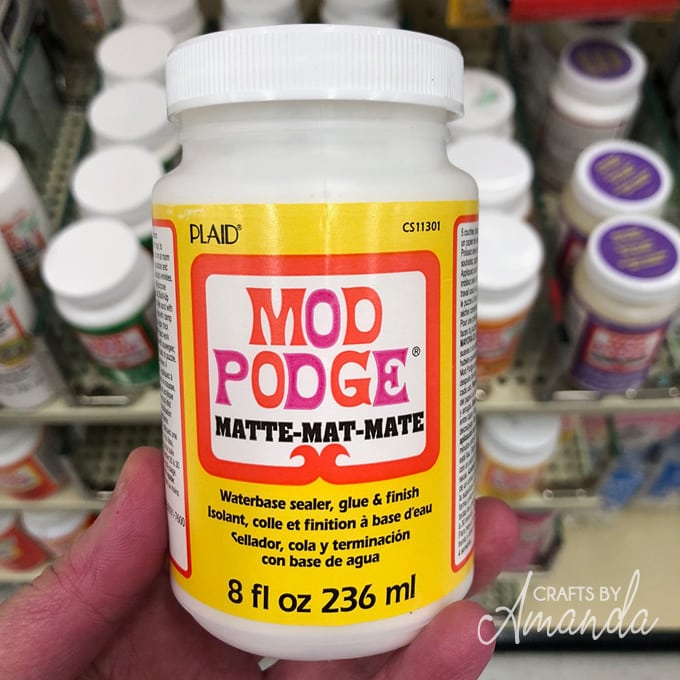 Easy to apply with a paintbrush or foam brush, it is great for use with paper, fabric, and laserjet photos for all kinds of cool projects.

In the past on our blog, we've used Mod Podge to craft creative luminaries, wall art, clay pots, coasters, and more!

There are several variations of finishes like gloss, matte, and sparkly so it's always good to test beforehand on your project to

find the right one for your DIY.
Project I've made with Mod Podge – How to Make a Photo Cube
Elmer's All-Purpose Glue Sticks
Average price $0.50 – get it here
If you are looking for a mess-free crafting solution, then Elmer's Glue Stick is the perfect adhesive choice.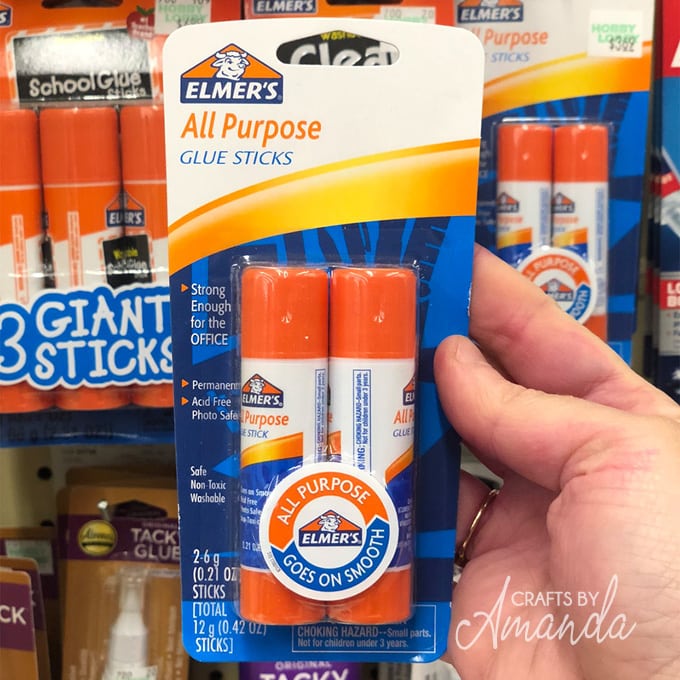 This glue stick is a favorite for moms and teachers alike because there's no messy wet glue aftermath.

They also are non-toxic, acid-free and photo-safe making them an ideal choice for mounting photos to scrapbook paper and collage!

Unlike some other glue sticks, this stick doesn't clump and easily glides onto surfaces and it's also available in a purple glue glide-on stick so that you can clearly see where you just applied your glue.

The only downside is that it quickly dries out if the cap is left off, so make a habit to put that cap on after use.
Project I've made with Elmer's Glue Sticks – Paper Plate Fruit
Krylon Easy-Tack
Average price $11.00 – get it here
There are so many reasons to love Krylon's Easy Tack spray.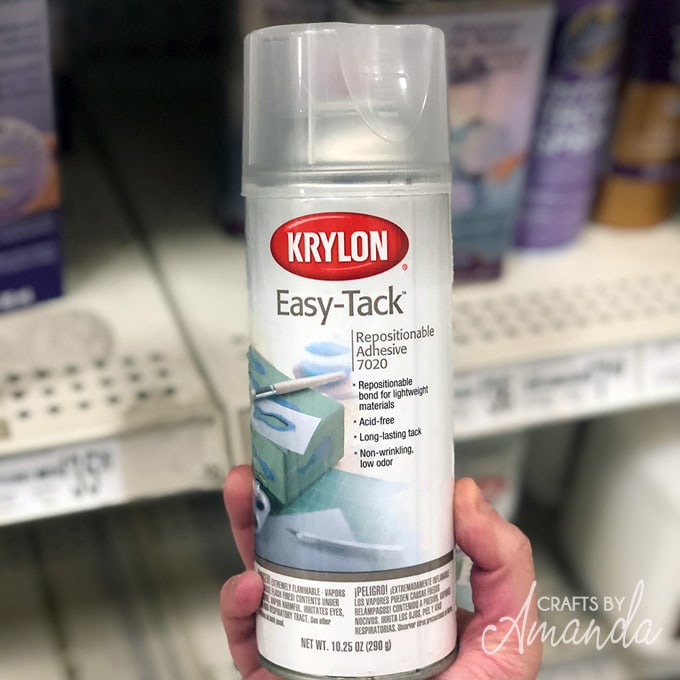 Once sprayed on your surface it can be adjusted, removed and reapplied making it is a great go-to for a variety of crafting tasks.
It's a crafty favorite for making Cricut, Silhouette, and Scan N Cut mats sticky again and it's also a fave for glitter tumbler makers for applying glitter.
When used with stencils it can easily be tacked on walls, t-shirts, wood, surfaces and more and then removed without damaging the surface.
It also for mounting photos and applying fabric to lampshades, wood, and walls to give your room an instant makeover.
Glue Dots Adhesive
Average price $5.50 – get it here
Glue Dots are a wonderful invention and offer a multitude of uses.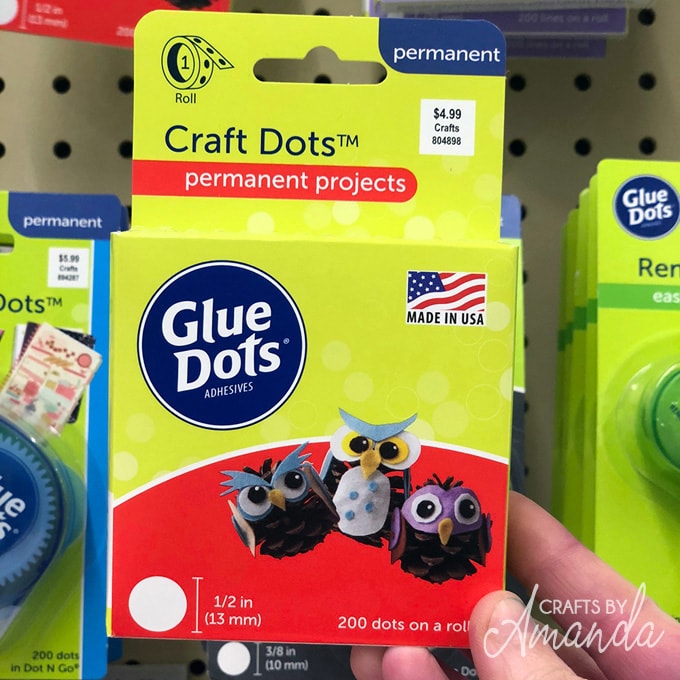 Most commonly used in card making and wedding invitations; they easily glue on trim, rhinestones, sequins, and embellishments in seconds.
They're also a must-have for working with scrapbook paper, card stock, chipboard, small wood shapes, and buttons.
Beyond paper crafts, these little dots are a go-to solution for mounting photos on walls and securely holding small items in place for photography (craft bloggers we are talking to you).
Available in a variety of sizes and even tape runners, make sure to pick the right dot for your project.
Project I've made with Glue Dots – Cardboard Snowman Ornaments
Are there any glue solutions we left off the list that you love or use all the time? We'd love to hear about it! Leave a comment below telling us what your go-to adhesive is so we can try it out for ourselves… and maybe add it to this list!
Latest posts by Alexa Westerfield
(see all)