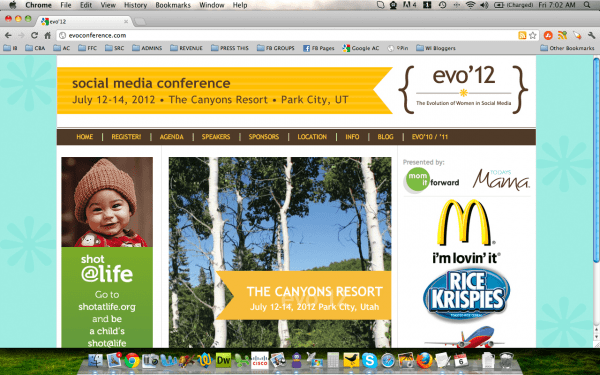 I just looked at the calendar and realized it is less than a week before I board a plane for Park City, Utah to attend Evo '12! I'm so excited I can barely contain myself. Over the next few days I will be feverishly crafting up a storm to meet my deadlines before heading out. I've heard so many great things about Evo, from food bloggers and craft/DIY bloggers alike. If I had to choose just one conference to attend this year, this would be it.

None of this would be remotely possible without my good friends over at Prime Publishing LLC, as they are my official Evo sponsor! You may know them better as FaveCrafts, or one of their many other crafting websites such as AllFreeHolidayCrafts.com, AllFreeKidsCrafts.com and AllFreeSewing.com just to name a few. I have been working closely with Prime Publishing and their staff has been fantastic. If you attend CHA this summer, be sure to look them up and introduce yourself. They love working with bloggers and there are plenty of opportunities available for mutual benefit.
I actually visited the Prime Publishing offices in Northbrook, IL and wrote about it on Craft Gossip. Check out the article, you can read about the benefits of networking with them yourself.

I'll be leaving for Evo '12 on Wednesday and will meet up with two of my roomies, Barbara of Barbara Bakes and Megan of Megan's Cookin', two dear food blogging friends I'm excited to finally meet in real life. I will be sure to take lots of pictures and report in on Facebook and Twitter, so make sure you follow along! More updates coming soon!
Amanda Formaro is the crafty, entrepreneurial mother of four children. She loves to bake, cook, make kid's crafts and create decorative items for her home. She is a crafting expert and guru in the kitchen and has appeared online and in print publications many times over the years. She is also the editor for the Home & Garden channel at Craft Gossip and owner of FunFamilyCrafts.com.
Latest posts by Amanda Formaro (see all)