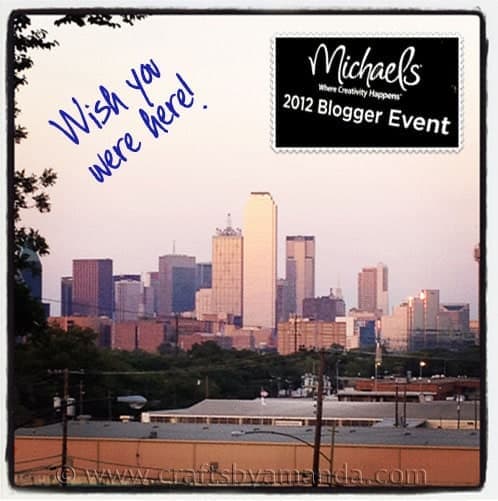 Last summer I was invited to a blogger event with Michaels Craft Stores in Dallas, Texas. However, my son's 8th grade graduation fell on that weekend and I had to decline. I was so bummed, but asked them to keep me in mind for any future events. Lucky for me they did and I received an invitation to attend the Michaels 2012 Blogger Event with several of my craft blogging friends.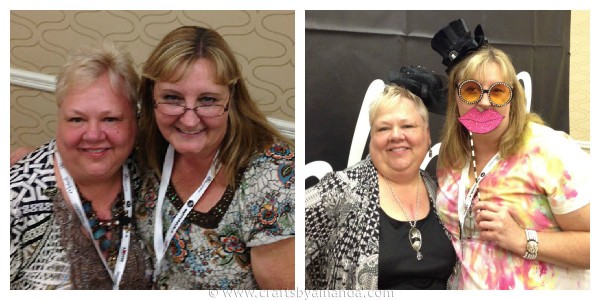 Recognize this lady on the left? That's right, that's Jo Pearson, judge on the new TLC show Craft Wars. Let me tell you this woman is a stitch! I absolutely love her, she's so fun and genuine. LOVE.
A note – All the pictures in this post were taken with the iPhone 4S. I brought my camera and never pulled it out of the bag. So much easier for Instagram, Facebook and Twitter posting! My current phone is almost due for the upgrade and I really wanted to try out the iPhone, so Verizon gave me a loaner to use for this trip. Thank you Verizon!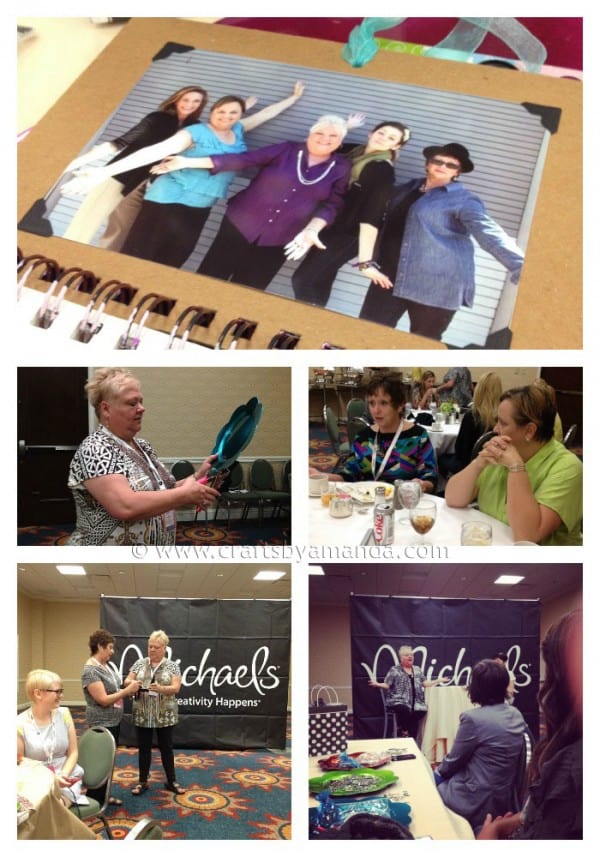 Jo and her creative team, along with their fabulous PR agency, were our hosts for this fabulous two day event. Do you see that snapshot? That's the Michael's creative team and that photo was inside a beautiful handmade journal I was given as a gift. In fact, they made one for each and every blogger!
Speaking of bloggers, I was able to reconnect with some blogging friends that I've met previously, as well as meet in person some that I've been working with for a while. I even had the privilege of meeting some bloggers I haven't had the pleasure of working with before.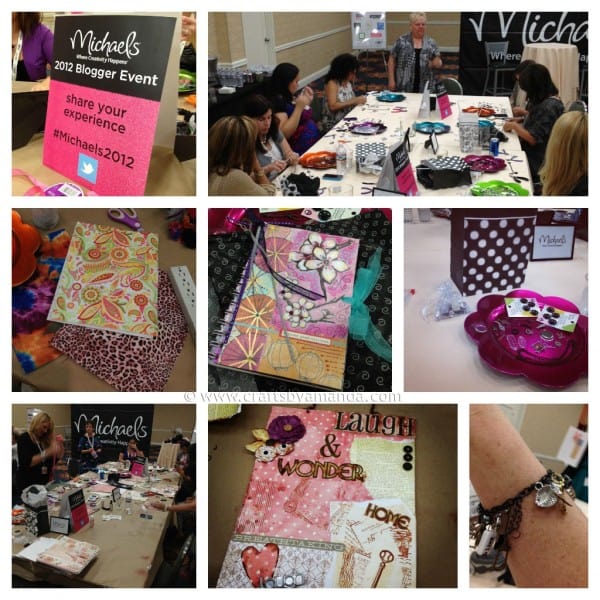 On our first day we crafted together, and it was so much fun! We had plenty of time to connect, talk with Michael's creative team, and create, create, create. We made jewelry and mixed media canvases. So fun!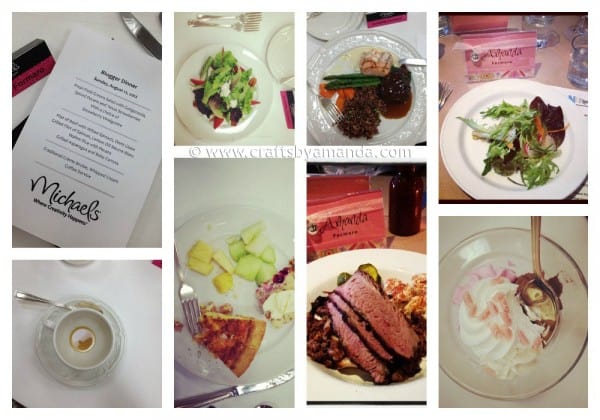 Oh and they fed us. AND FED US. I was never hungry, and the food was fabulous! Everything was delicious, bang up job. you know I'm a foodie so for me to say it was good, well you get the picture. :)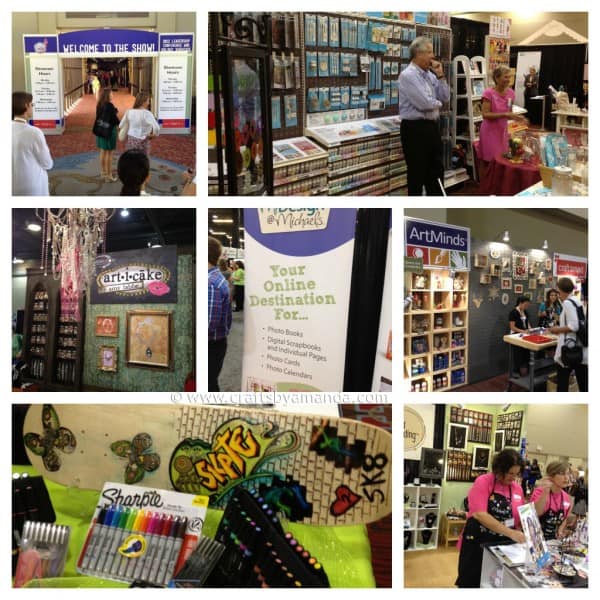 Here's something I didn't know. Every year Michaels has a huge expo/show where their vendors display their new products for Michael's corporate employees and leadership. In fact, it's usually just for upper management, but this year they allowed all of their corporate employees in, AND us! This is the first time that anyone outside of Michael's has been allowed to attend the show. It was a fabulous opportunity to be able to see what products will be coming to a store near you.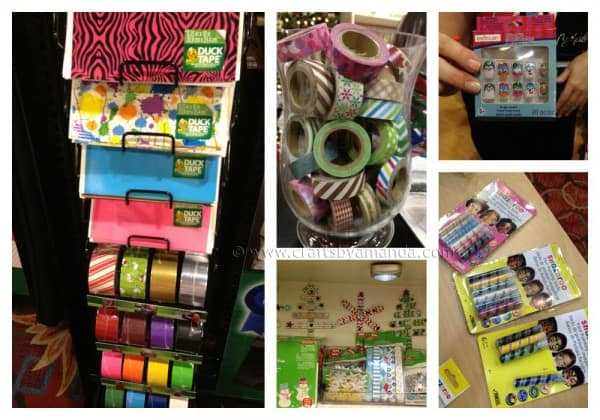 These are a few of the things that caught my eye. Love those goggly eye press on nails for little girls, face paint, predesigned craft sticks, new Duck Tape designs, and YES Michael's will be carrying washi tape finally!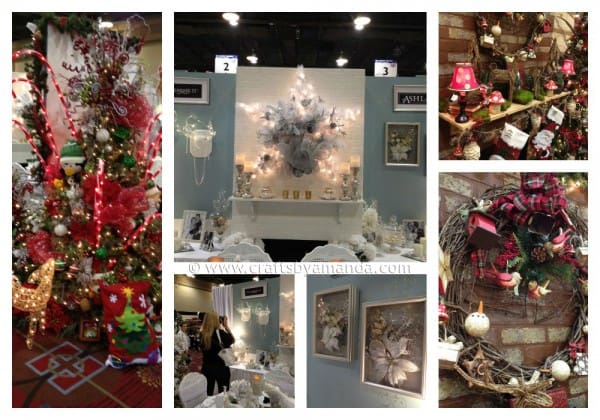 They also had a breathtaking display of the holiday trends, look at that gorgeous star wreath! It's made from 5 miniature Christmas trees, brilliant!
Of course another major highlight of the show was connecting with vendors and artists.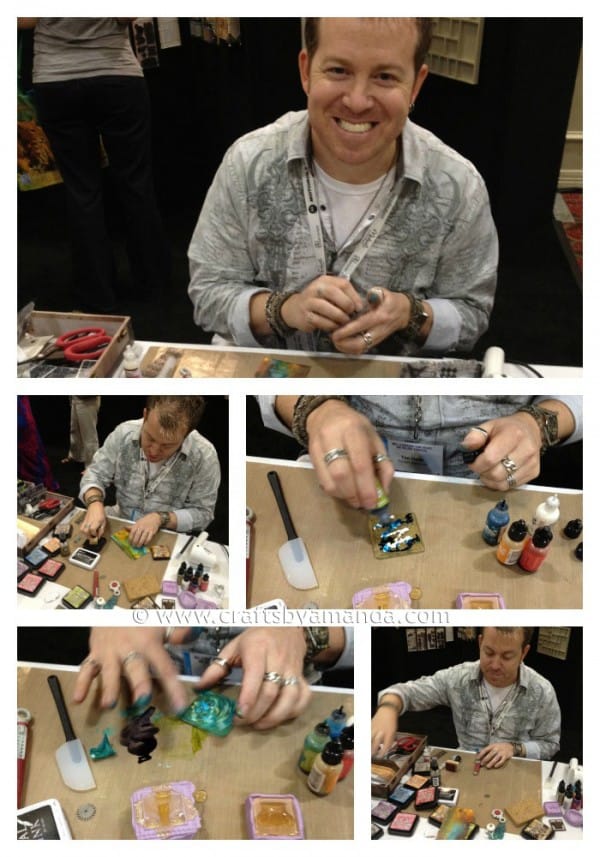 Tim Holtz was doing a demonstration. See that blue item in his hands in the bottom left photo? Yep. I brought it home. Ha ha!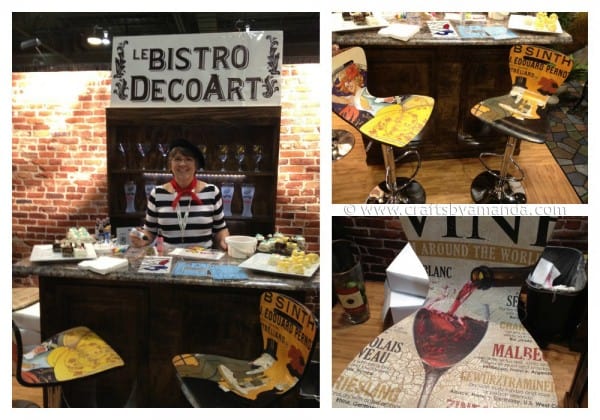 As you may already know, I'm a designer for DecoArt products. When I first started with them I worked directly (over the phone and internet) with a wonderful woman named Donna. I've never met Donna… or so I thought! Turns out THIS is Donna. I had no idea until after the show. Dang it! Had I known I would have given her a great big hug! Do you see those gorgeous chairs? Donna decoupaged them and crackled them. This is a new product that is available, making crackling a whole lot easier!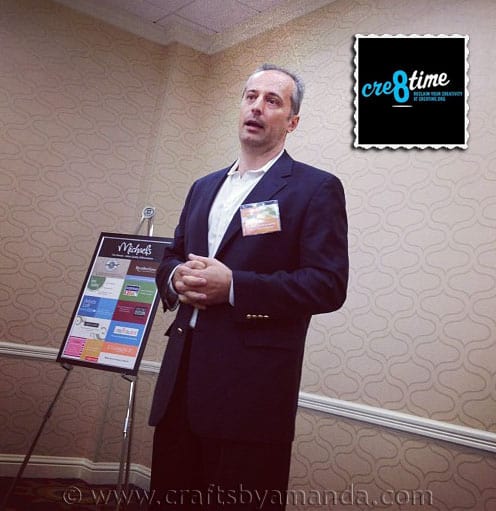 This is Andrej Suskavcevic, President and CEO, of the Craft & Hobby Association. He was kind enough, or maybe it's better to say that he was passionate about this project enough to come and speak with us. CHA is launching a movement called Cre8time in January (watch the video here) and follow along on Facebook here. The idea behind this movement is that people and their families get back to basics, carve out just a little bit of time to be creative together. It's an awesome concept, one you will most likely see played out here on this blog as well. Thank you for sharing this with us Andrej!

Lastly, Michaels sent us home with a whole bunch of new products to try out from their private brands. These are products that are made by manufacturer specifically for the Michael's stores. I have way more than I could ever need, so I will be posting a giveaway soon. Watch for it!
I had a great time and look forward to sharing new goodies with you so stay tuned!
(While I was in Dallas, I posted quite a few pictures on Instagram (amandascookin) and on Twitter. I posted a couple of albums on Facebook as well.)
Amanda Formaro is the crafty, entrepreneurial mother of four children. She loves to bake, cook, make kid's crafts and create decorative items for her home. She is a crafting expert and guru in the kitchen and has appeared online and in print publications many times over the years. She is also the editor for the Home & Garden channel at Craft Gossip and owner of FunFamilyCrafts.com.
Latest posts by Amanda Formaro (see all)