We love making painted rocks! If you follow this blog, you likely already know that. Especially if you've seen our ladybug painted rocks and our painted rock garden markers. While we certainly have several of our own rock painting ideas, we've collected even more to give to a big selection to choose from!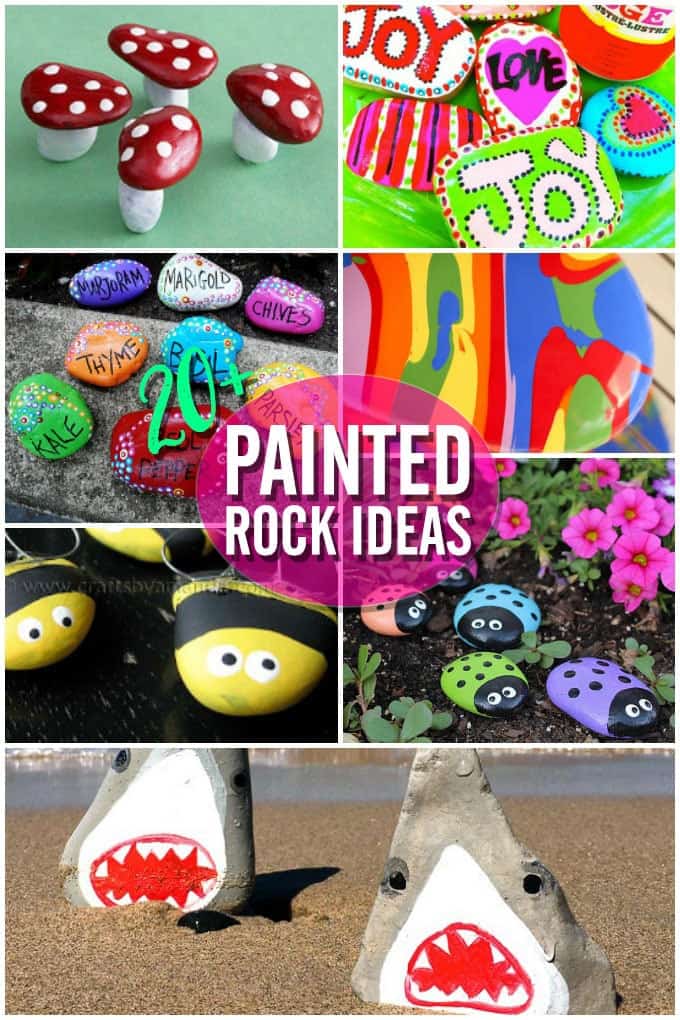 Painted Rock Ideas
Painting on smooth rocks is a super fun project for both adults and kids. Before I take you to the projects, let me give you some tips for a successful day of rock crafting.
RELATED: Want more ideas to keep the kids busy? Don't miss our collection of Colorful Kid's Crafts for more great ideas!
Where to buy rocks for painting?
You can find smooth rocks, also called river stones, at craft supply stores near the floral department. Check in the aisle that has the glass vases and vase filler.
Another area to check is the beach supply area near the seashells and starfish. Home improvement stores will also have rocks for your garden in various sizes. Amazon sells rocks for crafts, as well as rock painting kits and books on rock painting.
If you live near a water source like a lake or river, you can find smooth rocks along the shore. However, if you live in a touristy area, check first with the town hall to see if it's ok to remove rocks from nature as some towns actually have laws against this.
What kind of paint to use on rocks?
My all time favorite paint for rocks is Patio Paint. You can find Patio Paint at most craft supply stores, discount department stores and online at Amazon. Patio Paint is my recommendation if you plan to put your rocks in the garden or keep them outside.
If your painted rocks will stay inside, any acrylic craft paint will work just fine (Americana is one of my favorites). When painting rocks, apply a thin coat first and allow it to dry. Continue with one or two more coats, depending on the coverage you are achieving.
Tip: I generally do not paint the bottom of my rocks, especially if they will be left outside. While I don't know if it's true that paint can seep into the ground, I prefer to remain safe instead of sorry.
Do I need sealer for my painted rocks?
If you use Patio Paint the manufacturer says you don't need sealer. However, Patio Paint does make a sealer, so I always use it on my outdoor projects. For indoor rock projects, you can skip the sealer if you want to, I just prefer to seal my projects to give them a final protective coating.
There are a lot of different sealers to choose from, and while they are all good I have been using Plaid's clear acrylic sealer on different types of projects for years with great results.
Tip: apply a new coat of sealer every year to keep your outdoor painted rocks looking great!
Can I leave my painted rocks outside?
Yes! Provided you prepare them properly. No matter what type of paint you choose to use, an outdoor sealer is necessary to keep your outdoor painted rocks looking great. As I mentioned above, Patio Paint sealer is formulated for outdoor use but there are definitely other outdoor sealers available as well.
20+ Ideas for Painted Rocks
Below you will find several painted rock ideas. Click on the photo and it will open in a new window/tab. Simple close the window/tab to return to this collection! From kindness rocks to lady bug rocks and several other fun ideas for kids and adults!
Painting on rocks is a really fun way to spend an afternoon with kids, seniors or just a group of friends. There are all levels of designs and plenty of ideas out there.
Some of mine I didn't mention are these glow in the dark monster rocks and these skull rocks, both are fun for Halloween! You can also make these hero stones, perfect for Father's Day. I hope you have an enjoyable crafting day!
And for the 4th of July or Memorial Day, check out our Patriotic Painted Rocks!
This post was originally published here on May 8, 2018.
Latest posts by Amanda Formaro
(see all)