Quite often I get emails asking if I sell certain items I've made and provided tutorials for. My Distressed Eat Sign seems to be the most requested, but I've also received requests for my most recent piece, the White Cherry Blossom Tree Painting I did for my daughter as well as the Button Tree I made over the summer.

While I haven't delved into selling items like these just yet, I have decided to offer Portraits on Wood and painted signs. I just haven't made an official announcement here yet. All I've done so far is list things I have made for others in my portfolio.
I'm always so busy with freelance work and my part time job that I haven't really taken the time to set up an Etsy shop or add anything to my makeshift cart that I sell e-books through. Then I was told about ShopLocket, a cool way to sell directly from your blog.
Getting Started
If you sell things, you'll really want to check this out. Here's how easy it is. You go to the website, sign up, put in a few details about your product (name, description, pictures, etc.) and then you can share it on any website or blog that you have control of!
If you don't have a website or a blog that's okay too. Simply share a link to the ShopLocket page just like you would share Youtube video online, except this time you're selling your product.
The beauty of Shoplocket is that it's all about bringing your product to where you already have a market.. your blog! No huge online marketplace to compete in, no time consuming and expensive setup like with some online store options, and no worry about having to build yet another audience when you already have one established.
You can share your ShopLocket links anywhere or even embed products on your website, blog or even Facebook page. You are taking the product to your customers, rather than having to create a marketplace and tell your customers how to find it!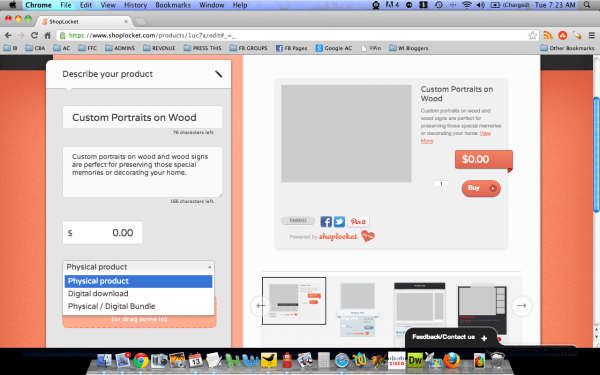 The interface is easy to use and allows you to choose from several options. The pricing is pretty simple too. No up-front or monthly fees, which is really nice, you only pay when you make a sale. When one of your products sells you'll be charged 2.5% plus any payment processing fees from PayPal or Stripe fees. So if you're selling something that's $20, you'd receive $18.62. Simple as that.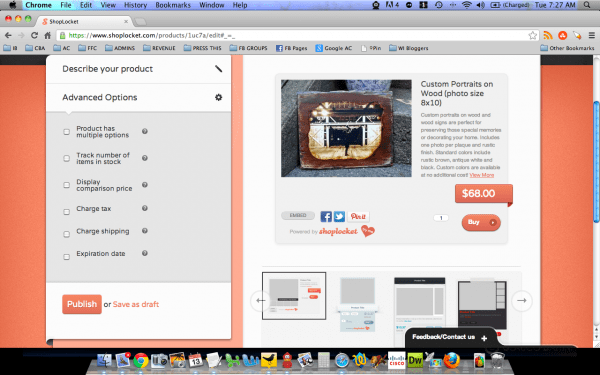 Shoplocket sellers aren't just offering paintings or homemade jewelry, the marketplace includes items as varied as hand made accessories, to t-shirts, and even printables! You can even sell digital goods such as e-books and printable items.
Here's an example of a widget I created for an ebook that I sell:
To give Shoplocket a try for free, just go to ShopLocket.com and you can be selling almost instantly! Remember, it's free to try it out, so what do you have to lose?
The Giveaway
As an added bonus, ShopLocket is going to be randomly giving out FIVE $100 gift certificates to Michaels to people that sign up in the next two weeks! That's awesome, so be sure and enter by signing up today and using the entry form below!
I was compensated for this post, however the opinions stated here are 100% mine.
Amanda Formaro is the crafty, entrepreneurial mother of four children. She loves to bake, cook, make kid's crafts and create decorative items for her home. She is a crafting expert and guru in the kitchen and has appeared online and in print publications many times over the years. She is also the editor for the Home & Garden channel at Craft Gossip and owner of FunFamilyCrafts.com.
Latest posts by Amanda Formaro (see all)