One of my goals for 2015 is to improve my photography skills. I took four years of photography throughout high school, but things have changed so much since then that it's a whole different world! That was before DSLR's and digital cameras. I have my fair share of cruddy snapshots of my kids throughout the years, but now that I have my DSLR (and even when I was using my digital camera) I've seen a big difference in my photos. But I've seen some truly amazing shots around the Internet of kids and families and I wanted to learn what they knew. That's why I was so thrilled when I heard about SHOOT 2015 and couldn't wait to sign up (a Christmas gift to myself)!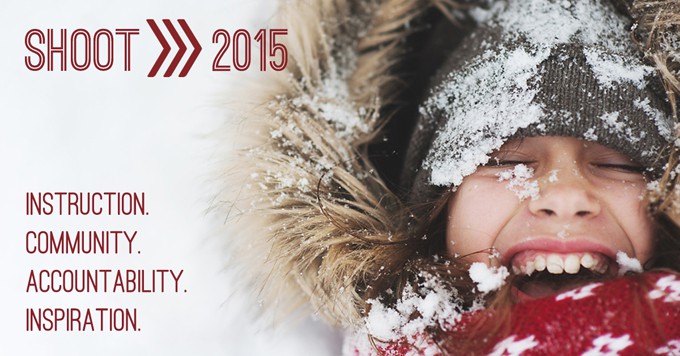 I've been looking locally for a photography course, one that I could learn what all the settings on my camera are for and would help me improve my photography skills. But classes can be pretty pricey! I signed up for SHOOT 2015 because they have an incredible deal going on right now.
SHOOT 2015 was created by photographers Amy Tripple and Heidi Peters. You will WANT to check out their sites, what talent; I want to learn how to take photos like they do! Below is an example from each of their websites. Tell me you don't want to learn to take photos of your family like THAT!? I definitely do.
Anyway, this fabulous year-long project gives parents, just like you and me, and photographers all the tools they need to stay on top of capturing their OWN families while improving their photography skills.

If you're like me and want to learn more about your camera and capturing those family moments that can be lost forever, you've got to check this project out. Each month includes an in-depth photography lesson and an assignment that applies directly to photographing your family. You'll also receive weekly inspirational emails featuring tips and tricks from an all-star list of child/family photographers* (the weekly e-mails ALONE are worth signing up for!) and an awesome online forum that gives you a place to compare notes with other members.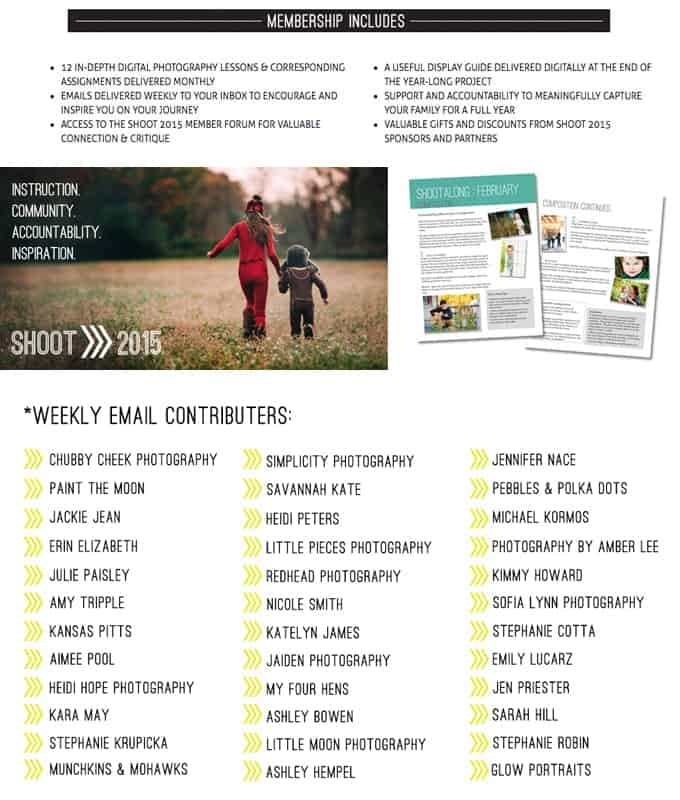 As if that's not cool enough… MPix is fully sponsoring SHOOT 2015 and will be offering a product review/giveaway each month for the entire year, as well as valuable discounts on a range of beautiful products available only to members.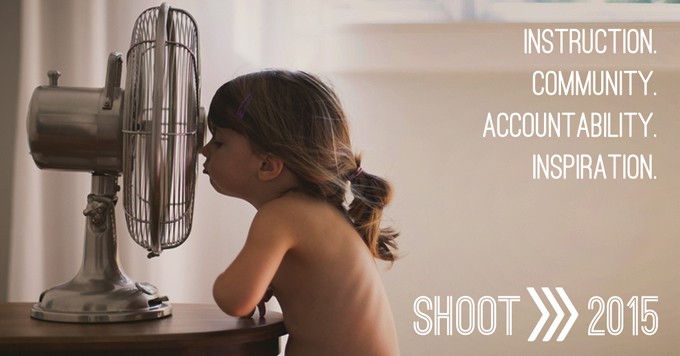 So do yourself (and your family!) a favor and join me in this amazing project. The price is a steal… it's $79 for the entire year (which breaks down to less than $7 per month!), making it the most affordable year-long photography project out there! I couldn't find a class that came even remotely close to this price!

Join me – Sign up now!
Registration is only open till midnight on December 31st, so grab a spot while you can. See you there! (makes a great gift too!)
SHOOT 2014 MEMBER FEEDBACK
"I cannot thank you ladies enough. You are helping others pick up a camera and be proud of the art they create! Thank you for keeping me passionate about photography."
"Thank you for this great opportunity — I can't wait to experience everything ahead of me that I have to learn!"
"Thanks for setting up this shoot along. I am really enjoying it!"
"I was able to learn from your tips how to do a selective focus for the first time which was very exciting!"
"I hold both of you in such high regard and am beyond thrilled to participate in the ShootAlong. THANK YOU for dreaming it up!"
"I really am enjoying this process…because I am learning so much already! Things like back button focusing and ai servo are all new and so I'm reading a lot and trying new things with my camera related to that stuff too. Thank you for that!"
"I'm loving how this ShootAlong is getting me to take more pictures of my family!! Thank you!"
"Thank you so much for the opportunity to work with you on a hobby I love and so desperately want to get better at."
"Thank you ladies for the motivation with this forum. I'm proud to have captured 10 pics on my camera vs iphone!"
"I am so appreciate these assignments, your feedback, and the inspiration to tackle this ShootAlong this year. I am very much an amateur, but have wanted to improve my skills. This has been the perfect project for me, and I hope to have some really great photos of my kids by year's end. (I already have a few that I love!)"
"I love this project. Thanks so much for organizing it!"
"From Click magazine this month, 'Making process is about learning technique, and the only thing that can teach you technique is time, practice, and experience… when you see the progress you can make learning technique, you'll realize so much of what you need is already within you.' – page 48. Thank you for offering us time, practice and your experience with the ShootAlong project!"
"Thank you for offering this class. It gets me out taking pics and using full manual for the first time. I have already learned some useful tips from your posts and posts from others. What a great idea!"
Disclaimer: This is a sponsored post. However, I AM signed up for this course and cannot WAIT until it starts! The excitement in this post is completely genuine and all opinions are 100% my own.
Amanda Formaro is the crafty, entrepreneurial mother of four children. She loves to bake, cook, make kid's crafts and create decorative items for her home. She is a crafting expert and guru in the kitchen and has appeared online and in print publications many times over the years. She is also the editor for the Home & Garden channel at Craft Gossip and owner of FunFamilyCrafts.com.
Latest posts by Amanda Formaro (see all)