I haven't done a top 10 post for several years. I'm not sure why, because each year it's always fun to see which tutorials got the most attention. So I've decided to go ahead and post my top ten from 2014, and hopefully I'll have some time to put up the other years as well.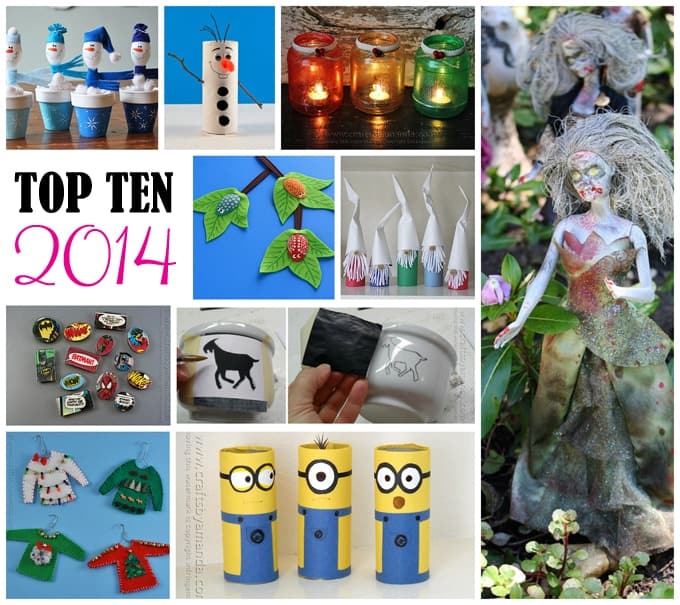 Top Ten Craft Tutorials for 2014
I'm actually a little blown away that four out of the top ten are actually from November and December! That's pretty phenomenal considering they were only live for the last two months of the year. That means that they received more traffic than posts that had been live all year long! There are a lot of awesome craft blogs out there, so I'm honored that you enjoy my projects this much!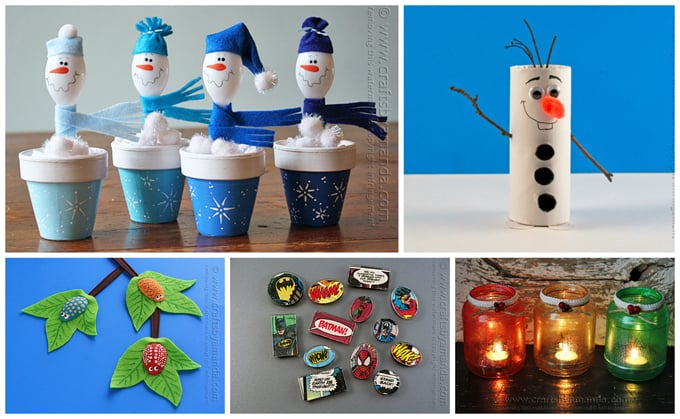 1. Plastic Spoon Snowmen – I pretty much knew these were going to be in the top ten. As soon as I posted them the feedback was incredible. I'm so happy that everyone loved this project so much, so thank you for making it #1!
2. Cardboard Tube Olaf – This is actually the only Frozen themed project I did, and it went bonkers. I did do an Olaf project for another blog that will go live on this site eventually too. Maybe I should have made more Frozen crafts!
3. Plastic Spoon Bugs on a Branch – I loved this project when I made it, but honestly had no idea it would be this well received! This project was splattered all over Pinterest pretty much all summer.
4. Super Hero Comic Book Magnets – Honestly this was one of my favorite projects of the year, but I was truly surprised it came in at #4! I really didn't think it did that well, which was a bummer because I liked it so much myself. So I was happy to see that it actually was well received!
5. Glitter Christmas Luminaries – This one was another surprise for me. I loved the way that these luminaries came out, but in comparison to some other projects I was sharing on Facebook, I really didn't think this was getting much attention. So happy that they did well!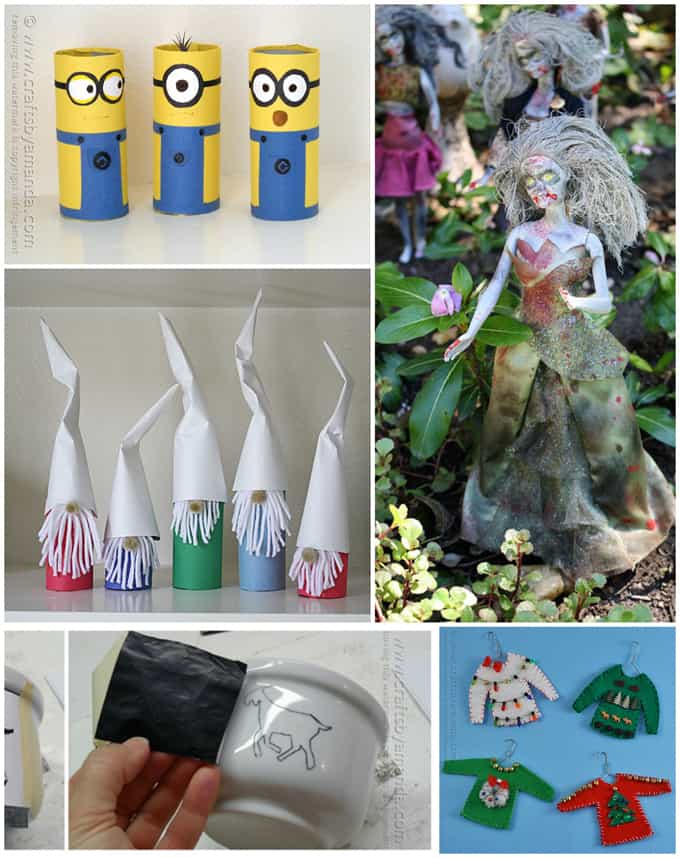 6. Ugly Sweater Ornaments – I had hoped that this craft would do well, it was one of my favorites. But honestly it surprised me at how quickly it took off! To get to #6 in 30 days… fabulous! Thanks for sharing it!
7. Cardboard Tube Minions – No surprise at all that these cute little guys went nuts. I think anything minion is worth sharing, don't you? They are just so darn cute!
8. How to Use Transfer Paper – This particular article surprised me more than any other I've posted. I really didn't think it would garnish much attention. What surprised me even more was how many people didn't know that transfer paper even existed and how helpful and useful it is. I guess I took for granted that I knew about it from my tole painting days. So I am glad that I was able to help people out with it!
9. Cardboard Tube Gnomes – Here's another one that rose to the top of the charts quickly! I posted these mid-November and they did really well on Pinterest. I ran out of time this year, but next year I hope to create a more adult centered gnome project, so watch for that!
10. Barbie Zombies – Yay, I can't tell you how happy I am that these made it into the top ten! Even if it was at #10! This was one of my favorite projects of the year. I had so much fun turning these old crappy Barbies into zombies. I love The Walking Dead and Halloween, so this project really made me smile. I shared the daylights out of it and obviously that did some good. :)
Also during 2014 I put together a couple of collections highlighting some of my projects. These two did exceptionally well!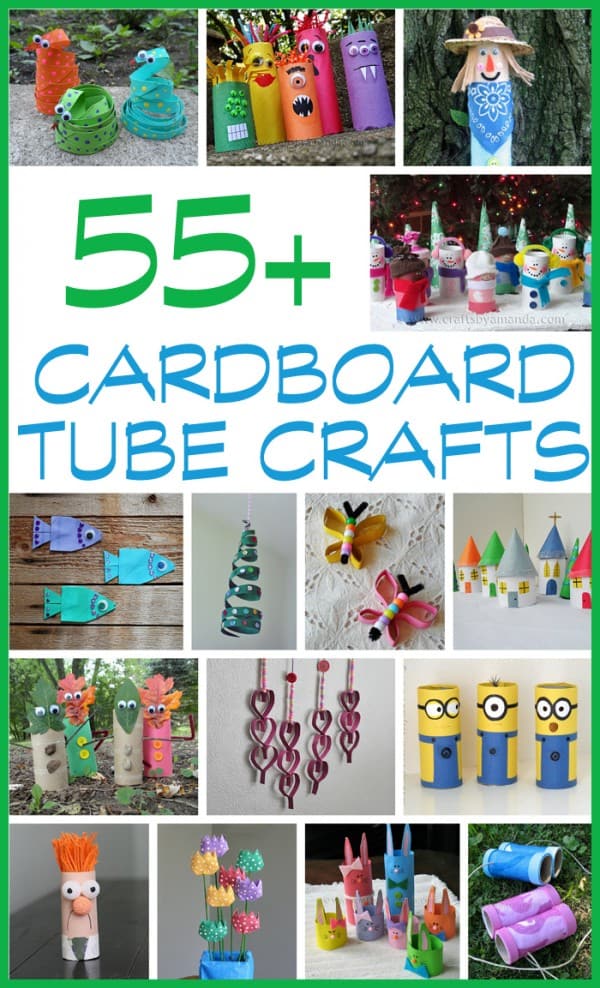 55+ Cardboard Tube Crafts for Kids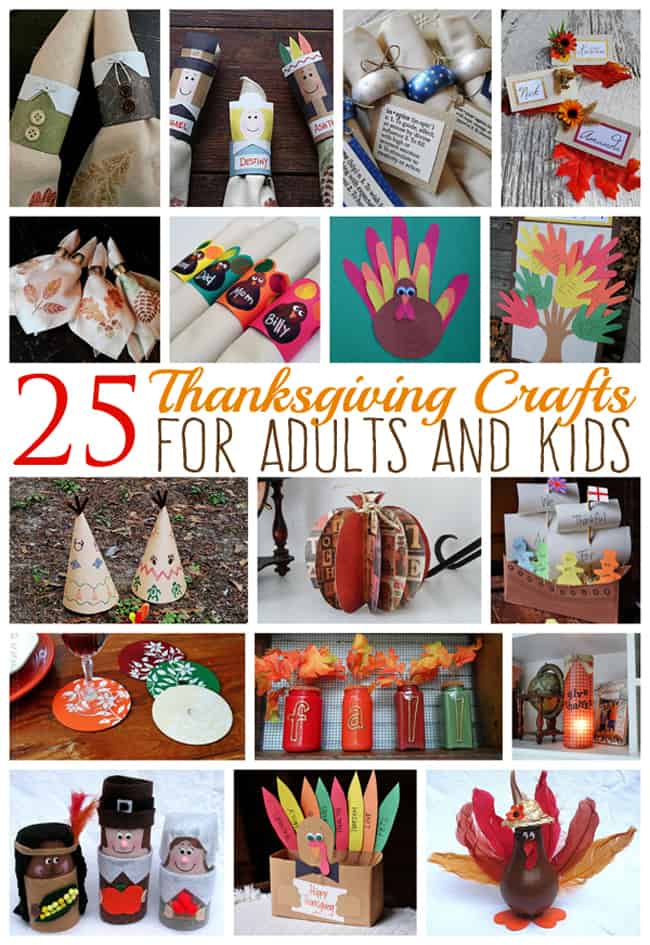 25 Thanksgiving Crafts for Kids and Adults
I also learned that my most popular category this year was adult crafts. Kid's crafts came in second, but it's obvious that people are looking for adult projects too. So for 2015 I hope to increase the project tutorials in that category.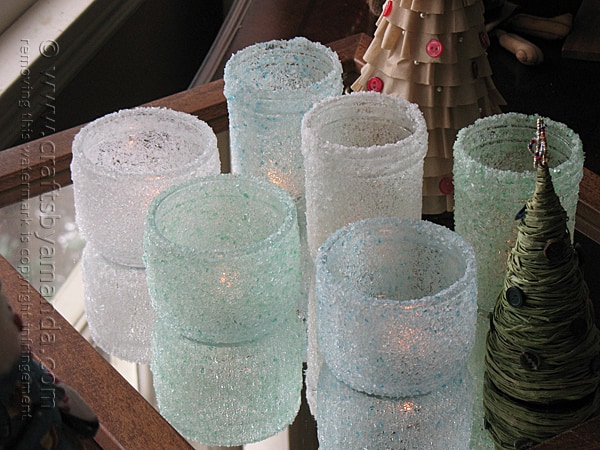 Wondering what the all time favorite project on my blog is? This is the 4th year in a row that my Epsom Salt Luminaries have been THE most trafficked tutorial. It has the most eyeballs every year since I posted it in December of 2010. Thank you all so much for helping spread the word and I hope to provide you with another year of fun and easy things you can make for your home and with your kids. Happy New Year!
Amanda Formaro is the crafty, entrepreneurial mother of four children. She loves to bake, cook, make kid's crafts and create decorative items for her home. She is a crafting expert and guru in the kitchen and has appeared online and in print publications many times over the years. She is also the editor for the Home & Garden channel at Craft Gossip and owner of FunFamilyCrafts.com.
Latest posts by Amanda Formaro (see all)