This is a Sponsored post written by me on behalf of Leviton for SocialSpark. All opinions are 100% mine.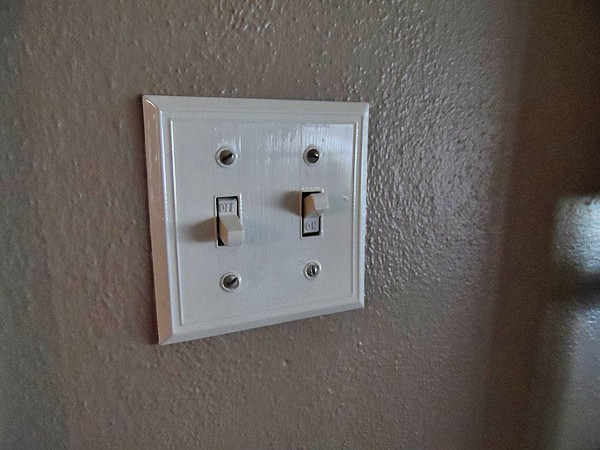 Do you watch the DIY Network? When I can pry the remote out of my husband's  hand I do! Kidding, he watches it too, he's all into that remodeling stuff.  We both love when we can update things in our home without having to hire a contractor. When we bought this house everything in it was peach. And I mean EVERYTHING. The walls, the carpet, and yes, the light switch covers.
In a hurry and out of budget, I spray painted all of the light switch covers in the house. It's been 4 years and some of those covers are showing wear.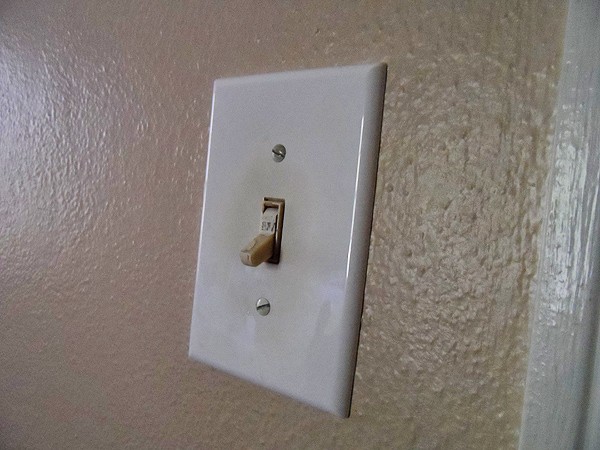 See this one? This is in my bedroom and you can see how the paint is wearing off from a few years of switching the light on and off. So while spray paint was a quick and frugal solution, it's not great for the long term.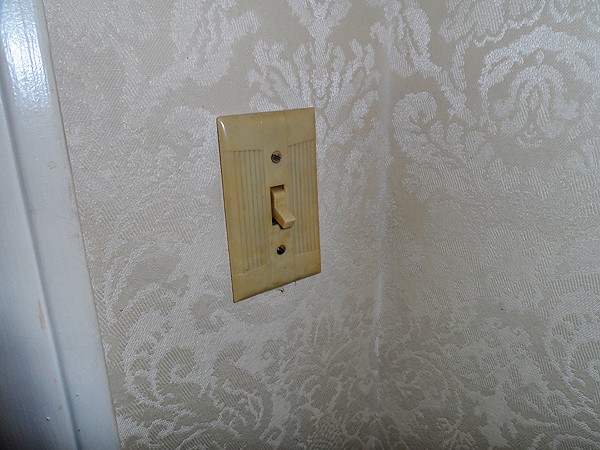 There are actually a couple of outlets in the house that didn't get spray paint. Like this nasty one by the front door. Don't you just love that granny wallpaper?? Ick! Another project for another day!
I heard about this product called Renu. You may have seen it on the DIY Network. it's from Leviton and is a really smart new way to update the look of a room in a snap. The Renu® collection has quite a bit to offer too!
They have: 
–switches
-Combination switches
–wall plates
–dimmers/Remotes
-Tamper Resistant Outlets
-Tamper Resistant GFCI Outlets
-QuickPort Connectors
Here's how it works. Each of the items listed have faces you can update yourself whenever you're ready for a new look. They come in 20 popular paint colors, which means they can either blend in or contrast with a room's walls or trim. Renu® turns the electrical device into a decorative, easy to change accessory.
Since I'm a white trim girl and most of our house uses mocha or tan on the walls, I would love to try their white covers. I like seeing the outlets stand out against the paint colors. :)
Which ones would you choose? Want to win a Home Depot gift card so you can pick some up for yourself? Here's what you do.
Leviton is hosting 3 twitter events and the dates and times are as follows:
Wednesday, April 18th 9pm EST
Thursday, April 26th 9pm EST
Wednesday, May 2nd 9pm EST
Just follow @Leviton and #Renu for the twitter events and you might be a winner!
You will want to like Leviton on Facebook too so you can stay up to date on their products and specials! Happy decorating!
Amanda Formaro is the crafty, entrepreneurial mother of four children. She loves to bake, cook, make kid's crafts and create decorative items for her home. She is a crafting expert and guru in the kitchen and has appeared online and in print publications many times over the years. She is also the editor for the Home & Garden channel at Craft Gossip and owner of FunFamilyCrafts.com.
Latest posts by Amanda Formaro (see all)