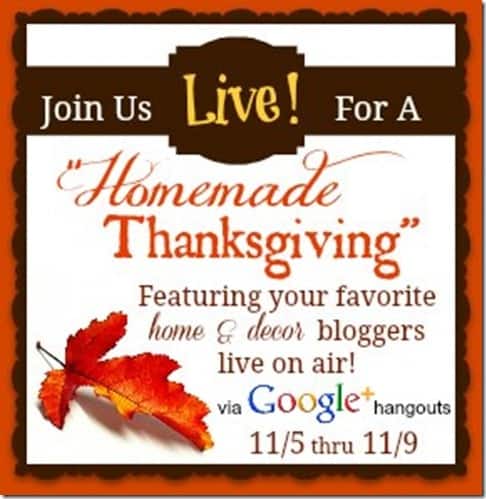 Good morning! I have an exciting announcement. Tomorrow, Wednesday November 7th at 1:00 PM CST (11:00 PST, 2:00 EST) you can watch a live broadcast of me and two other fabulous kid's craft bloggers as we discuss simple ways to keep the kids busy with crafts on Thanksgiving day, but without the mess!
Watch right here!
Google is hosting a 3-day event called "A Homemade Thanksgiving" – you can see the complete schedule of all shows this week here.
Here are the details:
Date: Wednesday, 11/7/2012
Time: 11:00 a.m. PST (12:00 p.m. MT, 1:00 p.m. CST, 2:00 p.m. EST)
Where: Right here, on this blog post! Just come back here and you can watch live or watch afterward, the show will be recorded and the video available here as well. You can also watch from my YouTube channel or my Google+ profile.
Topic: Thanksgiving Day crafts for kids. Keep the kids busy with very little mess and minimal parental involvement, so you can stay busy in the kitchen and the kids will be busy crafting!
Hosted by: Amanda Formaro, Crafts by Amanda
Guest List: 
Jen Goode – Projects for Preschoolers
Jodi Durr – Meaningful Mama
So be sure and come back tomorrow, right here, to watch the show. You can watch live or play it back afterward.
I'll be hosting more live shows via Google+ Hangouts as well, so watch for that as the days and weeks progress. Would you be interested in joining a hang out and chatting with me and other guest bloggers? Let me know your thoughts in the comments!
Amanda Formaro is the crafty, entrepreneurial mother of four children. She loves to bake, cook, make kid's crafts and create decorative items for her home. She is a crafting expert and guru in the kitchen and has appeared online and in print publications many times over the years. She is also the editor for the Home & Garden channel at Craft Gossip and owner of FunFamilyCrafts.com.
Latest posts by Amanda Formaro (see all)