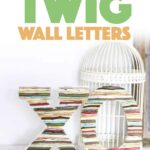 Print Project
Painted Twig Wall Letters
These colorful DIY painted twig wall letters are a fun and trendy way to add a personalized touch to your home or rustic wedding decor this fall.
Thin branches or twigs

such as fruit tree off-shoots

Craft paints in white

orange, yellow, red, green, teal and gold metallic

9

" X and O MDF letters

Garden pruning shears

Hot glue gun and clear craft glue
Place generous amounts of the yellow, orange and white paints, side-by-side on a plate or palette. Place the red, green and teal on separate sections of the plate.

Paint 2-3 twigs with each of the colors to have enough to cover all of the letters (keep some of the branches unpainted).

Starting at the bottom of one letter, snip a branch in any color (maybe start with a thicker one) to size. Glue in place with the hot glue.

Continue, up the letter until finished. Alternate the colors and thicknesses of the branches to get the nicest effect.