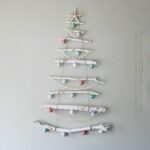 Print Project
Coastal Branch Tree for Christmas
There are some beautiful Christmas themed branch and twig trees, driftwood trees and trees made from sticks. I've created a coastal branch tree I love!
Select your branches and peel off the bark. Bake the branches in a 250 F oven for two hours. This will help dry them out as well as kill off any little critters that might still be inside.

Use spray paint to paint the branches white. This may take several coats, be sure to allow them to dry for at least an hour between coats.

Lay out your branches how you want them and cut too long pieces of twine, about twice the length of your tree (my tree measures 4-feet, so two 8-inch lengths of twine were used). Connect the branches together using twine by knotting the twine around each branch. Do not just wrap the twine and glue it. They need to be knotted in order to handle the weight of the bottom branches. Secure each knot with hot glue. Tie the two loose ends together at the top of the tree to create a hanger.

Hang it on the wall and make sure it looks like you want it to. This is the only time you will have a chance to change it before decorating. When satisfied, trim off the excess twine from the bottom.

Use a multi-surface paint to color the ornaments. An icing tip works as a great funnel for small openings, but you can try an eyedropper too. Place your finger over the opening and shake the ornament until the paint covers the inside. Put all of the ornament tops back on and secure with hot glue.

Hot glue the large starfish to the top of the tree.Wrap the starfish several times around the branches with fishing line to secure it.

Cut a 10-inch long piece of fishing line and thread it through the ornament hanger. Hot glue the hanger to the branch. Repeat this for all the ornaments. Carefully turn the tree over and tie the fishing line from the ornaments to the back of the tree. Trim excess and secure the knot with hot glue.

Turn the tree back over, front side up, and glue lace ribbon on as garland. Glue small starfish to the branches as well.