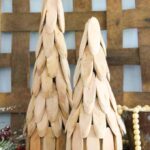 Print Project
Wood Slice Trees for Christmas
You can make these easy yet charming rustic feeling wood slice trees for your Christmas mantle or as a centerpiece on a table!
Start by painting as many styrofoam cones as you would like with the brown paint.  This ensures that any foam peeking out from your wood slices still looks okay on your final wood slice trees.

Allow these to dry completely.

Then use hot glue to adhere wood slices to the cone.  I used two rows of slices around the bottom of the cone to cover the styrofoam completely.

Then continue up the cone with additional rows hot gluing as you go.

End with your top row where you wood slices should touch each other to complete the look of your rustic tree.