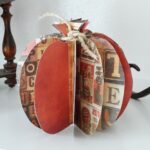 Print Project
3D Paper Pumpkin
Using fall or Halloween themed cardstock you can easily create this 3D paper pumpkin to display in your home for fall or Thanksgiving!
Heavy two-sided scrapbook paper in fall or Halloween theme

Scrapbook paper in a similar fall theme

lighter weight

Glue tape or glue stick

Twine

A plain sheet of paper
Cut scrapbook paper into seven 6-inch squares.

Cut a plain sheet of paper into a 6-inch square. Draw a pumpkin shape onto the paper to create a pattern. Be sure your pumpkin has a stem. Cut out the pattern.

Use the pattern to cut pumpkins from each of the pieces of scrapbook paper.

Fold each pumpkin in half and crease. Place two pumpkins, side by side with the creases touching each other. Cut the lighter weight scrapbook paper into half-inch wide strips, the height should be a little shorter than your pumpkins. Using the glue tape to add adhesive to the back of the paper strip, then press it onto the creases of both pumpkins, joining them together.

Repeat the above process until all of your pumpkins are connected together forming one pumpkin.

Cut a piece of twine and tie it carefully around the stem of the 3D pumpkin.