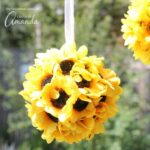 Print Project
Sunflower Kissing Balls
Use these sunflower kissing balls for weddings, showers, parties, or to simply dress up your home or front porch.
Yellow whiffle balls

Faux sunflower heads

Hot glue guns

Raffia ribbon or twine
Cut a piece of ribbon or twine. Thread the ribbon through two adjoining holes and tie a double knot.

Have your sunflower heads ready. If your faux flowers have stems, trim the stems 1/2-inch from the head.

Dab hot glue around a whiffle ball hole and press a faux flower over the hole. You should have one flower for each hole in the whiffle ball. You should be able to dab glue around two or three holes at a time. Cover the whiffle ball, including the holes used for the ribbon.

Tie the ribbon the length you need to create a loop and hang where you like!