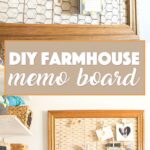 Print Project
Farmhouse Inspired DIY Memo Board
Create your own farmhouse inspired diy memo board for displaying your to-do lists as well as your favorite photos and inspirational quotes.
Solid wood V-groove pine boards

5/16" thick x 3 1/2" wide

Miter saw

Chicken wire netting

Wire snippers

Scrap baseboard trim

2 ¼" wide

Gloves

Sand paper

Wood glue

Measuring tape

pencil

Nail gun

Industrial staple gun
Preparing the materials:

Mark the pine boards at 24" long. With a miter saw, carefully cut each fence board into 8 even length pieces measuring 24" long.

Using a wire cutter, cut the chicken wire so it measures 28" wide by 24" long.

Measure and mark 2 pieces of baseboard trim to 28" long with the ends at a 45 degree angle. Repeat with two more pieces of trim to 24" long at a 45 degree angle.

Assembling the materials:

Working on a flat surface, lay the cut pine boards in a row budding each piece tightly up to the next piece. Run a bead of wood glue along the long edge of the board and then slide the pieces together. Wipe away excess glue.

Lay the cut chicken wire net over top of the glued pine boards and staple in place around the perimeter.

Place one long cut baseboard on top of the assembled pine boards and chicken wire and nail into place. Align the next baseboard with the secured baseboard and nail in place. Continue working around the memo board until finished.