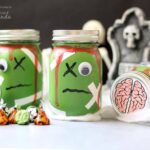 Print Project
Zombie Mason Jars
Zombie mason jars with free printables for Halloween party favors, treats, or decorations.
Paint the mason jar with green paint. Let dry completely. You may need to use 2 to 3 coats of paint.

Use the hot glue gun to attach one or two googly eyes. With the black paint, paint an "X" for an eye and paint a mouth or any other marks you'd like to make. Cut strips of white duct tape and adhere to make "bandages."

For the dripping blood, mix a few drops of red paint into some school glue. Use the stick or straw to drape the glue mixture around the top of the mason jar, just under the lid. Let the glue mixture drip down the sides of the jar.

If desired, dip a toothbrush in red craft paint and use your thumb along the brush to splatter red paint on the jars.

Let dry completely.

Print the printable on the cardstock paper and fill the brains in with the marker. Cut out the circles and attach to the mason jar lids.

Fill with Halloween candy or spooky toys.