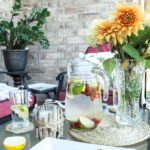 Print Project
DIY Citrus Candles
Think beyond the healthy snack with your lemon, limes and oranges. Have some fun with your food and make beautifully natural citrus candles.
1

large white paraffin votive candles

or use beeswax or soy melts

1

lemon

lime or orange

Microwaveable bowl

Metal spoon

scissors, knife
Begin by cutting the citrus fruit in half (crosswise).

Next, trim off a thin slice of the bottom half of the fruit so that the candle will sit flat on the table when done. Scoop out the center of the cut fruit to create a "citrus bowl".

Then, remove the wick from the candles and place into center of "citrus bowl".

Place the rest of the wax candle in a microwaveable bowl and carefully heat until melted.

Finally, pour the melted wax into the citrus bowls with wick positioned vertically in the center. Hold the wick in place for about 30 sec while the wax hardens then let the candles cool completely before using.