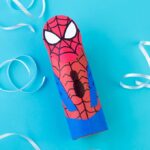 Print Project
Cardboard Tube Spiderman
Make this Cardboard Tube Spiderman for the upcoming Spiderman premiere! This craft is great for imaginative play.
1

red cardboard tube

or a brown cardboard tube and red paint

blue

red, black, and white construction paper

black permanent marker

white school glue

scissors
Cut the black and white construction paper into the shape of spiderman's eyes. The black pieces should be slightly larger than the white pieces. Glue the white pieces on top of the black pieces.

Next, cut a red oval. Use the black marker to draw Spiderman's mask.

Glue Spiderman's eyes on top of the mask with the round part on the bottom.

Next, use the black marker to draw Spiderman's costume on the red cardboard tube. Cut 2 flat pieces of blue construction paper to wrap around the sides of Spiderman's costume.

Next cut a blue strip of paper, slightly angled on the top. Glue it to the bottom of the cardboard tube. Use the black marker to draw muscles on the blue paper, and then you're done!