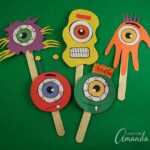 Print Project
Popsicle Stick Monsters
Use craft sticks and construction paper to make an endless assortment of silly popsicle stick monsters!
Draw simple shapes for the monster bodies. You can use a wide mouthed cup to trace out circles, or cut out blob-type shapes, whatever you like!

Cut hair, claws and antennas from construction paper.

I even used a handprint to make one of the monster bodies.

When I printed these eyeballs off they were a little smaller than I wanted, so I simply enlarged them on my copier.

You can draw simple mouths by cutting out a shape from white paper then drawing lines for the teeth.

Assemble your monsters using glue.

Attach each one to a jumbo craft stick. let them dry completely and have yourself a fun puppet show with your friends!