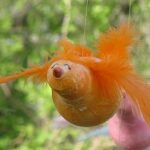 Print Project
Decoupage Light Bulb Birds
These beautiful light bulb birds are so colorful and look great hanging from the ceiling! Learn to decoupage light bulb birds with tissue paper.
incandescent light bulbs

white spray paint

tissue paper

white craft glue and water OR Mod Podge

paintbrush

orange modeling clay

or mix red and yellow like I did

cardboard egg carton

to use as a stand

acrylic craft paint: white and black

toothpick

Sharpie markers

I used colors to match my tissue paper for the eyelids

Clear acrylic spray sealer or glaze

feathers

colors to match your tissue paper

fishing line

scissors

hot glue gun

small silk flowers or leaves

optional
Spray the bulbs with a coat of white spray paint. It doesn't have to be perfect. It's just to create a white base to decoupage onto so that the dark spots from the screw cap won't be difficult to cover. Allow to dry.

While the paint is dry, roll small pieces of modeling clay between your fingers and create cone shapes.

Tear or cut tissue paper into squares. Mix equal amounts of white craft glue and water to make your decoupage mixture. Use a paintbrush to apply a little decoupage mixture onto the bulb, then pick up a square of tissue paper using the paintbrush (the wet bristles will stick to the tissue paper, picking it up) and gently place it on the wet bulb. Using a light touch, brush the tissue paper with decoupage.

Coat as much of the light bulb as you can, then let dry completely before turning the bulb over to do the other end.

Turn the bulbs over and decoupage the other end. I used about 3 layers of tissue paper, but I basically just kept covering until I was happy with the coverage. Let dry.

Glue the clay beaks to the flat end of the screw caps.

Use the handle end of a paintbrush dipped in white paint to add the eyes.

Alternatively, you can use a Sharpie marker to draw on the eyes. Spray the bulbs with acrylic sealer and let dry.

Tie a long piece of fishing line around the bulb and hot glue in place. Glue feathers on as wings, tail and a little bit on top of the head.

Use toothpick to add the blacks of the eyes and let dry. Then use the other end of the toothpick to dot on a small bit of white to the black. You can also add eyelids using colored Sharpie markers. In some of the birds, insert small plastic leaves or silk flowers into the clay beak.

Hang or create a mobile!