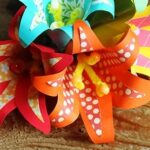 Print Project
Tropical Paper Flowers
These bright and beautiful tropical paper flowers are made from scrapbook paper and card stock. I was inspired by the gorgeous tropical flowers in warm weather climates.
Card stock in bright colors

orange, red, bright green, turquoise, yellow

Scrapbook paper in colors that compliment card stock colors

Flower pattern

5

green pipe cleaners

1 per flower

15

pony beads

3 per flower

5

yellow pipe cleaners

(1 per flower) cut into thirds

Glue stick

Glue dots

Hot glue gun
Print out pattern. Use the larger template to cut out card stock pieces. Use the smaller template to cut out scrapbook paper pieces.

Use glue stick to attach the small scrapbook paper flower to the larger card stock flower.

Roll the flower up tight, spread the top out as if you were forming a cone shape. Seal cone shape with a glue dot. Wrap each flower petal around a paintbrush or a pen to curl them.

Thread a pony bead onto a one of the short yellow pipe cleaners and bend at the top to close it around the bead. Repeat this for a total of three. Wrap the ends together with the end of a green pipe cleaner to attach them all together. Poke the end of the green pipe cleaner down into the center of the flower. Hot glue in place.