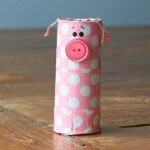 Print Project
Cardboard Tube Polka Dot Pig
There's something adorable about a polka dot pig, isn't there? All you need for this simple project is polka dot duct tape, a cardboard tube and a big pink butt
4-

inch

cardboard tube

Pink polka dot Duck Tape

Large pink button

preferably with only two holes

Black paint

Scissors

Paintbrush

Black marker

Hot glue gun or white craft glue
Cover the cardboard tube with pink polka dot Duck Tape.

Measure and cut a 1 1/2-inch piece of tape and cut it in half lengthwise.

Fold each strip onto itself, leaving about 1/2-inch of sticky side exposed.

Place the sticky side of the tape onto the cardboard tube for the ears. Glue the pink button to the front of the tube for the nose. use the handle end of a paintbrush to dot on two eyes. Add eyebrows with black marker.