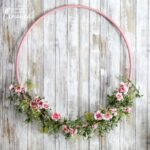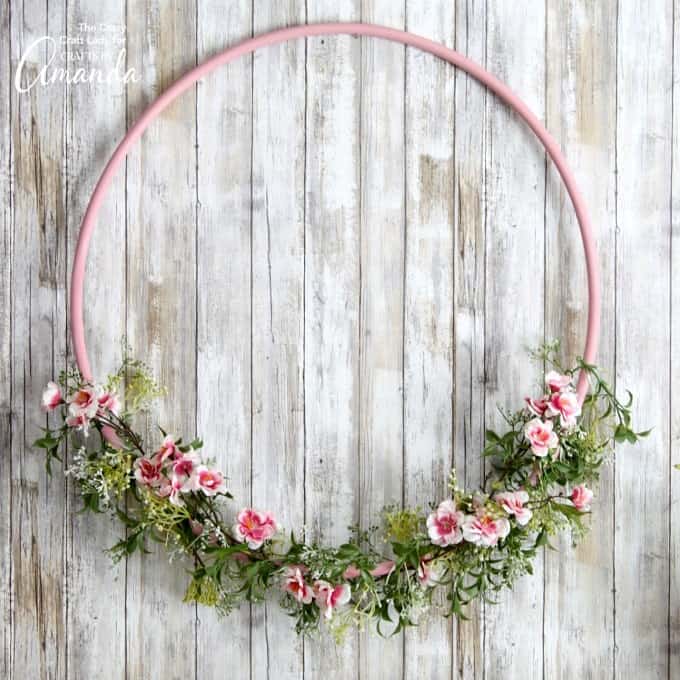 Print Project
How to make a giant spring wreath from a hula-hoop
This cherry blossom hula hoop wreath will make a cheery addition to your spring décor. Hang it above your mantel or on your wall for a pop of spring color.
Start with a plain hula-hoop. If the one that you bought has a plastic coating or decorations, remove them.

Then spray the entire hula-hoop with pink spray paint. You will need to do multiple coats to get complete coverage of all sides. Paint one side. Let it dry. Then paint the other side. Be sure to let the spray paint dry completely before adding flowers. Be careful, since you don't want to scratch the paint.

Wrap the spring garland around the hula-hoop, covering about the bottom third. Wrap the garland tightly, and secure the ends with green floral tape.

Then add cherry blossom flowers. Use wire cutters to disassemble a large faux cherry blossom stem. You may find it helpful to hang the wreath up before adding the flowers. If the wreath is lying flat, the flowers may fall and sag when you hang it up. Tuck the flowers into the green garland, and secure as needed with floral tape.

Display your new wreath and enjoy with your spring décor.