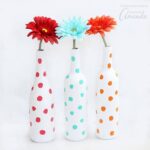 Print Project
Polka Dot Wine Bottle Vases
Make adorable polka dot vases from a wine bottle!
Empty wine bottles

Rubbing alcohol

White chalk paint

Large

flat paintbrush

Mini-marshmallows or small

circle stamp

Acrylic craft paint in assorted colors
First, thoroughly clean the wine bottles and remove the labels. To remove the labels, fill the wine bottles with hot water and let them soak in very hot water for 30 minutes. Peel off the labels, using a straight razor or a sharp knife if necessary to encourage it along. Use a scouring pad to remove any remaining glue. When dry, wipe down the bottle with rubbing alcohol.

Pour some of the chalk paint on a pallet or paper plate. Brush on the chalk paint to completely cover the wine bottles (I left the wine bottle bottoms un-painted). Let dry well and repeat. You may need up to three coats.

When the white paint is fully dry, add your dots in any color. To make a "stamp," I stacked two mini marshmallows on a toothpick.

Let dry and add flowers to your pretty polka dot wine bottle vases!