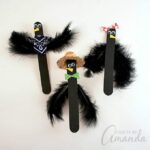 Print Project
Popsicle Stick Crows
Crows are often associated with fall and Halloween. These popsicle stick crows are a fun seasonal project for kids of all ages!
Jumbo craft sticks

Black paint

Googly eyes

Black feathers

Yellow card stock or construction paper

Embellishments: scrapbook paper

bandanna or fabric scrap, little straw hat

Tools: white craft glue

scissors, paintbrush
For the embellishments, you can make simple bows from scrapbook paper to use as hair bows (for girl crows) or bow ties for boys. The little straw hats can be found at your local craft store. I also used a bandanna which I cut down to a small square. Fabric scraps work great too!

Cut beaks from yellow card stock. Attach eyes and beaks with white craft glue. Attach embellishments such as bows.

If using a hat, be sure to put it on first as your googly eyes will need to be positioned farther down that crows not wearing a hat. Add some glue inside the hat and insert the stick. It will take some time to dry, so be patient! Alternatively, a grown up can use hot glue to make the hat stick immediately.