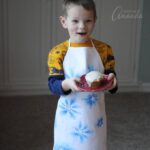 Print Project
Sharpie Snowflake Apron
Kids love to be in the kitchen with you, especially when it comes to making treats for Santa! Turn a boring white apron into a canvas for beautiful blue falling snowflakes.

Line work surface with a plastic tablecloth covered with a towel or two that you aren't worried about staining.

Place apron on top of the towels.

Use permanent marker to draw dots in the shape of a circle (for example, draw one dot, then another next to it, and another, going in a circle shape).

Use the second color to draw another circle of dots around the first circle of dots.

Use an eyedropper to wet the marker dots with rubbing alcohol. The marker will begin to spread. Add alcohol to all of the dots then go back over them one more time. Allow the apron to dry completely.

Run the dry apron under running water. Use a small amount of laundry or dish soap to wash the designs. Wring out the apron and dry it in the dryer without fabric softener.

This step is optional, but if you would like to add a little more design and pizzazz to your snowflakes, snip the pointed end off of a toothpick and dip in glitter fabric paint. Add dots around the points of each snowflake design. Use different colors such as silver, blue, dark blue and white.