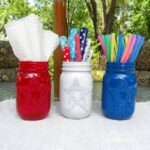 Print Project
Patriotic Luminaries
These patriotic luminaries double as utensil holders, perfect for a Fourth of July BBQ during the day, then at night as luminaries!
Use the craft glue to draw a star on the front of the jar, then press the wet glue star into Epsom salt. The salt will stick, now just let it dry, overnight is best.

Then spray paint and you're done!