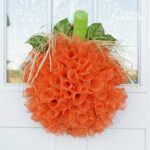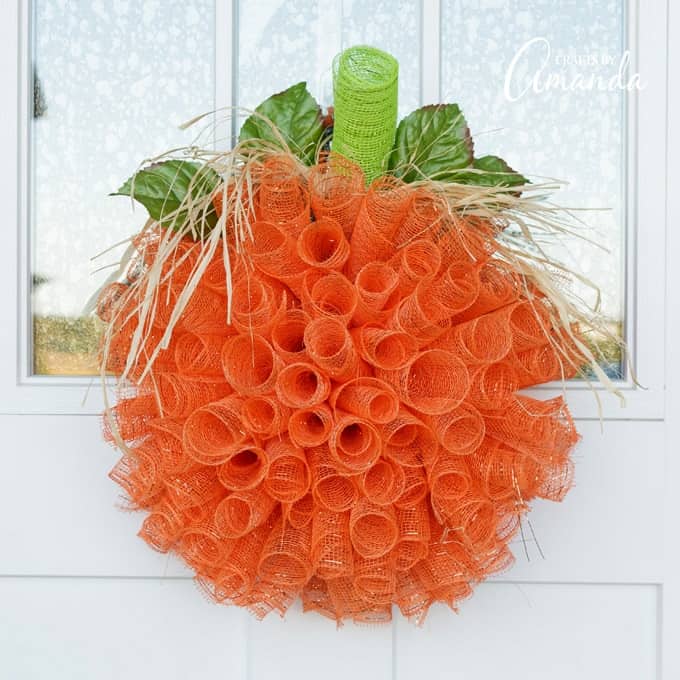 Print Project
Deco Mesh Pumpkin Wreath
Learn to make this wonderful deco mesh pumpkin wreath to hang on your door this fall! This is a quick and easy project, great for a girl's craft night!
2

rolls 10-inch x 10-yard orange decorative mesh

6-

inch

5 7/8" Styrofoam disc

U-shaped floral pins

24-

inches

of 10-inch green decorative mesh OR a sheet of green felt

1

sheet orange felt

4

large silk leaves with stems

see tip below

Raffia

12

" long piece orange ribbon

Hot glue gun
Cut the roll of deco mesh into 10-inch lengths giving you fairly equal squares of mesh.

Roll a square and insert a floral pin in the center of the tube.

Fold at the center and add a dab of hot glue near the floral pin prongs.

Insert the pin on an angle into the edge of the Styrofoam disc.

Continue this process around the circle and work your way into the center until the disc is full.

Turn the orange tube flower upside down so that the Styrofoam disc is face up.

Cut a 24-inch long piece of green deco mesh.

Roll this into a loose tube so that the resulting tube is twice as large as the orange tubes.

Insert floral pin at the lower third of the tube.

Apply some hot glue near the prongs and insert into the top end of the disc.

Insert the leaf stems into the top end of the disc on either side of the green tube.

Tie orange ribbon into a loop hanger and glue to the disc. The loop should not be visible behind the stem when viewing the wreath from the front.

Cut orange felt to cover the back of the disc and bottom of the stem and hot glue in place. This will also protect your door from scratches!

Tie raffia around the green stem.