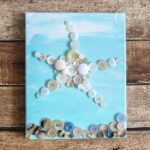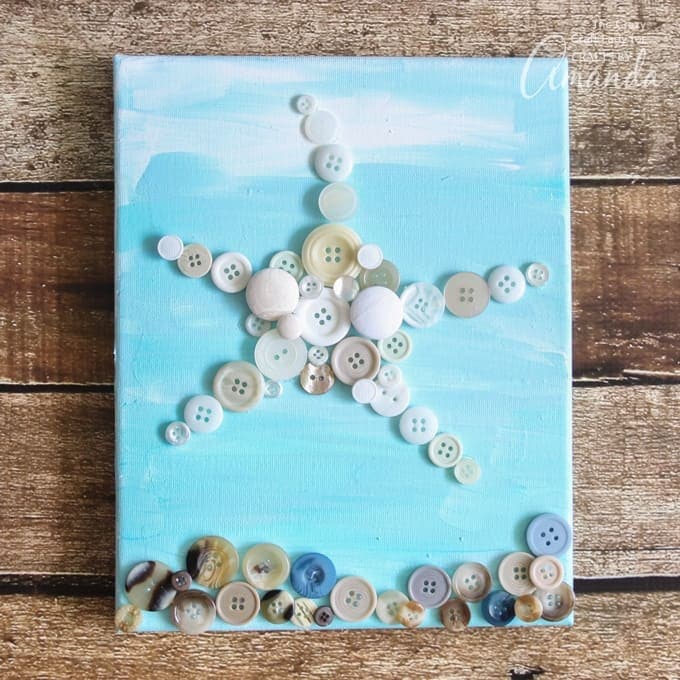 Print Project
Button Starfish Wall Art
Make this simple starfish wall art with buttons and a canvas. This coastal craft is a great way to upcycle and reuse old buttons.
Small canvas

8x10 or any size desired

Acrylic craft paint in various coastal colors. Light blues and teals

plus white paint

Paint brush

Hot glue gunned hot glue sticks

I recommend using never-ending hot glue gun sticks

Assorted buttons in neutral colors- tans and whites
Start by painting your canvas. Apply a few shades of blue or teal to the canvas.

Then bend the colors with a paint brush. If you don't want to blend colors, you can just paint the canvas solid blue or teal as well. Don't forget to paint the edges of the canvas.

Set the project aside and let the acrylic paint dry completely before adding buttons.

Now it's time to create your button starfish. Start with the larger buttons, and arrange them in a star shape. The shape doesn't have to be perfectly symmetrical and don't be afraid to let the spokes of the star bend a little bit.

Using hot glue, secure the buttons to the canvas. Then add in smaller buttons to fill in the starfish shape.

If you want to add an ocean floor to this wall art, you can use tan and brown buttons to make a wavy line of buttons at the bottom of the canvas. It will look just like sand. Secure with more hot glue.