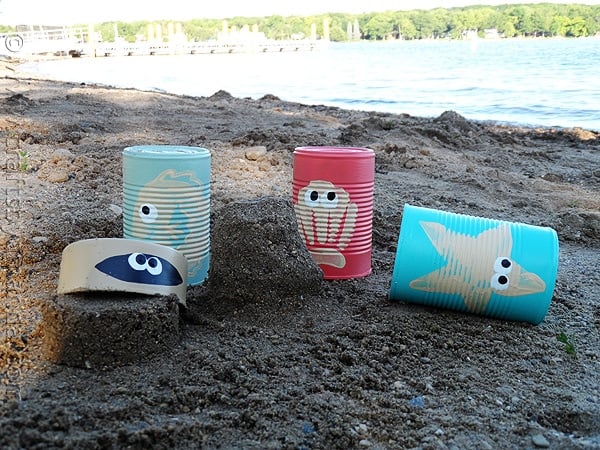 Kids love to play in the sand, so sand castles, even in the simplest form are perfect for them. Make these fun sand castle scoops from recycled vegetable cans and craft paint. Doesn't matter if you are at the beach or just in the backyard sandbox these fun sea creature themed cans perform double duty. During the summer they'll be used to scoop and dig sand and make castles, and the rest of the year you can fill them with pencils and markers!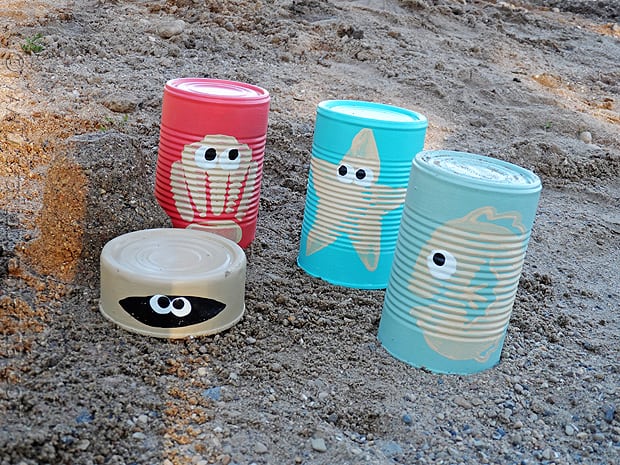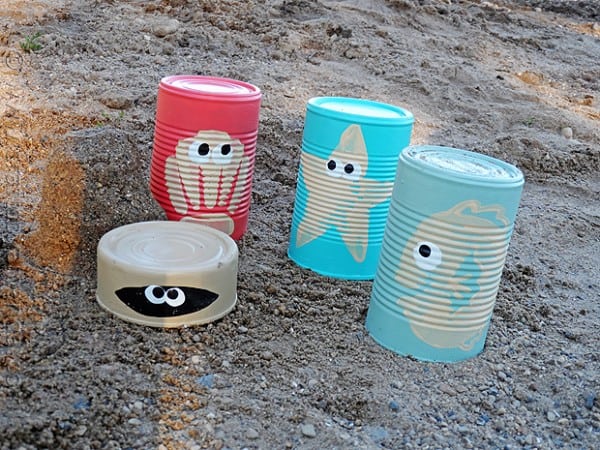 August 11th is Play in the Sand Day. A great day for kids to dig in and create. I originally made this project for my Chicago Tribune column. I live in a lake town in southeast Wisconsin, so playing in the sand is something my kids could easily do while they were growing up. We also had a backyard sandbox for many years that my father built for us. Sand play has a few different stages: functional, constructive and dramatic. I wrote an article on Kaboose.com all about sand play that offers many different suggestion on encouraging sand play in your kids.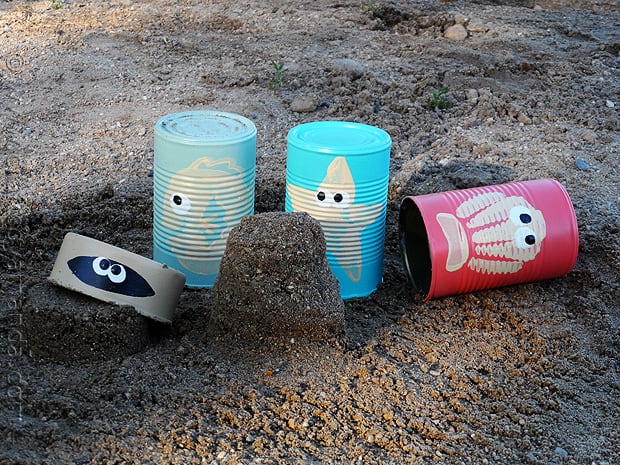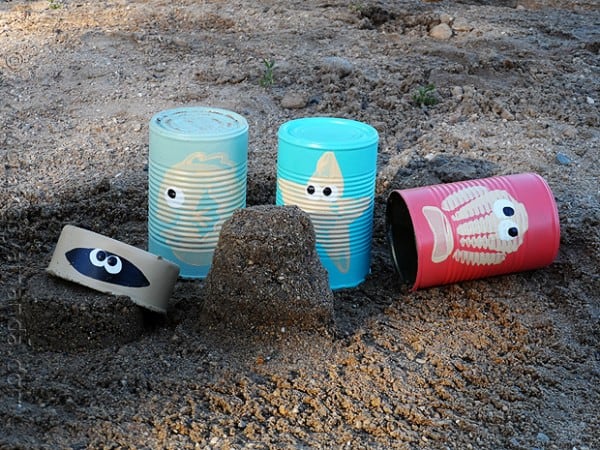 These sand castle cans are fun to use. They are great for scooping, dumping and carrying sand and are the perfect size for small hands. Your kids can make simple castles using wet sand, then when you go home, simply rinse them off and turn them upside down to dry. When dry, they can be used to hold art or school supplies.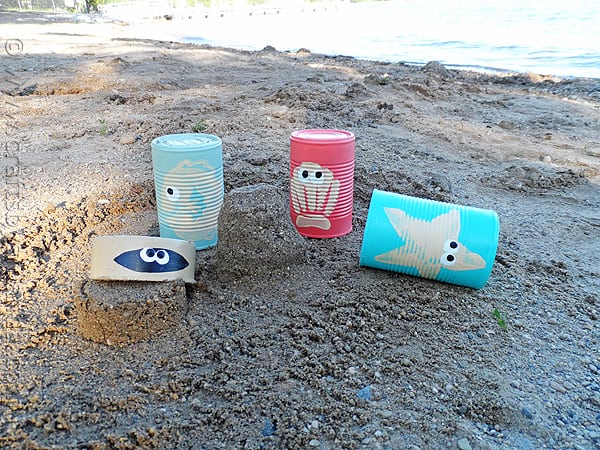 If you think you will be using them to hold pencils and markers, you may want to paint the designs so that they are right side up when the top of the can is facing up. I painted mine the other way so that the creatures' faces were right side up when creating castles. Whatever you prefer!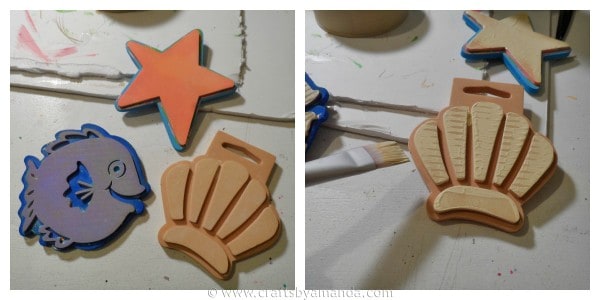 You can find these foam stamps at Michael's craft stores. They probably have them at Hobby Lobby too.
[Full printable instructions are below] After you've painted the cans, just paint the stamps and press them onto the can. Use the handle of your paintbrush dipped in white paint to add eyes, then repeat with black after the white has dried. A couple coats of acrylic sealer will protect the cans from rinsing and use.
Here are some other sand play related posts you might like (links will open in a new window):
Sensory feet fun – Glittering Muffins
Construction on the beach, more than just sand castles – Taming the Goblin
Drawing in sand – Projects for Preschoolers
Playing in the sand – Projects for Preschoolers
Sand casted starfish – Kaboose.com
Fabulous footprints – Free Kids Crafts
Sand craft ideas – Fun Family Crafts
10 indoor and outdoor sand activities – The Good Long Road
The Secret to Success for Sand Art with Kids – Busy Kids = Happy Mom
Indoor Sandbox – Creekside Learning
A mini beach can teach – Little Moments
Sand Play at the Beach – JDaniel4's Mom
Have fun!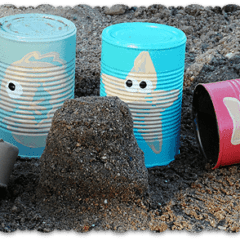 Print Project
Sea Creature Sand Castle Cans
Supplies
Recycled cans

vegetables, soup, tuna, etc

Gesso or white primer

Acrylic paints in beach themed colors plus black and white

Paintbrushes

Beach themed foam stamps

Acrylic sealer spray

matte finish
Instructions
Wash and dry each can then give the outside a coat of Gesso or primer. Allow it to dry completely before moving on to the next steps.

Paint each can with acrylic craft paint in the color of your choice then allow them to dry completely.

Using a contrasting color (we used a sand color), paint the foam side of the stamp then press onto the can to transfer the image. Allow the paint to dry completely.

For the "clam", paint an elongated football shape onto the can with black paint.

Use the handle end of a large paintbrush to add white for the eyes to each stamped creature and to the black on the clam creature. Be sure to let the white paint dry completely before moving to the next step.

Use the handle end of a paintbrush to dot black paint on to the white eyes. Let everything dry before spraying cans with 2-3 coats of acrylic sealer, allowing the sealer to dry in between coats.
Expert Tips & FAQs
Note: Gesso is a paint medium similar to primer. It can be found in the artist section of your local craft supply store.
I recommend opening cans with a safety can opener that eliminates the possibility of any sharp edges. If you don't have a safety opener, use some high grit sand paper to sand down any sharp edges before starting.
Latest posts by Amanda Formaro
(see all)