I'll show you how to make this beautiful button tree so you can make one for your own home. I spray painted my canvas to give it a sunset glow effect, but you can paint it white or any other color that strikes you. Ready to make your own button tree? When you are done, be sure to check out all of my adult craft ideas.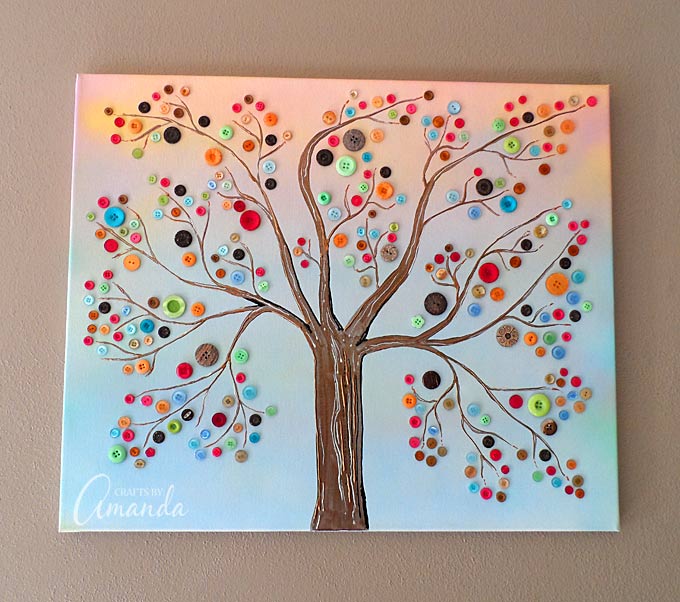 Button Tree of vibrant colors
Buttons aren't just for seamstresses you know. I always have a stash of buttons on hand for a variety of projects. I love using them with kid's crafts, they are great for dressing up little projects, and perfect for a quick embellishment.
Buttons definitely have more uses than just fastening a blouse closed. This button tree I finished today is a perfect example.
TIP: While I don't make and sell these, there are several sellers on Etsy that create all sorts of button tree art here.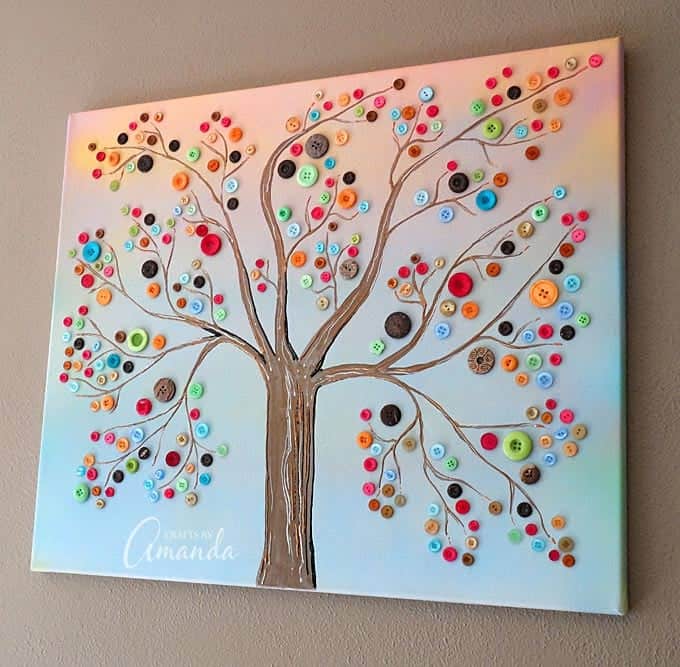 RELATED: If you're looking for more ideas, check out this collection of canvas wall art ideas.

I've had a brand new, still in the shrink wrap, 20″x24″ wrapped canvas sitting in my craft room for months. I bought it because it was on sale and I knew I wanted to make something like this button tree, though I assumed I would be painting the whole thing.
As I started brainstorming for the challenge, that's when it hit me to make a button tree. I've seen several different kinds around the web, but I hadn't seen any using dimensional paint.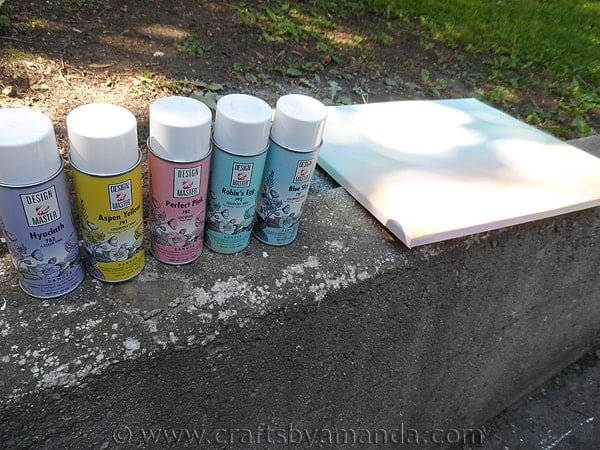 So I pulled out the canvas and some pastel colored spray paints I had in the craft room. Here's what I used.
Supplies you need for this button tree:
Buttons:
Lumiere dimension paints:
Design Master spray paints:
These paints are sold at Michaels. Here's what they look like. Other brands will work too, whatever you prefer.
Tip: Michaels and Hobby Lobby both have a huge selection of canvases and quite often have them on sale. Or if you visit the stores often, you can use your 40% off coupon.
I started with Sky Blue, spraying one end of the canvas. Then I overlapped a bit with Robin's Egg Blue, then some Hyacinth. I sprayed the other end with Perfect Pink, then over-sprayed with Aspen Yellow.
Then I just willy nilly sprayed some blue here, yellow there, purple here, until I liked the way it looked. I allowed the canvas to dry for about an hour.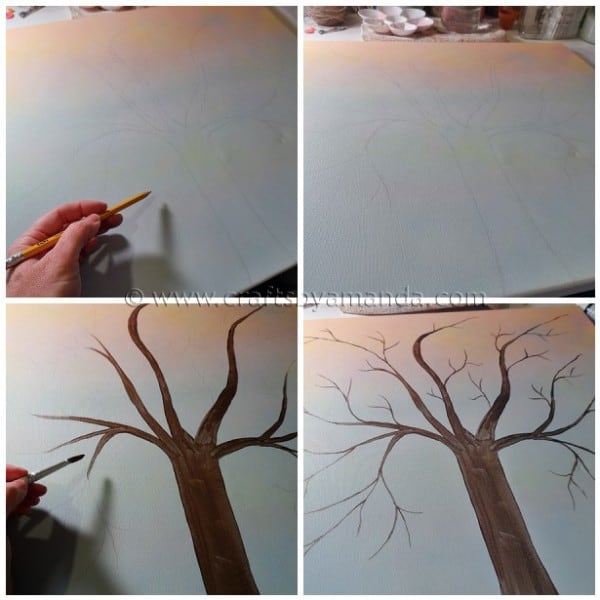 I drew a simple tree trunk onto the canvas, sketching lightly with a pencil. I drew 5 main branches, then added smaller branches off of those. When I was happy with it I used a brown metallic finish paint to fill in the tree. I used a liner brush on the smaller branches.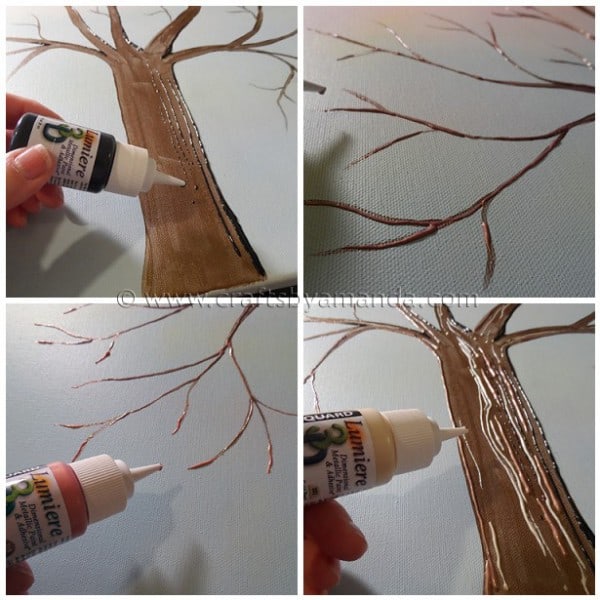 This is where I had a little fun with the dimensional paints! I chose the colors Black, Brass, Bright Copper and Gold Pearl. These paints come out in a nice steady stream and looked beautiful, adding a really nice dimension to the canvas.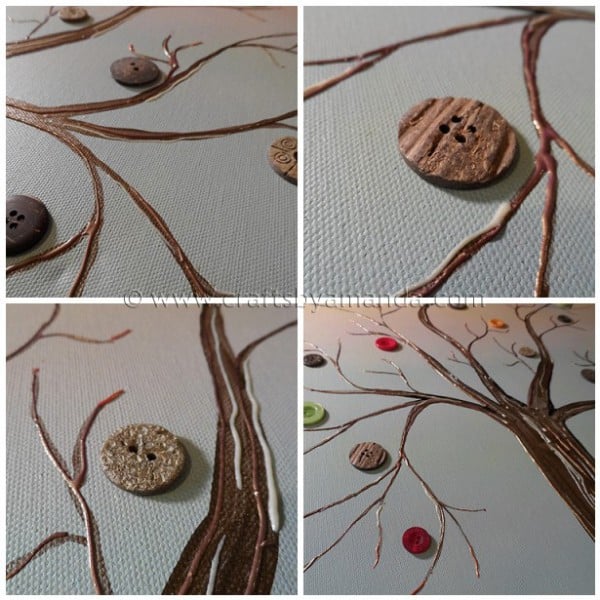 Next I chose some of the largest buttons in each of the button collections. I was using Rustic Coconut Shell (my favorites!), Sea Glass, Earthly, Vacation and Rose Garden. I placed them in various places on the canvas.
Once I was happy with their placement, I attached them with E6000 adhesive. It took a little while, but I just kept adding different sized and colored buttons everywhere, saving the tiniest buttons for the outer edges.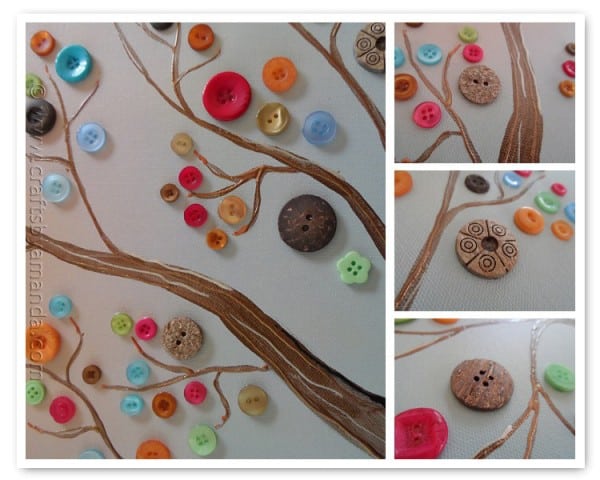 That's it! A little spray paint for background effect, a simple tree drawing filled in with paint, some shimmering three dimensional paint, lots of beautiful colored buttons and some glue and you have a button tree.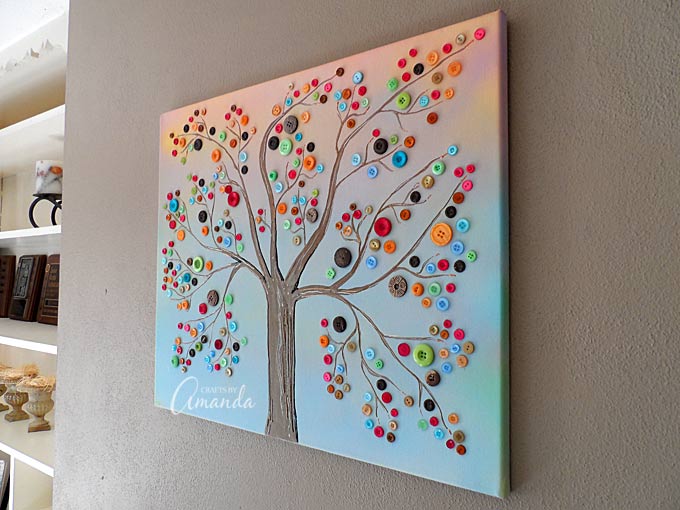 So what do you think? Did I live up to the challenge?
I hope you enjoyed the project!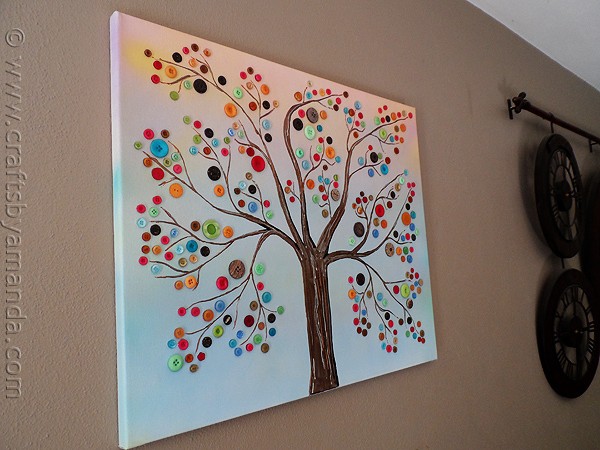 You might also like…
Below is a picture of another button tree that I created when I moved into my studio. The tree itself is tall instead of wide, and rather than one canvas, I used four of them to give it a pieced together look. Each canvas represents one of the four seasons. There are step by step photos of how I created this look at this link.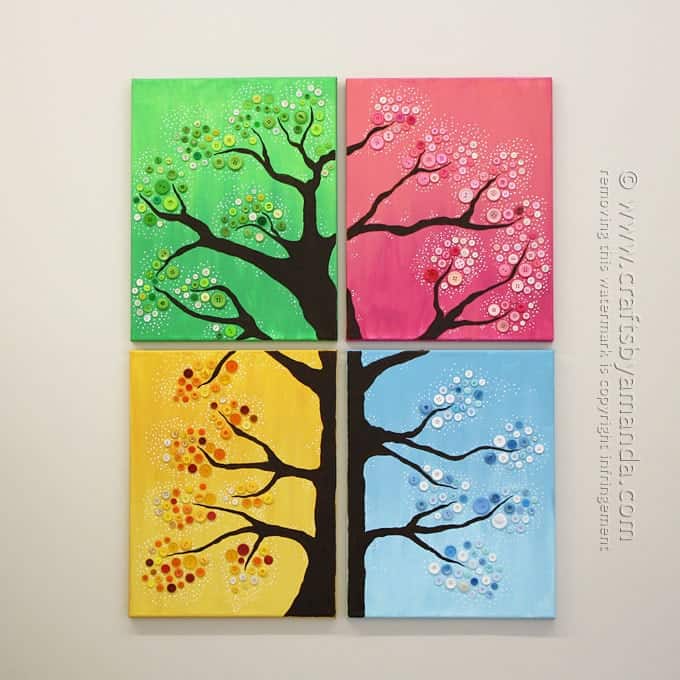 If you're looking for something a little simpler, I created a small button tree using an embroidery hoop. This particular project incorporates the colors of the rainbow, hence the name "Embroidery Hoop Rainbow Button Tree". It's easy enough for kids to make as well, and you can change the size of the embroidery hoop to make it as big or as small as you want.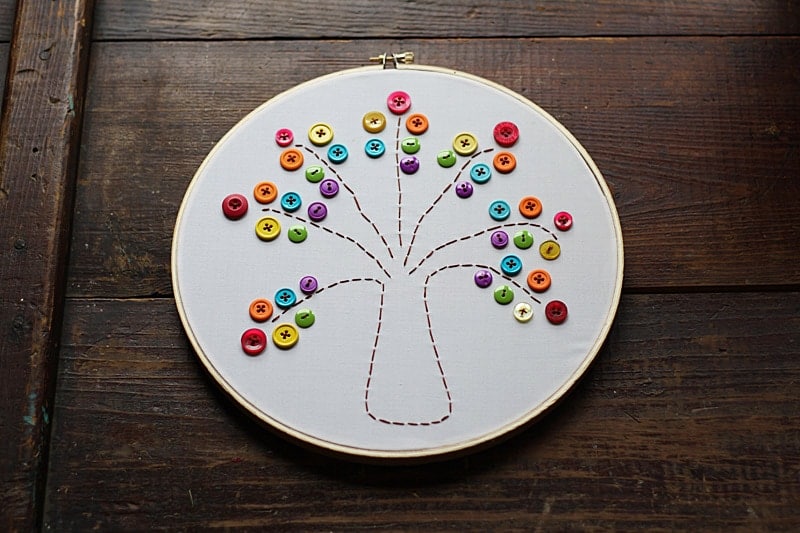 One of my favorite button projects of all time, even if it isn't a button tree, is this rainbow themed button wind chime I made for my book, Button Mania. I absolutely love all of the colors and how they go together.
You can find bags and/or containers of colored buttons like these at crafts stores such as Michaels and JoAnn Fabrics. Garage sales will yield plenty of plain buttons that someone's grandmother had stashed for years, but to find colors in bulk you will need to hit the craft store.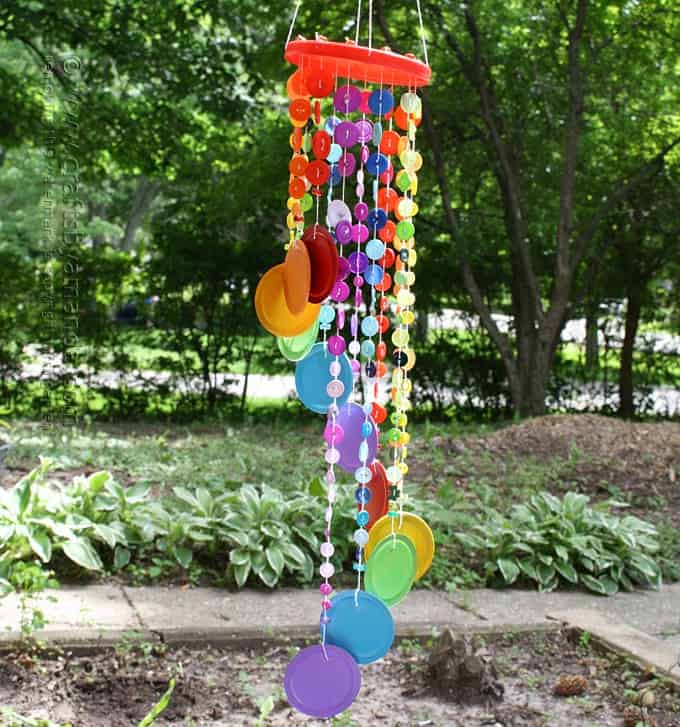 If it's home decor ideas you are looking for, such as decorative items and wall art you can make yourself, then be sure to have a look through my home decor crafts category. There's all sorts of great ideas in there from vases to canvas wall art to wreaths and frames.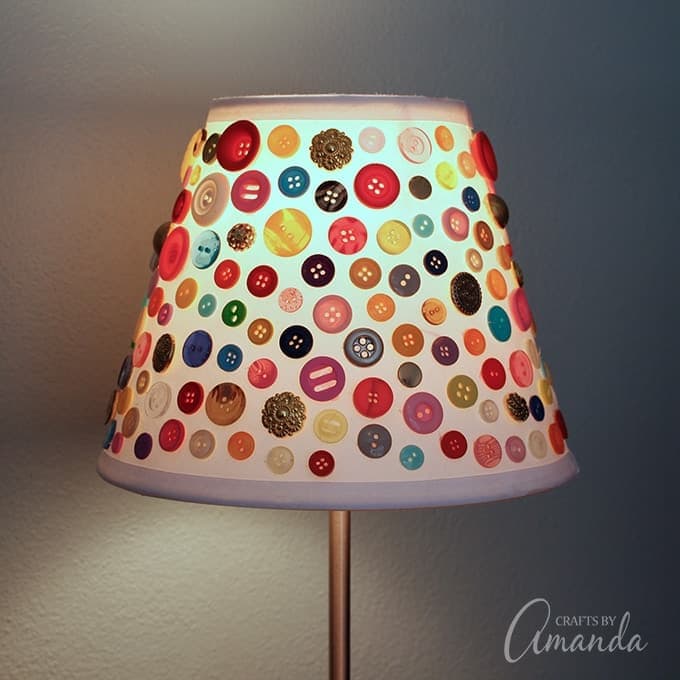 This cute button lamp shade is a great craft for all ages. You don't have to be particularly skilled to conquer this button masterpiece!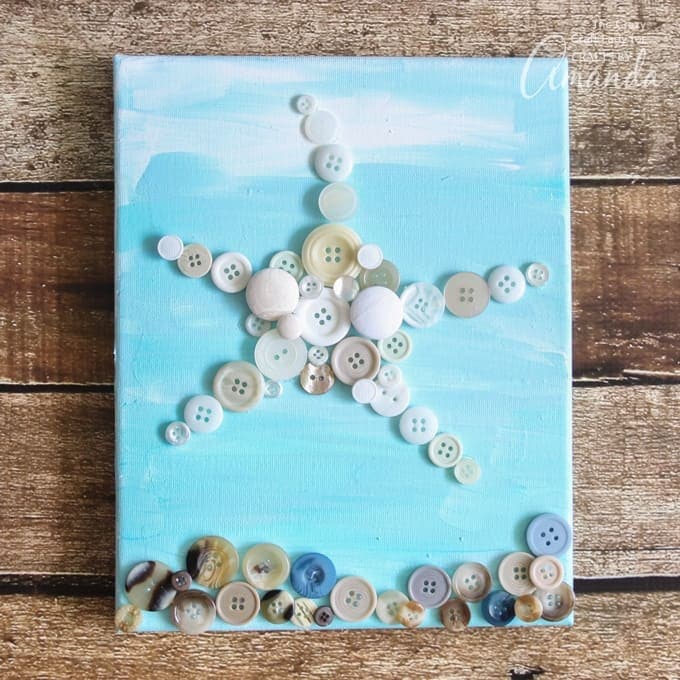 This button starfish wall art is a super easy button craft. Using an 8×10 canvas, some coastal colored paint and assorted neutral colored buttons, you can have this starfish wall art done in no time!
And finally, I wanted to share a friend of mine's project here too. This wire wrapped tree suncatcher from Suzy's blog is positively lovely, don't you think? I love it!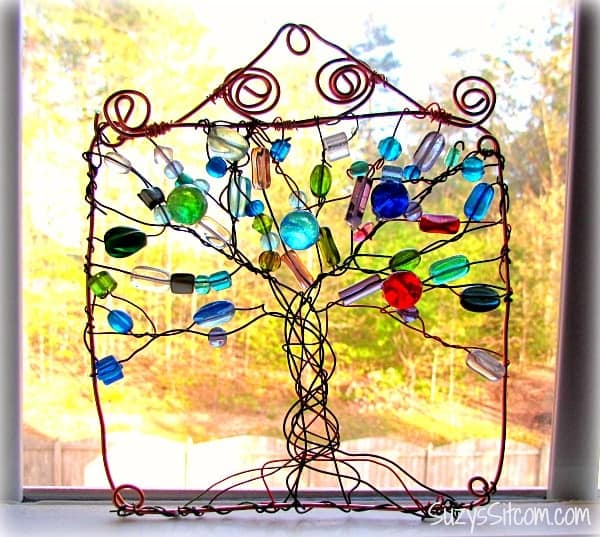 Thanks again for visiting and checking out my button tree. If you would like to join my free newsletter called Foodie in the Craft Room, you can do so by clicking here.
This post was originally published here on May 11, 2012.
Latest posts by Amanda Formaro
(see all)