You've been collecting prescription pill bottles for quite some time knowing there are plenty of ways to repurpose them. Over the years recycling these little brown medicine bottles has been difficult, though it's starting to get better. However, there are tons of nifty uses for empty prescription pill bottles so you don't have to seek out a recycling center, or worse throw them in the garbage.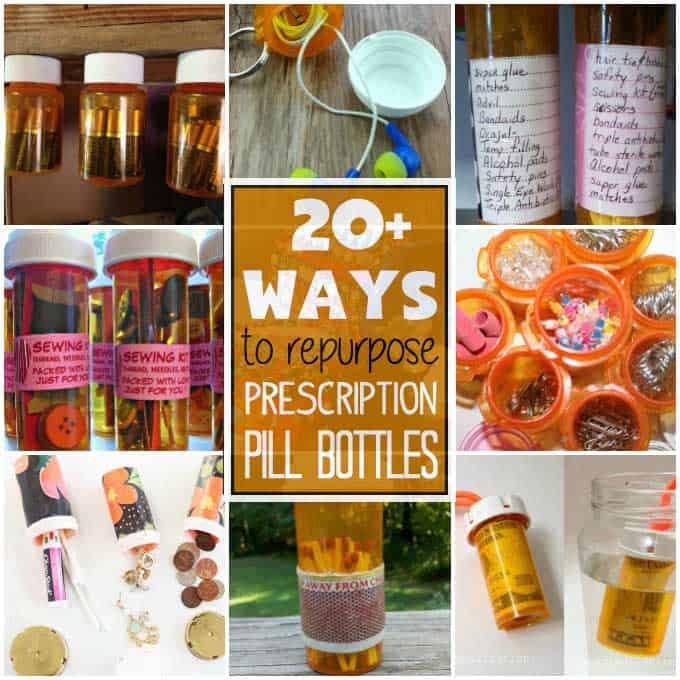 20+ Uses for Prescription Pill Bottles
Prescription pill bottles are perfectly compact containers for your purse or travel bag. You can also use them to organize tiny objects in your home. Depending on the medication they come in various sizes, giving them multiple uses.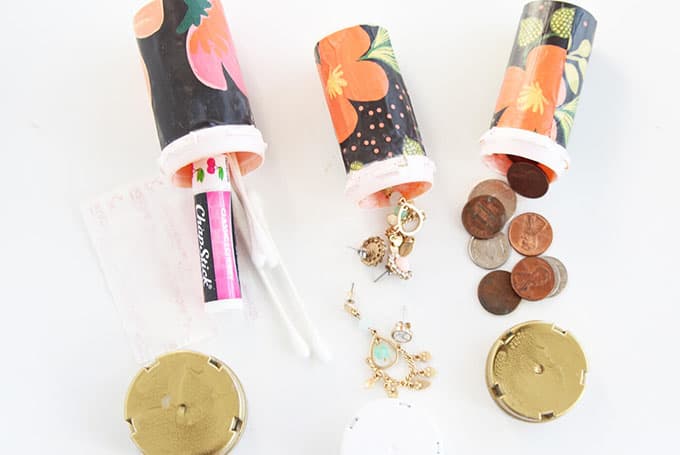 Safety Tip: Be sure to clean the bottle well, especially if a narcotic medication was in the bottle previously. After cleaning with soap and water, a rinse of bleach followed by multiple rinses of clean water should do the trick. If you'd like to decorate your pill bottles, here's a fun decoupage idea for making them look prettier.
1. LOTION, SHAMPOO, CONDITIONER
Pump your favorite lotion into a pill bottle rather than purchasing a travel-size version. This is also great for shampoo and conditioner. Most prescription pill bottles are waterproof when closed properly. However, if you're concerned about leaks, place the bottle into a zipper snack size plastic bag. This is great for keeping in your car as well.
2. POINTY OBJECTS
Think of things like toothpicks, straight pins, needles, and thumbtacks. Easily organize your kitchen junk drawer, desk space or sewing room. Prevent pokes by keeping sharp items corralled in a pill bottle with a lid.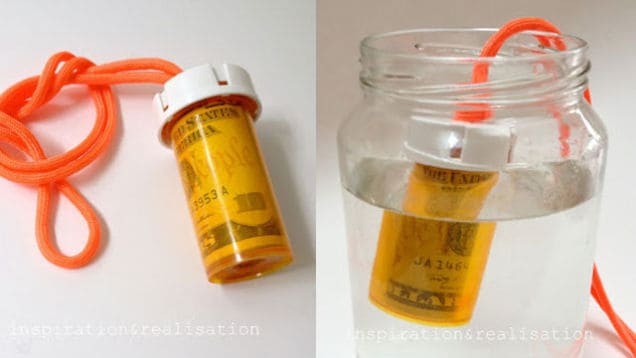 3. WATERPROOF STASH FOR YOUR CASH
Roll up your bills to hide or stash away for a rainy day.. and bonus – it's waterproof! Putting your cash into a pill bottle is a great alternative to carrying around a bulky wallet or your purse. This is especially helpful when you are out for a walk or just don't feel like lugging your purse to the store for a quick trip. The pill bottle will fit nicely in your back pocket or in your fanny pack.
4. COTTON SWABS AND COTTON BALLS
Keep your Q-Tips and cotton balls clean and dry and free of gunk by storing them in a pill bottle. If you travel, this bottle fits nicely into your cosmetic bag but the cotton will not pick up any loose powder or residue from the bag.
5. BUTTONS AND BEADS
Choose a few different button sizes and colors, fill a pill bottle and add them to your sewing drawer. You never know when you'll pop a button and need a replacement. These bottles are also ideal for holding beads, especially if you are in the middle of a jewelry project.
6. SAFETY PINS
I always tuck away safety pins in my purse for those "you-never-know" moments. Place a few different sizes into the bottle and keep in your glove box or purse.
7. BOBBY PINS AND HAIR TIES
I don't know about you, but I find bobby pins everywhere! They show up in my bathroom drawer, on the floor and in my car. Seems like whenever I need one they are nowhere to be found. Keep a stash of bobby pins in an empty pill bottle and you'll always know where to find one. A prescription pill bottle is also the perfect little holder for miscellaneous hair bands.
8. OFFICE AND HOMEWORK SUPPLIES
An office desk, homework station or just the kitchen table where the kids work on projects can be tidier by organizer small office supplies. Paper clips in one bottle, thumbtacks in another, and small binder clips in yet another. There are all sorts of tiny items that you can contain with old pill bottles including pencil eraser tops, rubber bands and staples. [image from My Crafty Zoo]
RELATED: Don't miss this –> 30+ ORGANIZATION IDEAS AND TIPS
9. JEWELRY KEEPERS
When traveling, no one wants to deal with a tangled pile of necklaces. Pill bottles are totally convenient for holding rings and bracelets, too. If you carry a lot of jewelry when you travel, designate different bottles for different types, such as earrings in one and necklaces in another.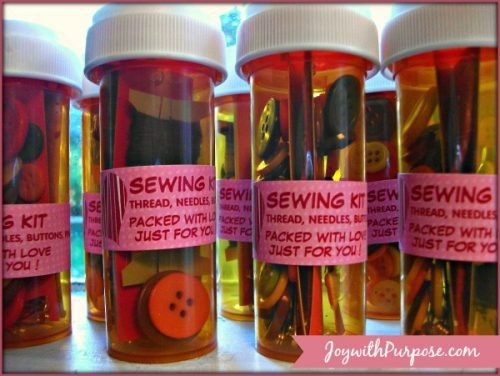 10. TRAVEL SIZE SEWING KIT
While these empty bottles are perfect for storing things like needles and safety pins, they are also ideal for putting together a mini sewing kit. Insert a couple different sized needles and safety pins, a couple of buttons, a needle threader and several other items to create your kit. (check here for some ideas on what to put inside)
11. FIRST AID KIT
You'll probably want to use one of the larger prescription pill bottles when putting together a first aid kit to carry in your purse or backpack. This is ideal if you like to go hiking or exploring as its lightweight and easy to transport. Write out a simple list of the contents and tape it the bottle. (check here for some ideas on what to put inside)
12. PRETTY ROCKS, SHELLS AND SAND
Visiting the beach is always fun, but limiting the amount of seashells and other treasures that kids can bring home can be tough! Hand each of them an empty bottle and tell them they can only bring home what will fit inside. Watch as they carefully and eagerly choose which treasures are lucky enough to make the journey home. Want to make a project? Be sure to check out these seashell craft ideas!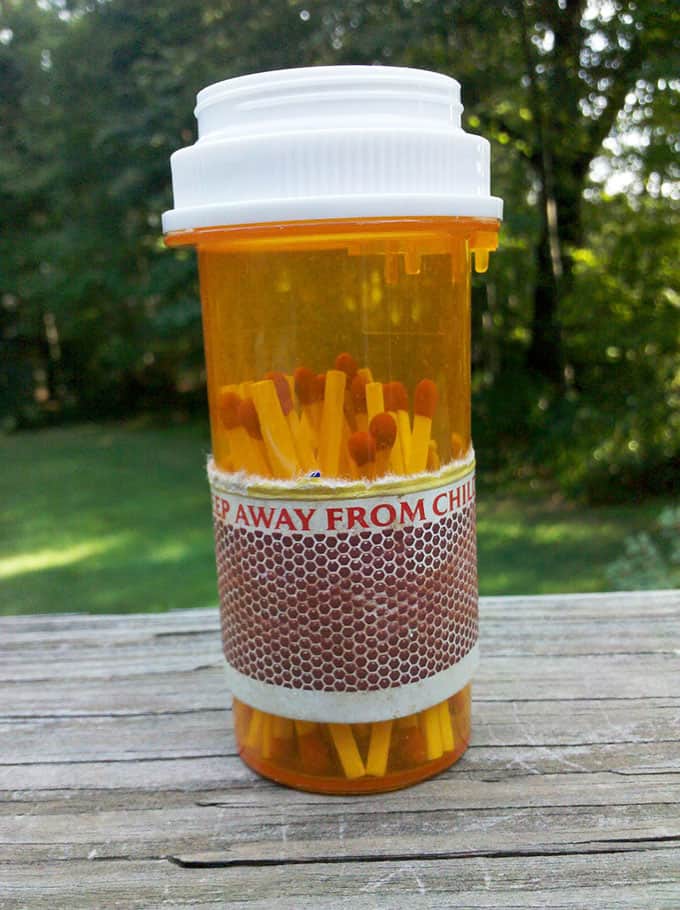 13. MATCHES
Keep your matches dry during your next camping trip. Be sure to tear off the striking surface from the matchbox to tuck into the bottle, or attach it to the outside like this person did! Because these bottles are waterproof, this is great for those canoe and kayak trips as well.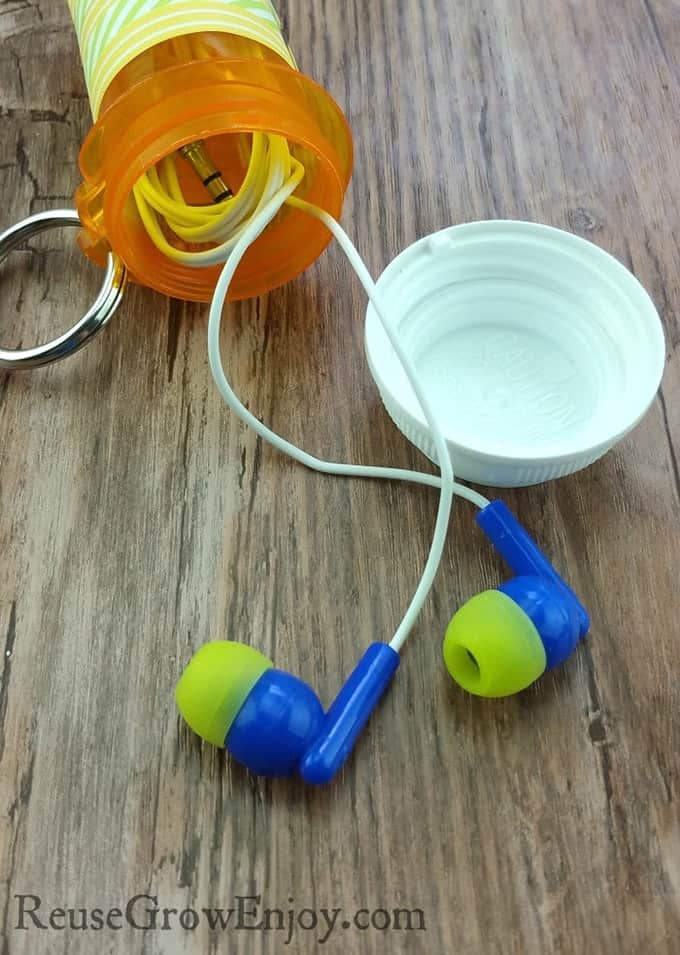 14. EARBUDS AND CHARGERS
You can protect your earbuds and charging cords and prevent tangling by folding them into an old pill bottle. Wrapping your earbuds with a twist tie is added insurance that they won't become a tangled mess.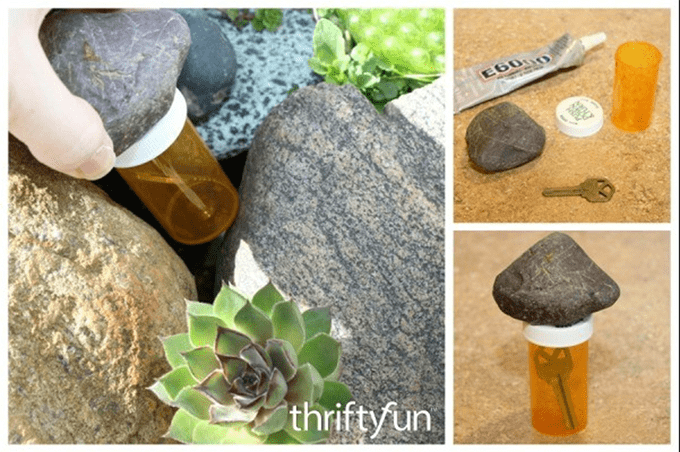 15. HIDE A KEY
Hiding a spare key to your home or car can be tricky. You certainly don't want a stranger walking up and checking under your mat so they can walk right in the door! Hide it so that it's far less conspicuous by making it look like it's part of the landscape. Here's how to make your own hide-a-key.
16. SLIME, CLAY AND PLAY DOUGH
Slime, homemade floam, play dough, homemade clay – all of these squishy concoctions kids love to play with can be contained in empty pill bottles. Perfect for keeping that stuff out of your carpet!
17. LOOSE CHANGE
A pill bottle makes a great holder for loose change. There are some bottles that fit a quarter perfectly, making them ideal for laundry money. My wallet gets heavy when adding change to the small zipper compartment. Place your loose change into the empty prescription pill bottle while you are out and about. When you get home, dump the contents into a vacation fund jar to save for another day.
18. BREATH MINTS AND GUM
Kids often have laser vision when it comes to small treats. Empty mints or candy into a clean pill bottle to disguise them from little hands.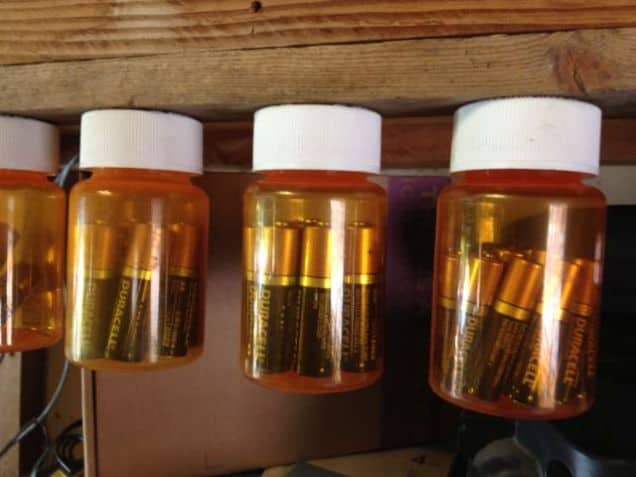 19. GARAGE ORGANIZATION
The house is not the only place you will find small objects. The garage can be a minefield of sharp objects and small pieces that need containing. Nails, screws, nuts, bolts and even batteries are just a few of the items that fit well in your empty pill bottles.
20. COOKIE CUTTER
Use your empty, clean prescription pill bottles to make these Pill Bottle Cookies for Christmas!
21. SEED STORAGE
For anyone growing your own garden, storing seeds in these little bottles is a great idea! Store in a dark, dry place until spring. (Thanks for the idea Sylvia!)
Remember to always dispose of expired or unused pills in a safe, recommended manner before hoarding that bottle. Do you have more ideas for using empty medicine bottles? We'd love to hear, please share in the comments!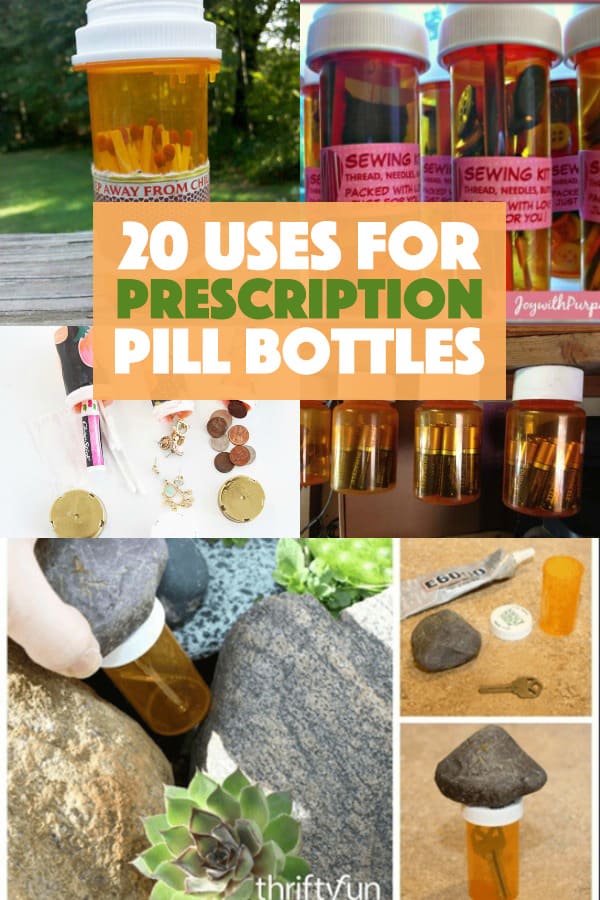 This post was originally published on this blog on Aug 9, 2017.
Latest posts by Amanda Formaro
(see all)