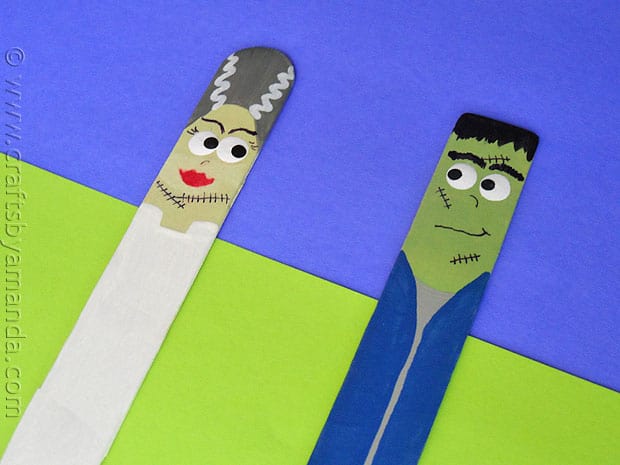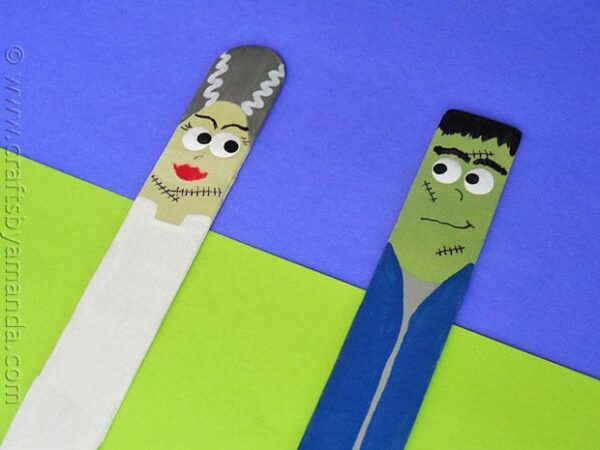 I personally think that the Bride of Frankenstein is sorely overlooked on Halloween. She does not get the fan fare that Frankenstein, Dracula and the other Halloween characters do. You see plenty of spider crafts, Jack O'Lantern projects and no shortage of mummies anywhere! So today I am going to show you how to make the Bride of Frankenstein and her man.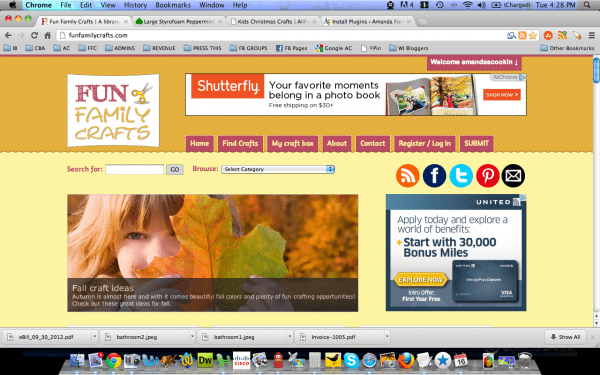 Before I tell you how to make these though, I want to remind you all that I also own Fun Family Crafts and there are over 500 Halloween projects, recipes and costume ideas posted over there! Staggering isn't it?? In total, and growing everyday, there are over 3,500 craft ideas posted and you can save them all in a handy dandy craft box right there on the site. Be sure to check it out if you haven't already!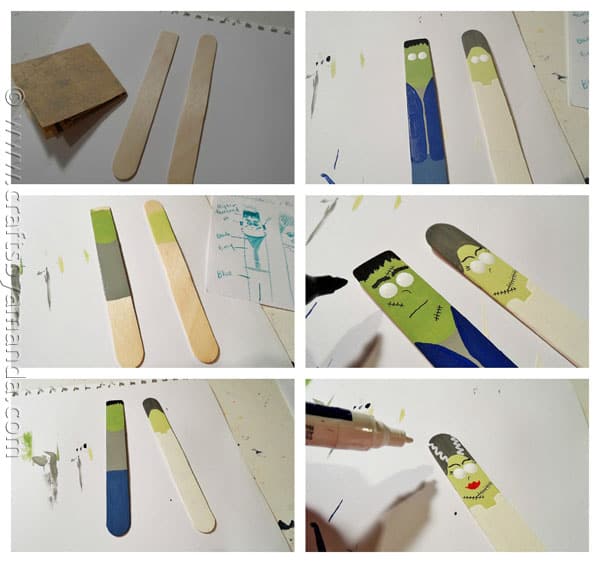 To make these, you'll first want to trim one of the ends of the craft sticks to make it flat, that's Frankenstein's head. Use some sandpaper to make them smooth. There are full printable instructions below, but you'll paint on the clothes, use markers for the stitches and small details and paint for the eyes.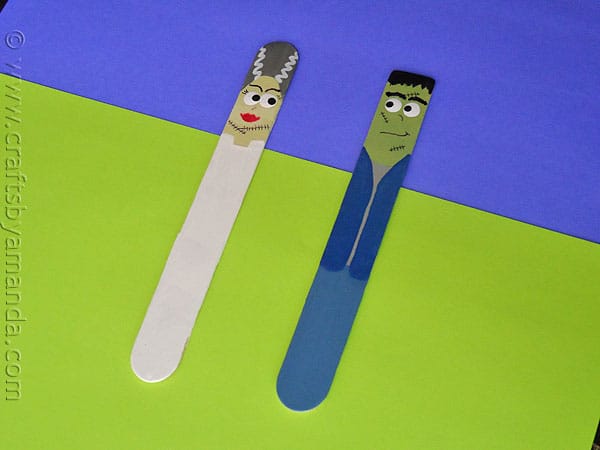 That's it! These would make fun bookmarks, or just a cute craft for the season.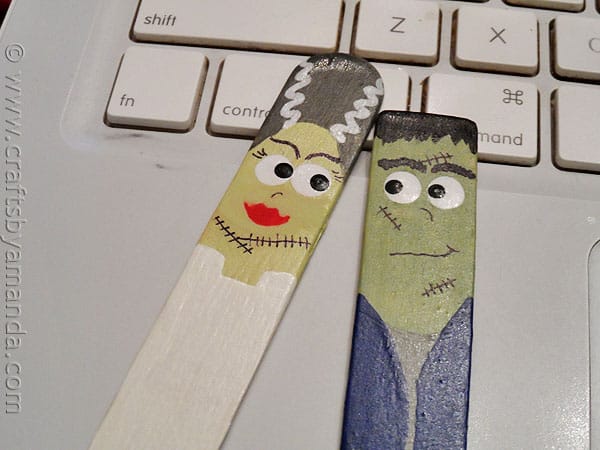 Happy Halloween!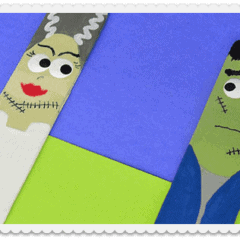 Print Project
Craft Stick Frankenstein and Bride
Supplies
2

jumbo craft sticks

Extra fine point black marker

White and red paint pens

Sealer or Mod Podge

Scissors

Sandpaper
Acrylic craft paint:
Green

Light green

Dark gray

Black

Off white

Gray

Blue

Dark blue

White
Instructions
Cut the round end off of one of the craft sticks and use a piece of sandpaper to smooth the edges. The flat end is the top of Frankenstein's head.

Paint the top section of Frankenstein with green paint where his face will be. Paint the top section of his bride with light green where her face will be. Paint the center section of Frankenstein gray for his shirt.

Use blue paint to add the pants to Frankenstein and use some black paint to add his hair. Use dark gray to add the bride's hair and the off white paint to paint on her dress. Use dark blue to add Frankenstein's jacket.

Next, dot on the eyes using the handle end of the paintbrush dipped in white paint. These will need to dry completely before adding the blacks of the eyes.

Use an extra fine point black marker to add stitches, eyebrows and Frankenstein's mouth. For the bride add eyebrows, throat stitches and eyelashes. Add a small "c" for a nose on each one.

Add the bride's lips with a red paint pen and the streaks in her hair with a white paint pen.

When the whites of the eyes are dry, use the handle end of a smaller paintbrush dipped in black paint to add the blacks of the eyes.

TIP: If you prefer, instead of painting the eyes you can use googly eyes.

Allow everything to dry for several hours before adding a coat of sealer.
Latest posts by Amanda Formaro
(see all)