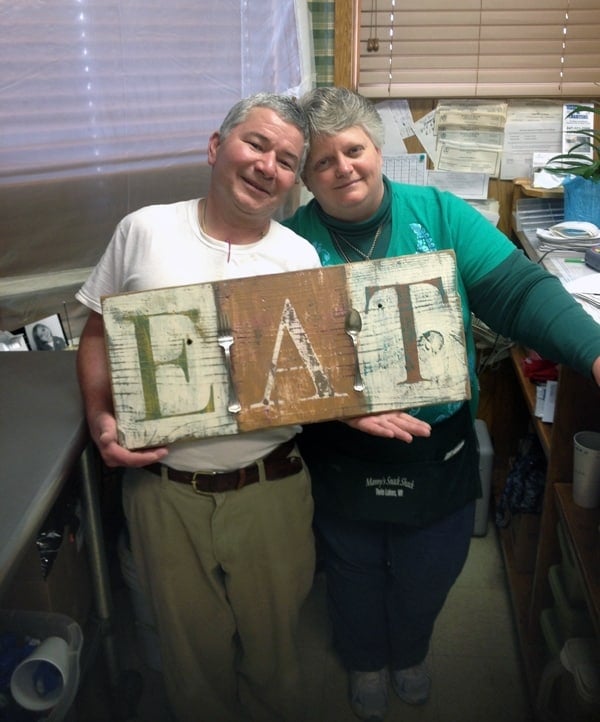 This is Manny and April. They own Manny's Snack Shack in the little hidden country lake town that I live in, Twin Lakes, Wisconsin. The cafe has been around awhile and has earned a great reputation, which keeps locals and visitors alike flocking to their doors. It's quite small, what many people would refer to as one of those amazing "hole-in-the-wall" restaurants that everyone talks about. In the warmer months, as visitors fill our little town, there's always a line going out the door at Manny's. We think it should be featured on Diners, Drive-Ins and Dives, but that might just make the line longer!
My 16-year old son works at Manny's on weekends as a dishwasher. We usually go in on Sundays and try to sit at the counter so that we can see him. If we go in early enough, it won't be overly busy yet and he'll have a chance to sit with us for a few minutes. But that's not usually the case as Manny's seems to always be busy!
(Note: All sunset pictures in this post were taken right across the street from Manny's)
You probably noticed in the photo at the top that Manny and April are holding the EAT Sign that I made back in 2010 for Crafting with the Stars, a fun competition where Amy Anderson (Mod Podge Rocks) and I were teamed up against several other teams. It's always been one of my favorite projects and I have been asked many times to sell it or if I would custom make them. I had listed it in my Etsy store, but I priced it high knowing no one would buy it. Honestly, I didn't want to part with it. However, it came down from my kitchen wall this week because I am getting ready to paint. The color will be changing dramatically as will the decor scheme. I'm moving away from rustic country and more toward rustic coastal. Therefore, the EAT Sign no longer fits…
That meant I could sell it. But honestly, I put a lot of work into that sign. The barn wood I used came from my farmer friend down the road and it's really heavy, meaning a lot of wrapping and packing for shipping. And really? What would I get for it? $80 if I'm lucky? I've been offered $40 many times over, but I couldn't imagine selling it that low. And then it's just gone. No idea where it would end up, maybe in someone's garage sale someday. I worked too hard on it for that. Besides, I've never been a craft "seller", I've always been a craft "teacher". I create tutorials, not wares for sale. So selling things has never been part of my plan.
To get back to the story about Manny. You have to understand what a generous person he is. If you order two eggs, he'll give you three. Doesn't matter who you are; a first time customer or loyal patron of many, many years. It's just his style. He never wants anyone to leave hungry (So here's a hint if you ever get to Manny's. If you truly want two eggs, order one!). It's not uncommon for Manny to send home baked goodies with my son after work, or for him to bake a cake for your birthday (thanks Manny!), or send you home with a second breakfast of apple and strawberry covered french toast on Mother's Day (thanks Manny!)!
My point is that he is always giving. Always.
On Mother's Day, while nursing my coffee, I looked at my EAT Sign sitting on the table awaiting its fate. That's when I knew I was going to give it to Manny. He continually gives to this community, he's kind and caring and Twin Lakes wouldn't be the same without him. He has been so kind to us that in my heart I wanted him to have my EAT Sign. I think he liked it. And even if it were to never make it up on the wall, he knows that the gift was heartfelt and I know it'll never end up in a garage sale.
I just know. Thanks Manny. :)
Latest posts by Amanda Formaro
(see all)