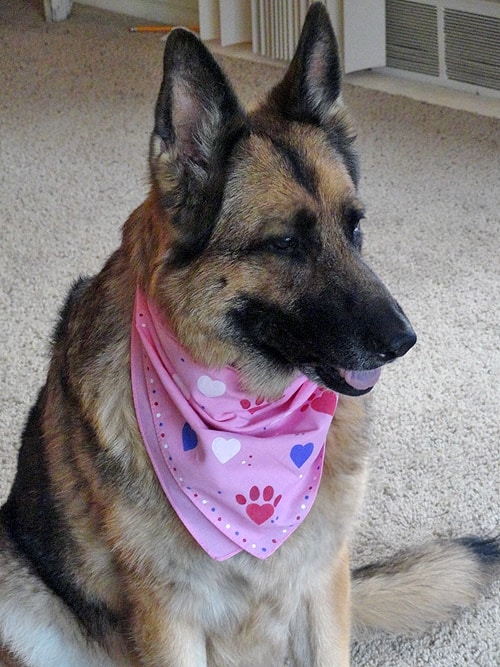 If you have a dog (or even a cat or bunny!) you might like this sweet Valentine themed bandana made just for them. It's easy to make looks really cute around their fuzzy neck! My 10 year old German Shepherd, Angel, is modeling this bandana covered in heart shaped paw prints.

I'm a designer for Decoart and made this bandana for them and Joann Fabrics (you can see it on Joann's site here – a cute little white doggie is wearing it!). You can get plain bandanas from Joann's as well as the paint and fabric medium needed. I used a Martha Stewart heart stencil, Americana paint (Lavendar, Titanium White and Razzle Berry) and Americana fabric medium.

Use the heart stencil to add different colored hearts randomly on the bandana. Use a paintbrush handle dipped in paint to add the toes.

Using the handle end of the paintbrush dipped in paint, add polka dots along the border of the bandana and in various places on the bandana around the paws.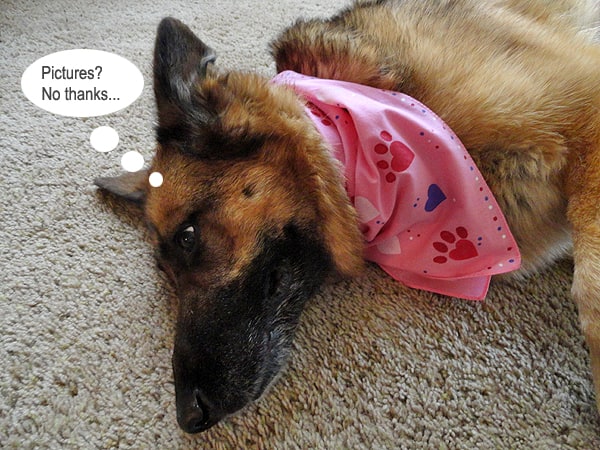 Angel wasn't too hip on modeling at first…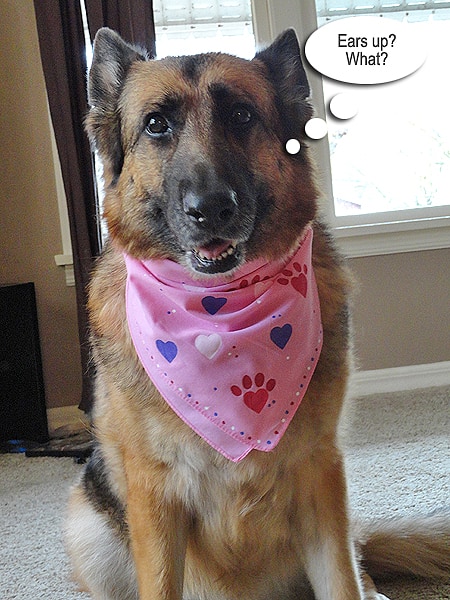 But with a little coaxing…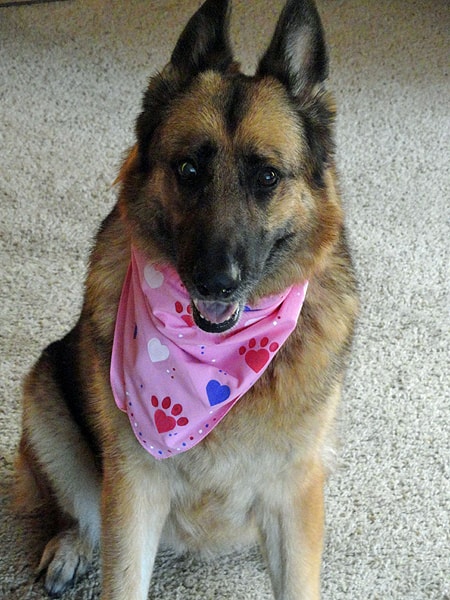 She finally got the hang of it.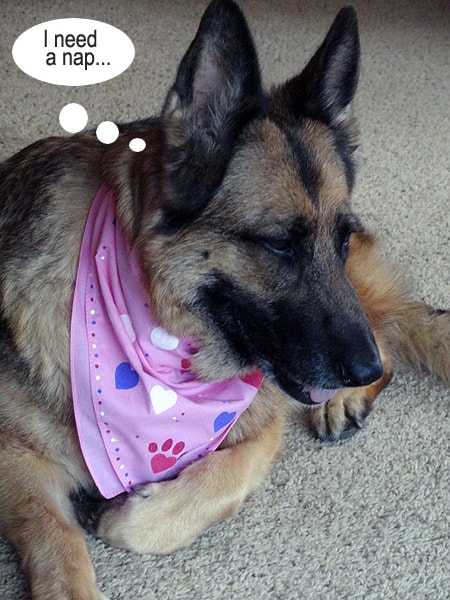 Then she got sleepy. :)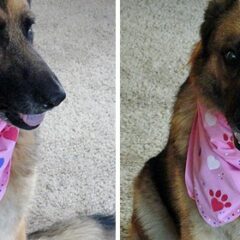 Print Project
Valentine Pet Bandana
Supplies
Americana Fabric Painting Medium

Americana Lavender

Americana Snow

Titanium White

Americana Razzle Berry

Pink Bandana

got mine at Joann's
Instructions
Wash and dry bandana, do not use fabric softener. Iron bandana to removes wrinkles.

Line work surface with a piece of cardboard and place front half of bandana over the cardboard. The back half of the bandana should be tucked behind the cardboard. This will eliminate the possibility of any seeping through to the back side.

Mix Americana Fabric Painting Medium with Americana Razzle Berry according to directions on the fabric medium bottle. Use a heart shaped stencil and flat paintbrush to add hearts to random areas of the bandana.

To turn some of the red hearts into heart paws, dip the handle end of your paintbrush into the red paint. Use handle end like a pen to draw in a circular motion to add four "toes" above the heart.

Repeat step 3 with other paint colors to add hearts in various places on the bandana.

Use the handle end of the liner paintbrush to add polka dots along the edge of the bandana. Begin with one color and place dots about 1 inch apart. When finished, move to a second color, adding a dot after each of the first dots. Repeat for the third color.

Throughout this process, occasionally lift the bandana so that the paint doesn't stick to the cardboard underneath. If it sticks don't worry, it can be cleaned off later.

Allow fabric paint to dry and cure for 48 hours. Heat set according to directions on fabric medium bottle. Wash if desired, or to remove cardboard.

');

Latest posts by Amanda Formaro
(see all)