This is truly a universal gift idea. Whether it be romantic, for Valentine's Day or an anniversary, a message for a dear friend, a birthday gift, or even words of encouragement, this project can be tailored to fit just about any occasion.
This was the brain child of my 16 year old daughter. Being the frugal young lady I have raised her to be, she was trying to come up with a heartfelt gift for her boyfriend that would A) not cost a lot, B) be straight from the heart, and most of all C) be appreciated. She asked me if I would help her turn this idea into a reality, so here's what we did.
[full instructions at the end of this post]
She typed up a lovely note on her computer in a pretty font (no she didn't offer to let me read it, and I didn't ask). She printed the letter on an antique looking piece of paper I found at the craft store. We used an empty wine bottle, some sugar and a few doo dads for decoration, finishing it off with SnoTex paint. We used sugar instead of sand for this because she wanted it to be more of a snow scene than a beach scene. More Christmas-like. Because I had most of these things on hand, this craft only cost us about $1.00 (for the paper).
Did he like it? YES. He loved it. it went over very well and I was really proud of her for being so creative this year!
My gears really started turning on this one, the ideas just kept coming! Here are some alterations you could easily make to this craft to fit different occasions:
Traditional: use sand and small sea shells; antiqued paper for the note; jute to tie the note; and burlap around the neck of the bottle.
New Baby: use white sugar; pastel colored buttons dropped into the sugar; pastel colored paper for the note (a note from a dear friend, parent, sister, etc – great way to include a gift check!); white or sheer ribbon to tie the note; pastel or white wide ribbon for the neck, maybe with little baby booties hanging from center of bow.
Valentine's Day – Mixture of red and white sugar, or even turbinado sugar; confetti hearts sprinkled inside; white or pink paper or a heart themed stationary; red or pink ribbon to tie note; gold, red or white wide ribbon for bottle neck.
Anniversary – Color scheme could be based off of your wedding colors or your spouse's favorite colors; sand or sugar, depending on the gift (especially if there's plane tickets to a tropical paradise! LOL); matching ribbons and confetti.
Teen Girl Birthday – White and colored sugar; white paper – tape money or gift check to paper; purple yarn or ribbon to tie paper; purple and yellow confetti or buttons in sugar; yellow bow for outside; use acrylic paint to add purple and yellow polka dots to outside of bottle.
There are so very many different ways that this could be used. Definitely a great gift idea!
Message in a Bottle
(instructions are for winter/Christmas themed bottle listed, but you could adapt this however you please)
by Amanda Formaro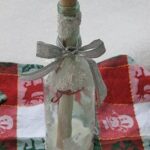 Print Project
Message in a Bottle Craft
Supplies
empty wine bottle with cork

you can buy corks at the craft store if you need one

thumbtack

24

" thin red ribbon

sheet of antiqued stationary paper

1

cup

granulated sugar

red and green craft jewels

beads, or confetti

18

" wide red or silver ribbon

SnoTex paint
Instructions
Remove all labels from bottle, wash and dry. Print note or letter on to antiqued paper. If you are going to include a monetary gift, attach it to the letter with a small piece of tape. Roll up letter tight enough to fit inside the opening of the bottle. Tie the letter with the thin red ribbon, leaving one end of the ribbon long, trimming the other end. Attach the long end of the ribbon to the bottom of the cork with the thumbtack. Set aside.

Pour enough sugar into the bottle to about 2 inches deep, or deep enough so that when the letter is placed inside the neck of the bottle, the top portion of the letter will remain in the neck. This way the letter can easily be removed.

Drop confetti, beads or craft jewels into the sugar. Note: if using craft jewels, they may end up upside down. To avoid this, glue craft jewels together, back to back, so that no matter what side it lands on, the jewel will show.

Insert the rolled letter into the neck of the bottle, make sure the long end of the ribbon is in the neck as well, and insert cork. Tie red or silver ribbon around the neck of the bottle into a bow, trim ends. Use SnoTex paint to decorate the outside of the bottle. Let dry.
Latest posts by Amanda Formaro (see all)