These Beaded Frost Luminaries are a great Earth Day craft. These soft colored luminaries will add just the right amount of soft color and light to any garden or path in your yard.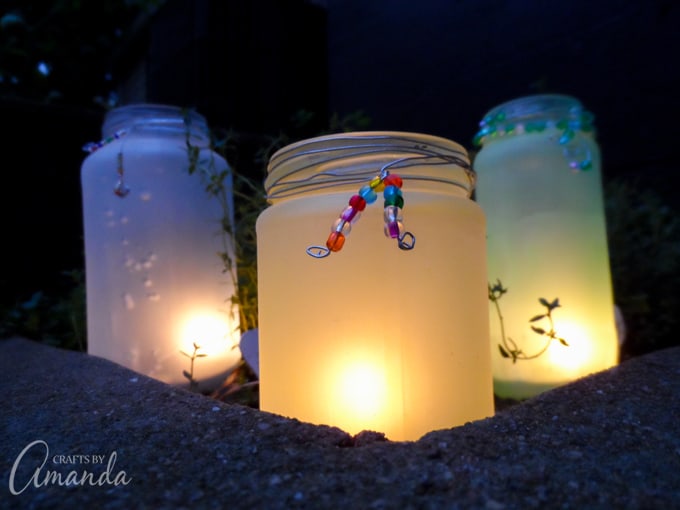 Beaded Frost Luminaries
All of these luminaries are made from recycled jars. I keep just about every jar once the contents have been used up. Therefore, with Earth Day right around the corner, and the weather getting warmer, I thought it would be a great time to share these with you.
I really love the look of luminaries, especially in the garden. I have an herb garden that has plenty of green, but really no color to speak of. I've planted a few flowers in there each year to pretty it up, but it never seems to be quite enough.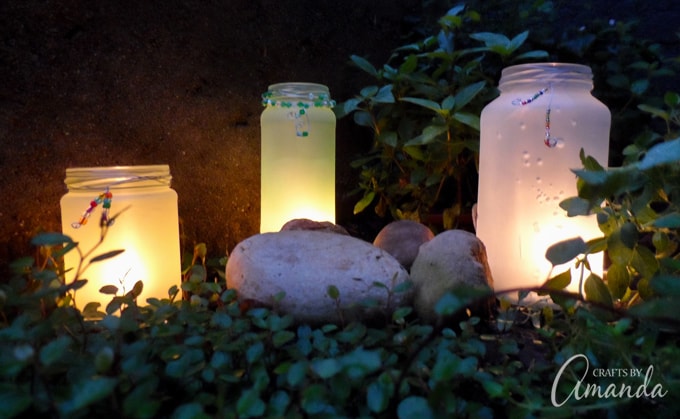 What you'll need to make these Frost Luminaries
Martha Stewart Frost Glass Paint Colors:
Bubble Gum
Yellow Jacket
Pea Shoot
Summer Linen
Mace
Blue Calico
Making the Beaded Frost Luminaries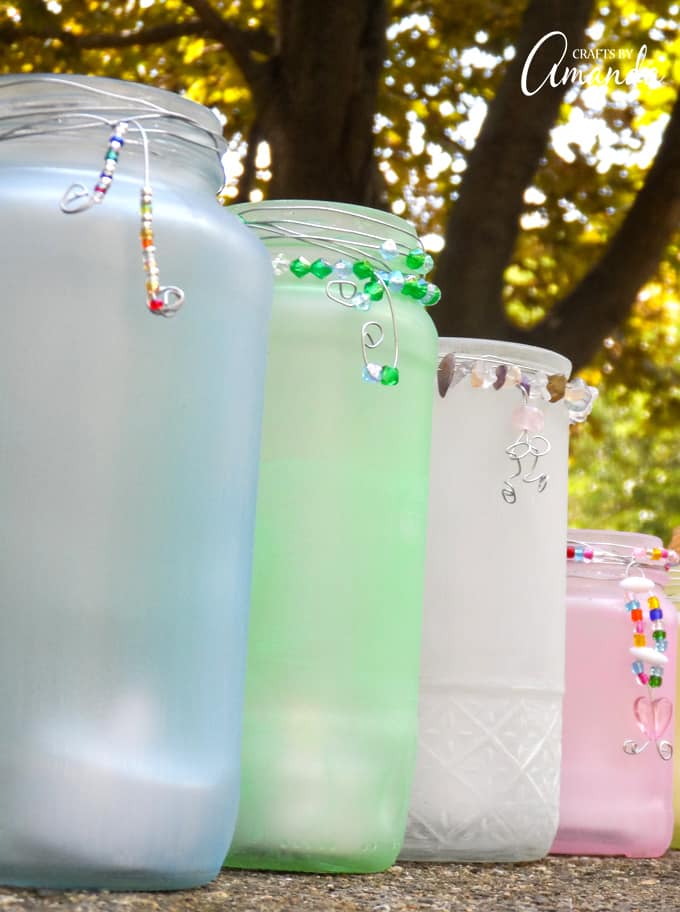 I used Martha Stewart Frost glass paint for this project. The colors I used are in the instructions below and it is formulated to withstand the outdoors.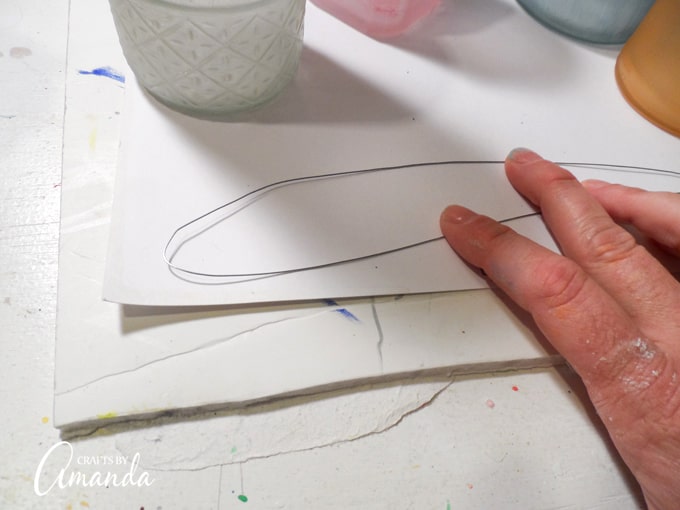 After painting the jars, fold your wire in half to find the center.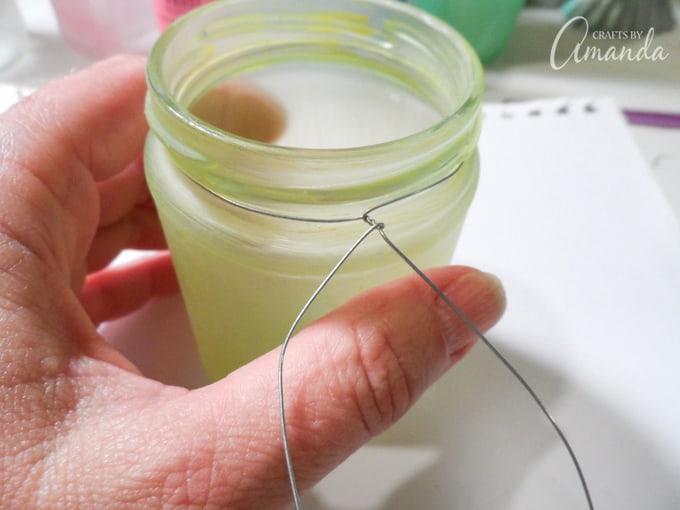 Using the center of the wire as your starting point, hold the wire against the jar rim, wrap around and twist together in front to hold it in place.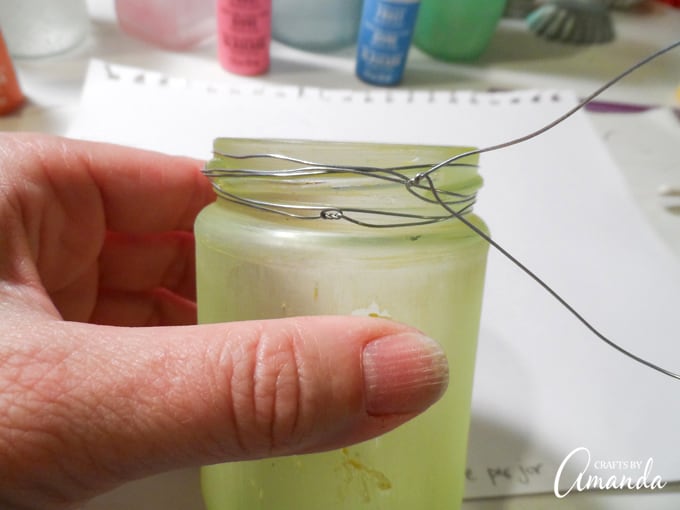 Wrap it several times around the jar rim. You should have a few inches of excess wire to add beads onto.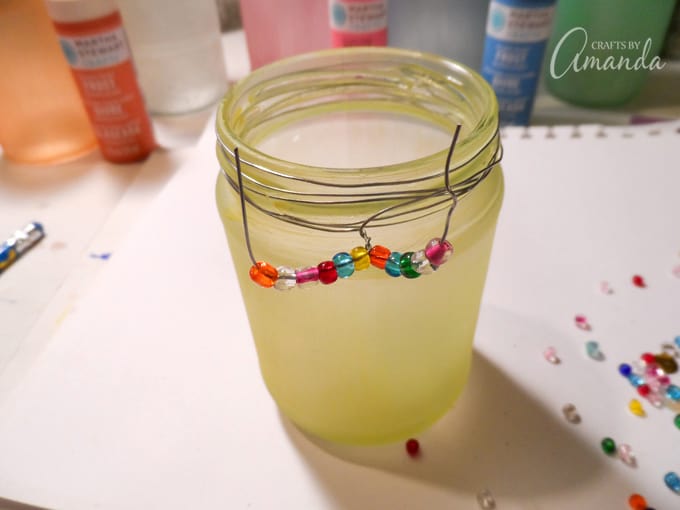 Bend the wire upward so that when you add the beads they won't fall off.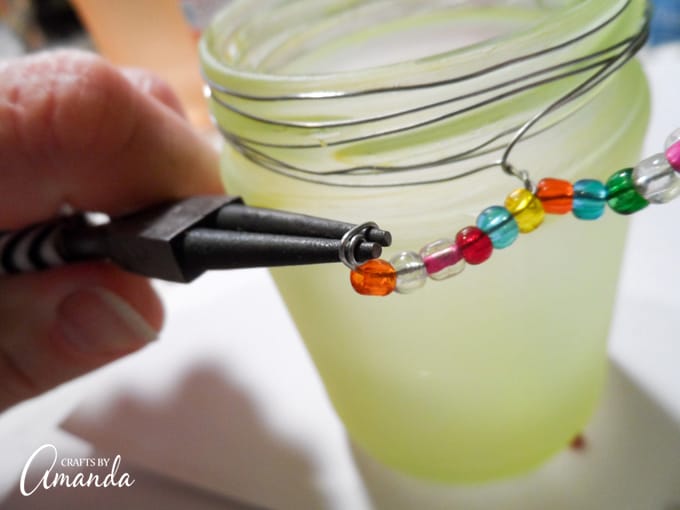 Here's where your round nose plier comes in. Use it to curl the ends of the wire. This serves as a decorative end and keeps the beads in place.
Here are the variations that I used to give you an idea. You can certainly do whatever designs you like!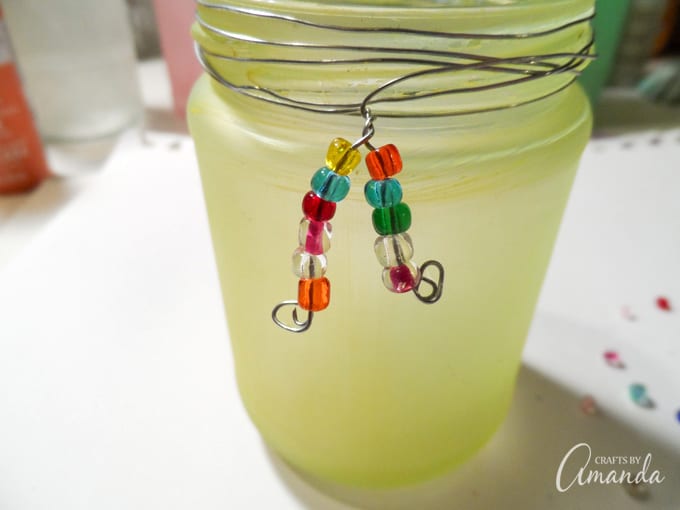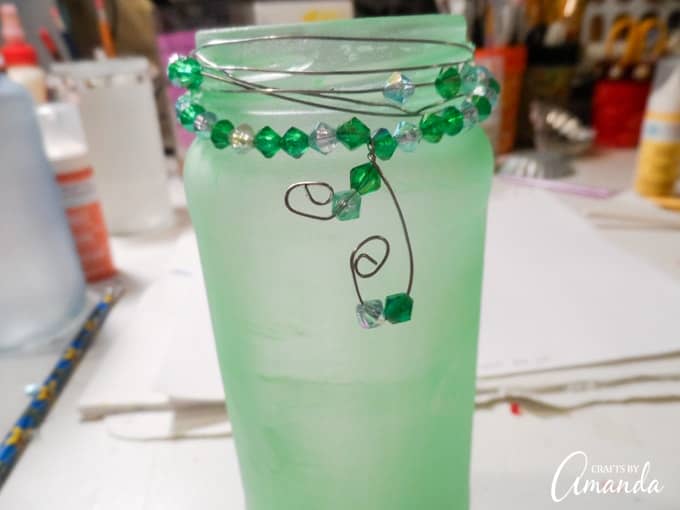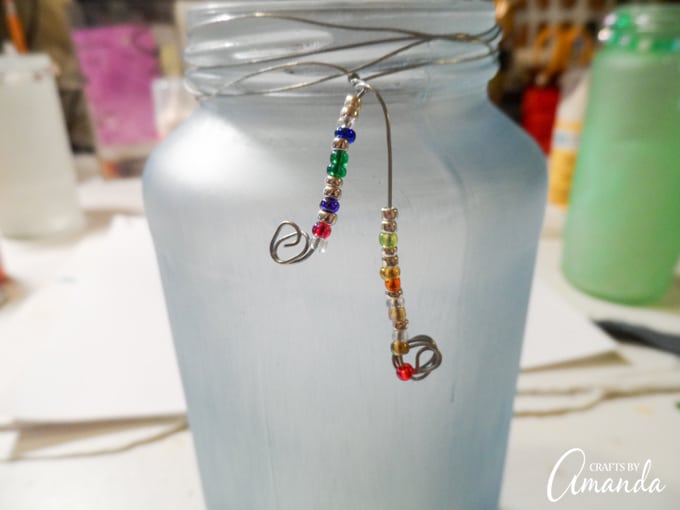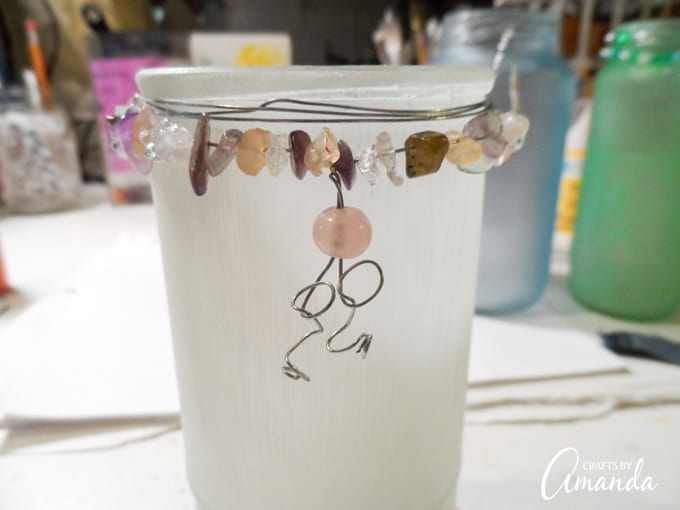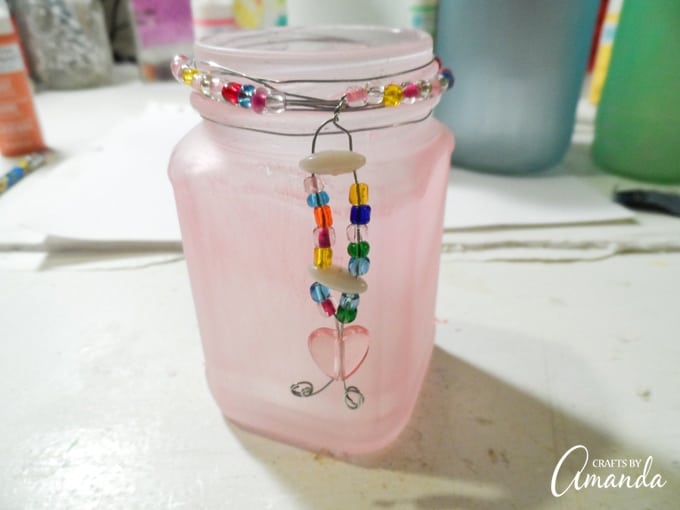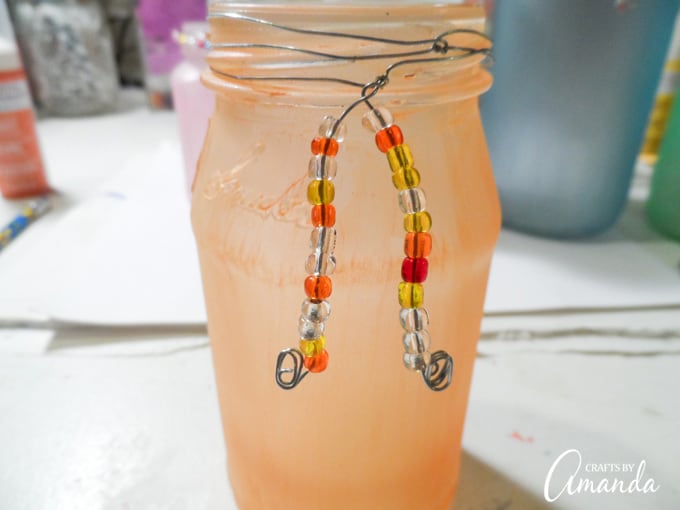 Then, simply light them up. You can use regular tea light candles or use the LED tea lights that don't require a flame.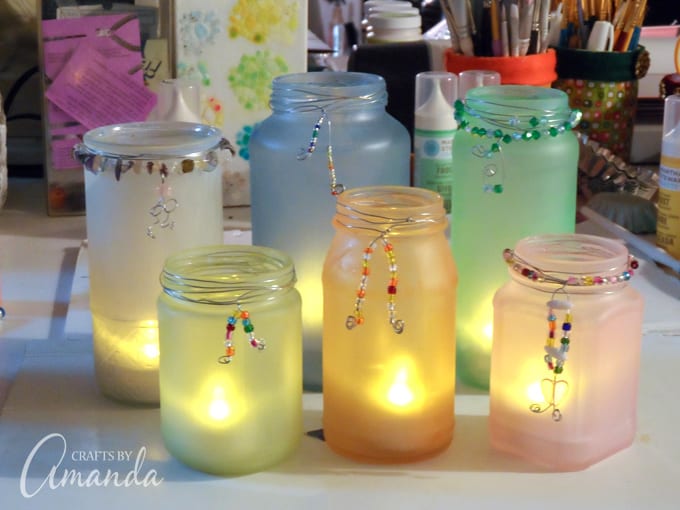 These are safe to stay outside, but you may want to wipe them down once a week, and if you know it's going to rain, bring them in so they don't fill up with water. Enjoy!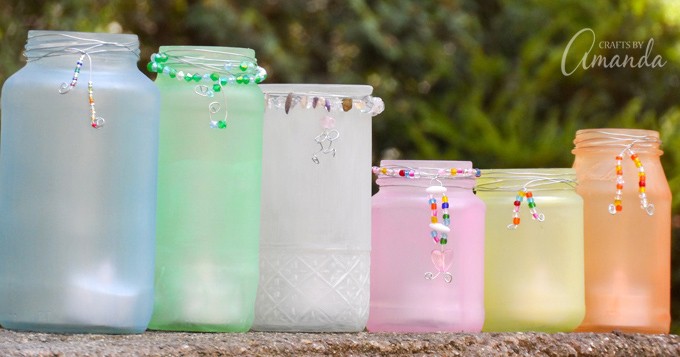 More Luminary Ideas
Beaded Frost Luminaries
Supplies
Recycled glass jars
Silver jewelry wire
Various colored beads
Acrylic sealer spray
Wire snips
Round nose pliers
Martha Stewart Frost Glass Paint Colors:
Bubble Gum
Yellow Jacket
Pea Shoot
Summer Linen
Mace
Blue Calico
Directions
Wash and remove any labels and glue residue from jars. Be sure they are completely dry.
Paint the outside of the jars with the frost paint. it will appear streaky at first, but as you work your paintbrush over the glass, smoothing the surface out as you go, the paint will become more uniform. Allow it to dry for one hour.
Spray the painted jars with sealer and let dry.
Snip wire into 2-foot lengths. Find the center of your length of wire and hold it against the rim of the jar. Wrap both ends of wire around the rim and twist together to hold in place.
Continue wrapping the wire, leaving a few inches at each end to add beads. Twist wire together again to keep it from unraveling.
Bend wire upward so that when you thread your beads on they won't fall off.
After adding your beads, use the round nose plier to curl the end of the wire to prevent your beads from falling off, and to add a decorative touch.
Try variations by adding some beads to the wire that wraps around the jar rim.
These are very pretty lit up at night as well! Use tea light candles or LED tea lights inside the jars.
This post was originally published on this blog on April 7, 2013.
Amanda Formaro is the crafty, entrepreneurial mother of four children. She loves to bake, cook, make kid's crafts and create decorative items for her home. She is a crafting expert and guru in the kitchen and has appeared online and in print publications many times over the years. She is also the editor for the Home & Garden channel at Craft Gossip and owner of FunFamilyCrafts.com.
Latest posts by Amanda Formaro (see all)