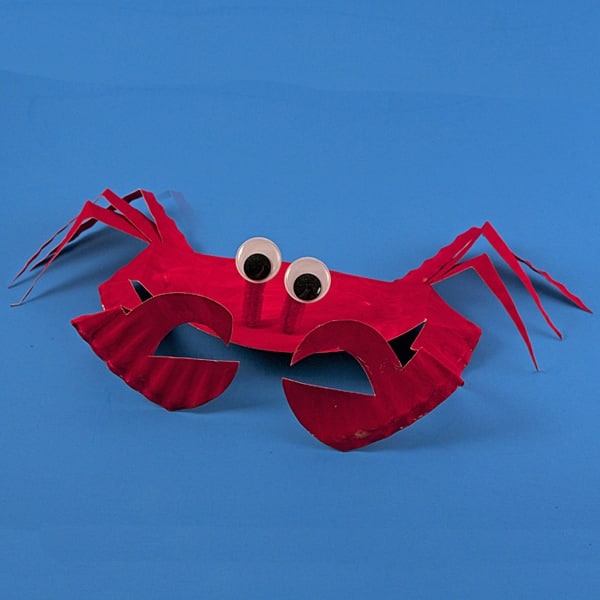 I can't help it, I just think this little guy is so darn cute! See how I turned a paper plate into this cute crab, a fun summertime craft for your kids.
Be sure to check out my styrofoam cup sea crabs too!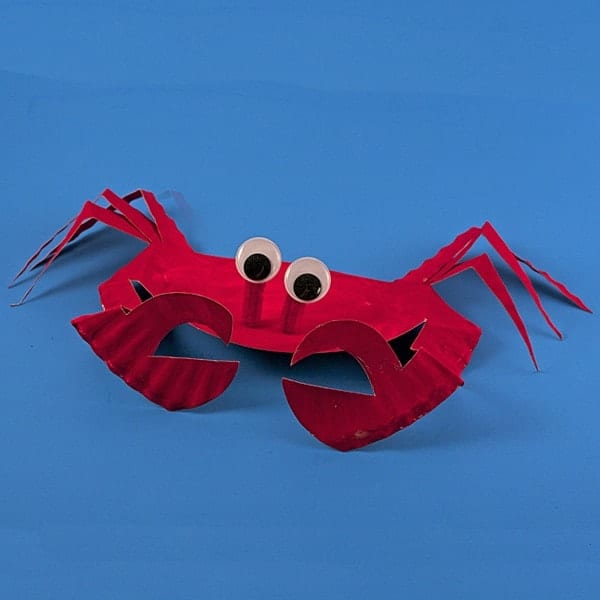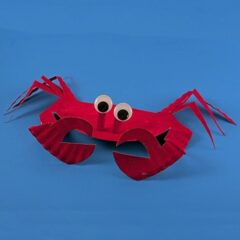 Print Project
Paper Plate Sea Crab
Instead of your everyday flat paper plate crab, I'll show you how to make one with a bit more dimension!
Supplies
Paper plate

Red craft paint

2

googly eyes

Red pipe cleaner

Tools: paintbrush

scissors, hole puncher, hot glue gun or quick drying glue

Pattern
Instructions
Start by painting both sides of the paper plate with red paint and let it dry completely.

Print the pattern above and use it to cut the paper plate. The legs are cut from the top of the plate, as indicated by dashed lines in the pattern.

To make the front claws stand up and be three dimensional, first fold them upward on over the paper plate body.

Next, fold down about an inch or so from your first crease and fold upward. Then a few inches after that, fold down again.

For the eyes, use a hole punch to create two holes about an inch apart on top of the head.

Cut your pipe cleaner in half, then fold each piece in half. Glue an eye to the top of each pipe cleaner. Insert the pipe cleaner eyes into the holes in the head about halfway. Turn the plate over and bend the pipe cleaners flush with the plate. Hot glue them in place. Turn the plate back over and bend the eyes to stand straight up.

Take the six back legs you cut from the top of the paper plate and bend each one in half.

Glue one to the back of the paper plate, just behind where the front claw begins. Glue the other two legs in place as well. Do any adjustment bending and creasing needed and your crab is all done! Cuteness!
Expert Tips & FAQs
SAFETY NOTE: We recommend that parents handle the glue gun, or if your child is familiar with handling one safely, to supervise them closely.
I originally made this project for Kix Cereal
Latest posts by Amanda Formaro
(see all)