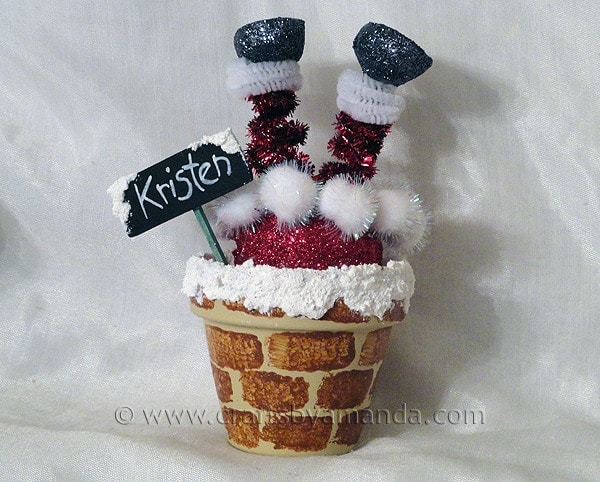 One day I was standing in line at Walgreens and sitting right there by the register was this adorable hat. It was shaped like a top hat, the hat portion being the chimney, and Santa's legs were sticking out of the top. The hat was musical and cute and whimsical. That immediately made me think what a cute Christmas craft that would make!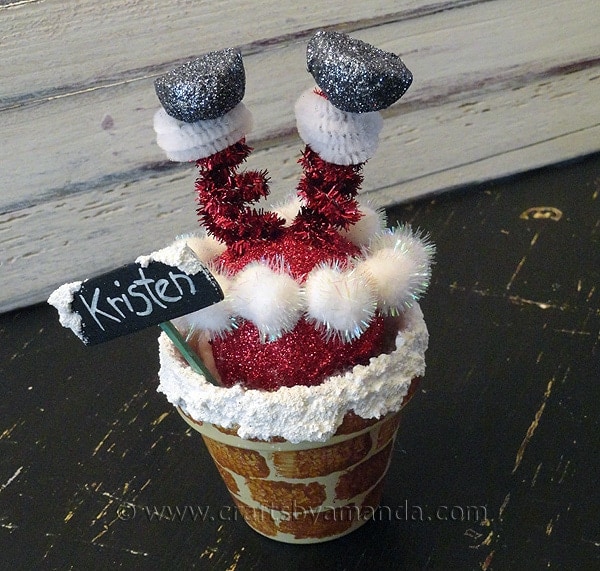 But what to use? I mulled it over in my head, thinking of all sorts of things. That's when the clay pot came in to play. I knew I had a few in my supply stash, I just needed to come up with how to create Santa, his legs, and the bricks. I craft by the seat of my pants, so the ideas started coming when I sat down to actually make this. I love how it turned out, and I hope you do too! Crazy cute! :)

For this project I used Sno-Tex snow texture paint, Chalkboard paint, and Patio Paint. Man I love this Patio Paint! Have you ever used this? This was my first time and the coverage on this pot is amazing. I've painted a LOT of clay pots in my time and after this will never use regular acrylic paint again. Ev-er.

First you'll paint the clay pot. To make the bricks, just use a small rectangle cut from a household sponge. Then put a layer of Snotex around the rim.

To make the legs you'll twist chenille together to make it a fatter piece, then twist them around a pencil or paint brush to coil them.

His body is made from a Styrofoam egg. Paint glue on the fat end and cover in glitter. Put a toothpick into the narrow end, this helps it stand up in the pot. The legs go in the 'red' end, using a toothpick to create holes in the egg helps a lot. The shoes are made from a small egg cut in half and glittered in black. I actually didn't have a small egg, so I used half of a ball, cut that in half, then shaped them. The egg would be easier, hence me suggesting it to you ;-)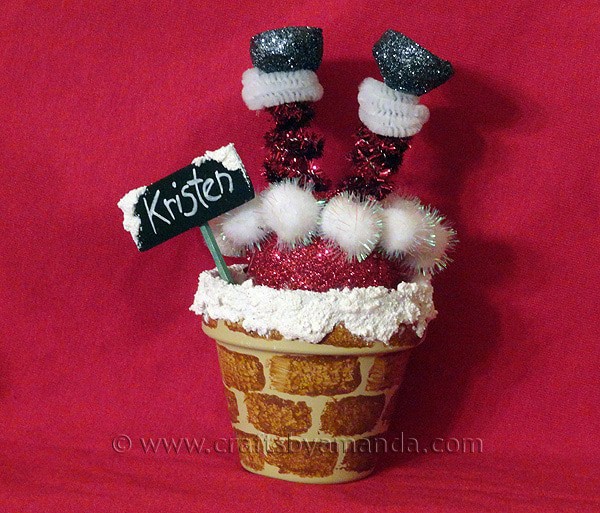 The full instructions are below, hope you have fun!

Print Project
Santa Chimney Place Setting
Supplies
Supplies:
1

small terra cotta pot

Patio Paint: cream and reddish-brown

Black chalkboard paint

SnoTex snow texture paint

1

medium Styrofoam egg

1

small Styrofoam egg

2

glittery red chenille stems

1

white chenille stem

10

small glittery white pom poms

Fine glitter: red and black

2 to

othpicks

1

small wood rectangle

cardboard will work too!
You'll also need:
household sponge

paintbrush

white craft glue

hot glue gun

white chalkboard pen

cotton balls
Instructions
First, paint your terra cotta pot with cream paint. Allow it to dry, then use a small rectangular piece cut from a household sponge to add the reddish-brown bricks. Let dry.

Apply snow texture paint to the rim of the pot using a palette or a paintbrush. Set aside to dry.

Fold a red chenille stem in half and cut to create two equal pieces. Twist the two pieces together to form one thicker piece. Repeat with second chenille stem. Now coil each of them around a pencil or pen, slide off.

Cut the small Styrofoam egg in half lengthwise, these are Santa's boots. Insert a coiled chenille stem into the round half of one of the egg pieces. Repeat with other chenille stem. Coat the "boots" with white glue and sprinkle with black glitter. Tap off excess and set aside to dry.

Insert a toothpick into the smaller end of the large Styrofoam egg. Paint the larger end with white glue. Sprinkle red glitter all over the glue and tap off excess. Set aside to dry (hint: if you have floral foam stick the toothpick into the foam. If not, simply use a cardboard egg carton).

While the painted pot and the glitter eggs are drying, paint the wood rectangle with black chalkboard paint. Hot glue the second toothpick to the back of the "sign". Use chalkboard pen to write your guest's name on the sign. Add some snow texture paint to the top of the sign. Allow everything to dry.

Place 2-3 cotton balls inside the clay pot. With toothpick pointing down, insert the large red glitter egg into the pot. Pull additional cotton balls into pieces and tuck them into the pot around the glitter egg to help support it.

Cut white chenille stem in half. Carefully twist around Santa's legs to create pant cuffs. Secure with glue. Insert the chenille legs into the red glitter egg (Santa's bottom) and secure with white glue. You can create small holes in the egg first by poking a pencil into it, then inserting the chenille.

Hot glue the white glitter pom poms in a circle around the red glitter egg to create the bottom of Santa's coat.

Insert the personalized sign into the terra cotta pot and secure with glue.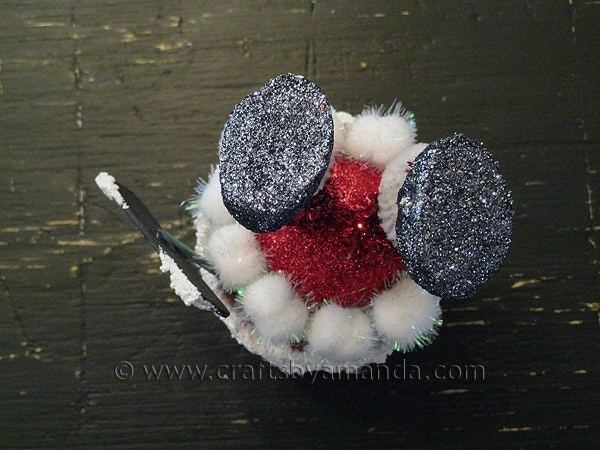 ');

Latest posts by Amanda Formaro
(see all)