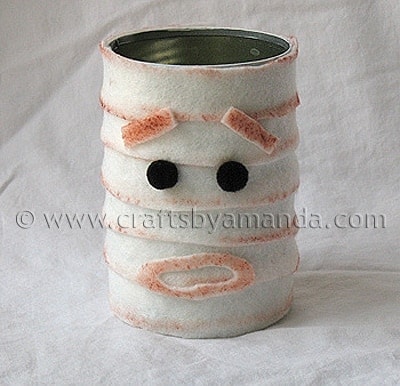 I think mummies are one of my favorite things to make at Halloween. They can be creepy or cute and can be made out of just about any type of white material or paper. This little mummy craft was made from a recycled aluminum can and strips of felt. He would make a great lollipop holder or something to hold plastic forks for your Halloween party!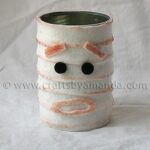 Print Project
Tin Can Mummy
Supplies
clean

empty aluminum can

2

sheets white felt

2

small black pom poms

brown marker

scissors

white craft glue
Instructions
Cut one of the felt sheets into strips. Glue strips around the entire surface of the can, overlapping each one as you go.

If you run out of strips, cut the other sheet of felt into strips as you go.

Use a brown marker to lightly color the edges of the strips of felt to make them look aged.

Glue the poms poms on for eyes about 1/3 the way down the can.

Color a 3" x 1" section of the remaining felt with the brown marker. Next, cut out two "eyebrows" about 1" x 1/2" each. Glue above the eyes.

Color another section of the felt with brown marker, about 2" x 2". Cut a mouth from the colored felt, cut out the center of the mouth and glue to the can.

Allow to dry completely.

'); // ]]>

Amanda Formaro is the crafty, entrepreneurial mother of four children. She loves to bake, cook, make kid's crafts and create decorative items for her home. She is a crafting expert and guru in the kitchen and has appeared online and in print publications many times over the years. She is also the editor for the Home & Garden channel at Craft Gossip and owner of FunFamilyCrafts.com.
Latest posts by Amanda Formaro (see all)