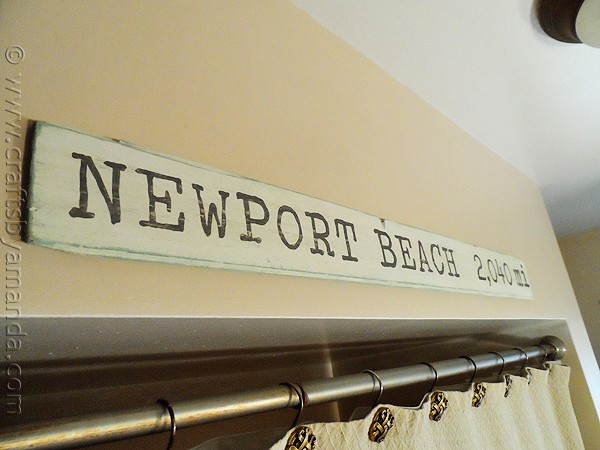 My bathroom decor is beach themed. Renovating the bathroom of this old house would be quite expensive, so I have been adding little touches here and there over time. We painted the green cabinets, peeled the ugly Victorian wallpaper, replaced the very 70s ornate light fixtures and painted the walls. I've finally started working on artwork for the bathroom, and this beach sign above my shower is one of them.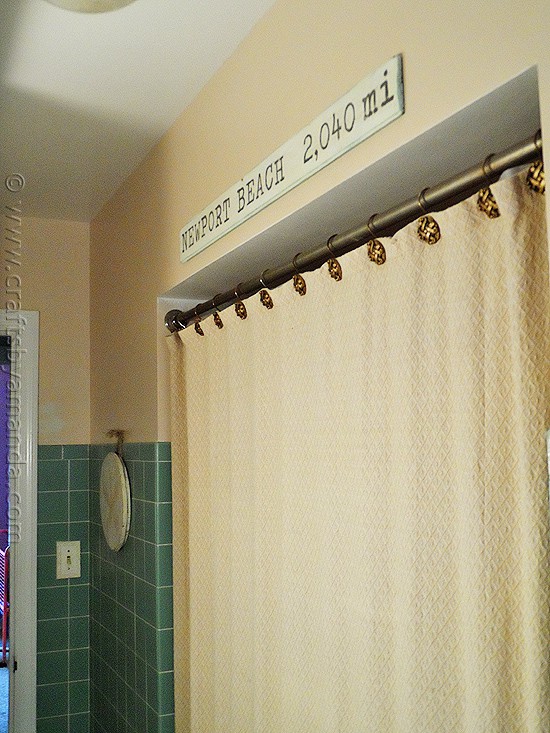 Why Newport Beach for the sign? My family is growing so quickly. I have four kids, one has already moved out and the other will follow shortly. That leaves me with two teenagers at home who, before I know it, will be off to college and their own lives as well. Newport Beach is one of the many family vacations we've taken together that brings back fond memories.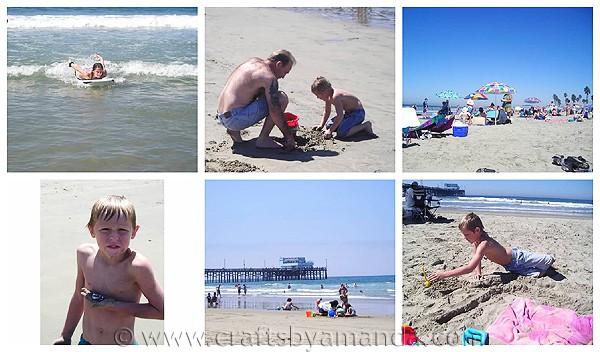 Remember, we live in chilly southeast Wisconsin. A far cry from the sunny coast of California. Every time I think back on our trip to Newport Beach I can't help but smile and get a little choked up. They grow so darned fast! These photos were taken in 2005.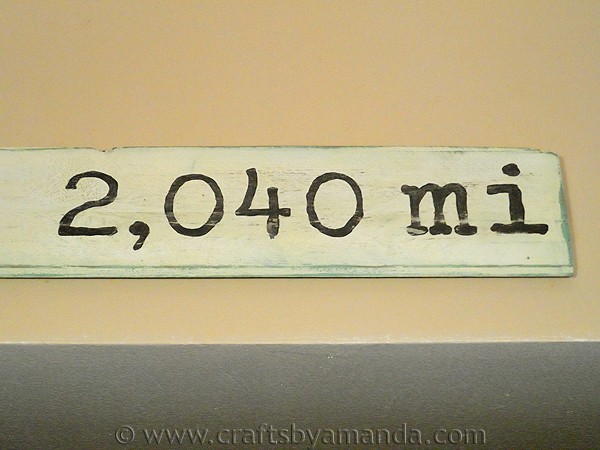 According to Mapquest, Newport Beach is 2,040 miles from my house. I've always loved those rustic signs that show how far certain cities are, so that seemed like a fun idea for my sign.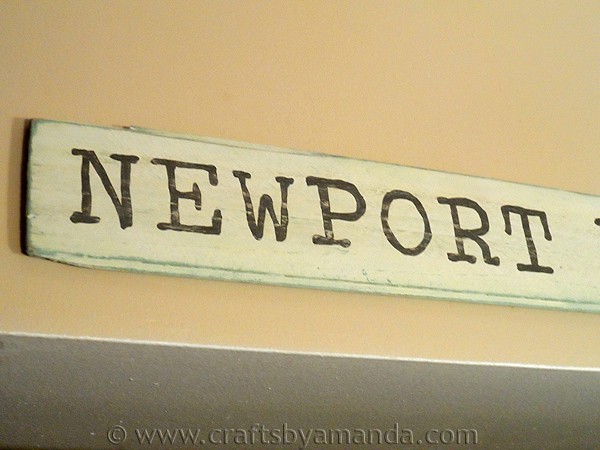 NOTE: I used a font called Traveling _Typewriter which you can get for free here.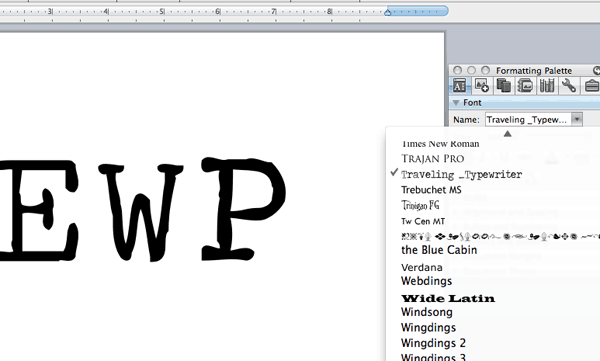 If you want to use it, I have uploaded the Word doc for this and a PDF file for the sign as well.

I save scrap wood from all sorts of places. This particular piece was actually baseboard trim, I don't even know where from. I started by experimenting with Word, printing out the words until I had the right size. Next I laid them out onto the flat side of the wood. Once I was happy with the size and placement, I set the words aside until later.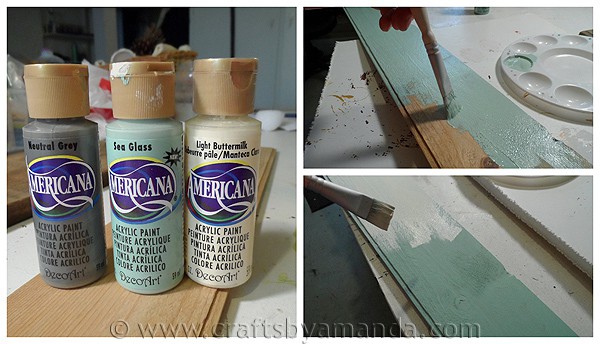 I sanded the wood and dusted everything off. I used DecoArt Americana paint in Sea Glass, Light Buttermilk and Neutral Grey. First I painted a layer of Sea Glass. After that was dry I added a layer of Light Buttermilk. The Sea Glass will only peek through once it's distressed a bit.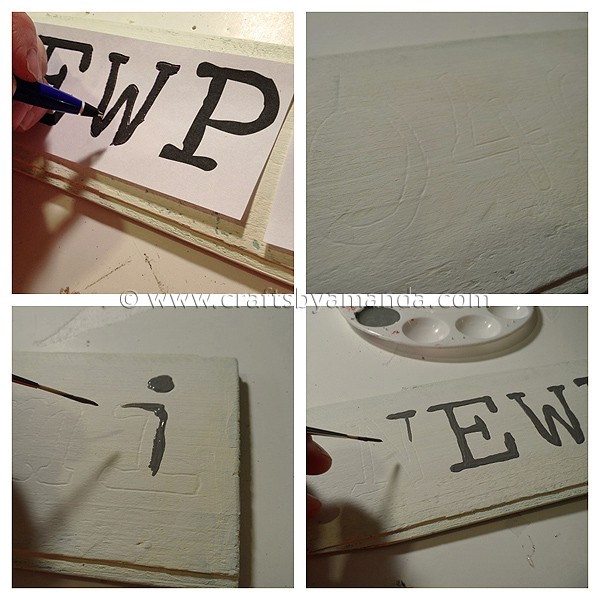 When everything was dry, I placed the words back onto the wood. A little painter's tape is a great way to hold your letters in place so they don't move around while you are working. Using a ball point pen I traced the outline of all the letters and numbers. This leaves an indent in the wood, making it easy to paint your letters. I used Neutral Grey to paint the words and numbers.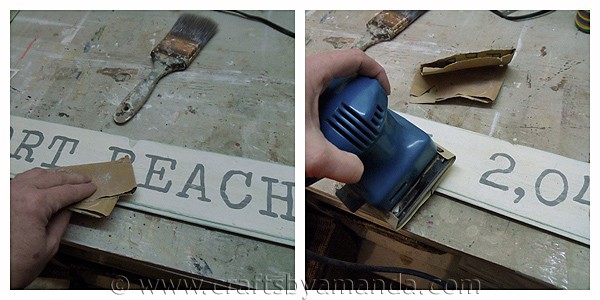 After letting the words and numbers dry, I used piece of sandpaper to fade the letters a bit. I sanded back and forth, giving the letters a weathered look. I used a palm sander to sand all the edges, distressing them a little and allowing the Sea Glass to show through. When all done, I dusted everything off really well and sprayed the entire surface with acrylic matte sealer.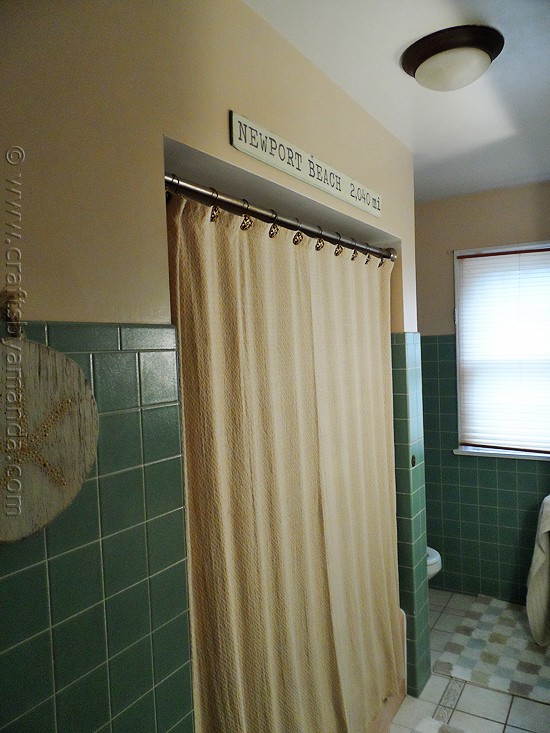 I have more projects planned for this bathroom, but there's so much to do and so little time!
Not sure if you noticed the Starfish Plaque hanging on the wall in one of the pictures above. I made that from the lid of an old ice fishing bucket. On my counter I have a Sand Cast Starfish I made several years ago for Kaboose.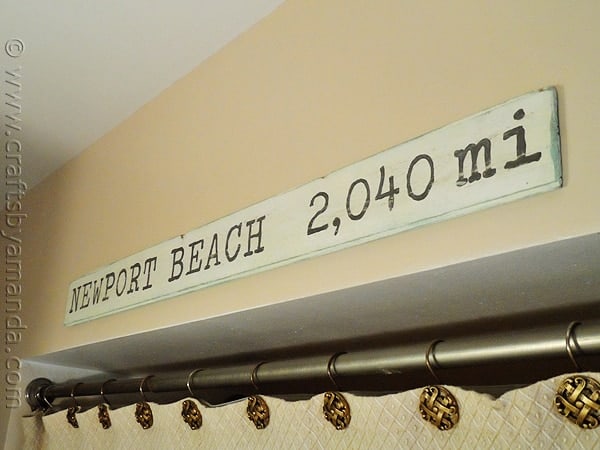 I hope to get a few more done this year and finally finish this bathroom once and for all. :)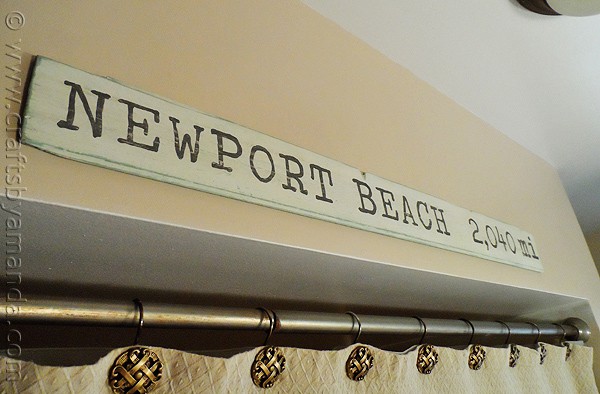 Latest posts by Amanda Formaro
(see all)