If you're looking for a fun way to get friends together this fall, host a pumpkin painting party! We had several friends and family join us last fall for a Halloween themed pumpkin painting party. Here's how we did it!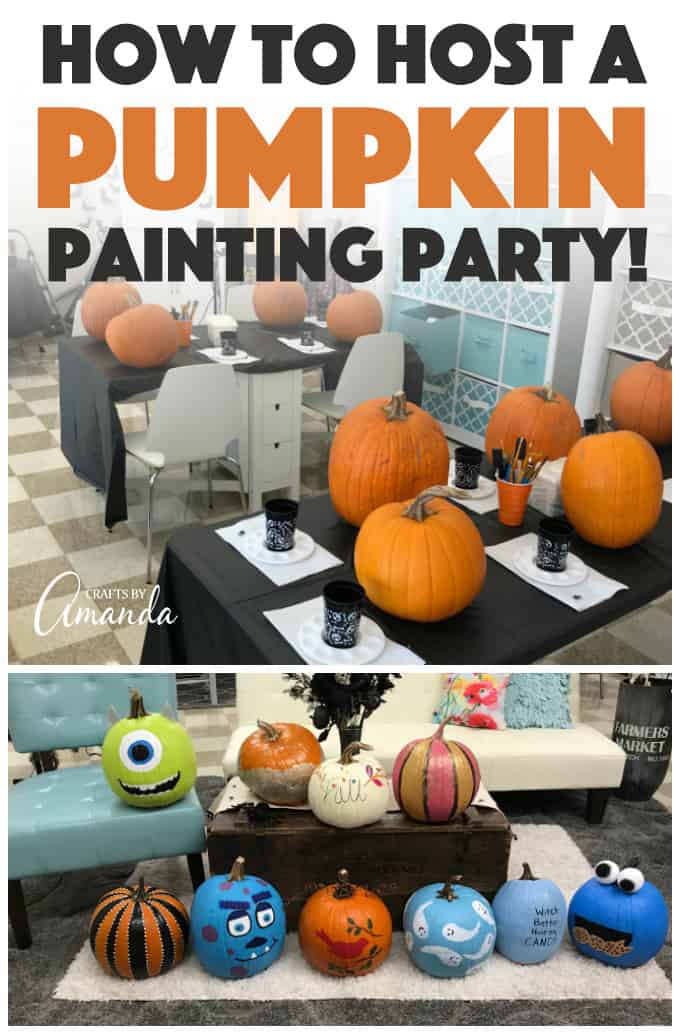 How to Host a Pumpkin Painting Party
As with any type of party, planning is everything! That includes invitations, decorating, the food and of course the supplies for the actual event. While we hosted our pumpkin painting party at my studio, this could easily be done in a backyard, at a park or in your basement or garage.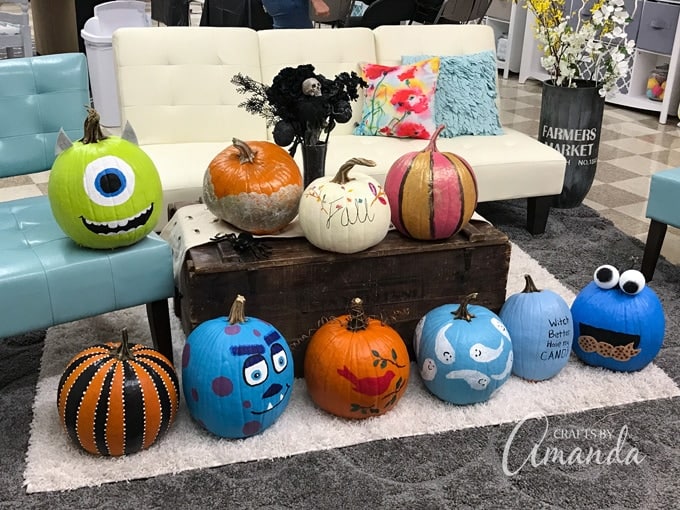 Getting ready for the party
There are several things to do:
Invitations
Decorations
Shopping
Craft supplies
Games
Get them invited!
Once you've decided on a date and time, make sure you send out invitations and/or post an event on Facebook about 30 days before the event. This gives your guests enough time to get it on their calendar and plan on being there. We used a Facebook event for ours and texted the two people who did not have Facebook accounts.
Now that they're invited, keep them engaged on the Facebook event page. We posted links to Pinterest ideas for all sorts of pumpkin painting ideas. As you can see from the finished pumpkins, our guests all had different tastes! It was important to post as many ideas as we could find so they had plenty to choose from.
Decide on decorations
We chose a Halloween theme for our party, but a fall or harvest theme would be great too! It's easy to go over budget when buying decorations, so be sure to hit the dollar store for whatever you can, and you can make a lot of your own homemade Halloween decorations.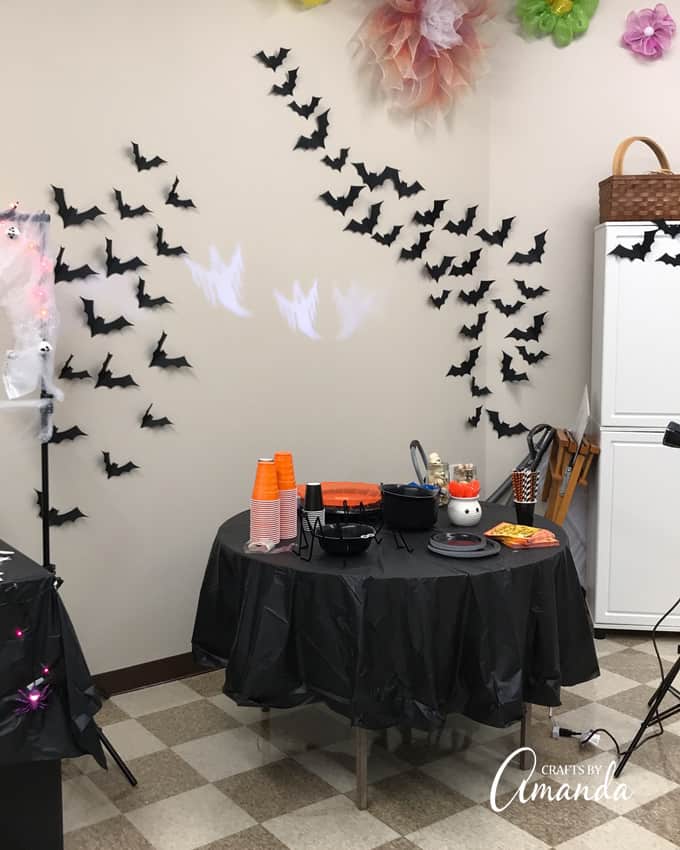 Our decorations were fairly frugal. We found many of our items at dollar stores and at Walmart.
We made bats out of cardstock to attach to the walls.
A ghost projector put cute ghosts up on the wall.
Purple and orange string lights decorated our year-round Christmas tree which was dotted with dollar store plastic ghosts.
Inexpensive black plastic tablecloths, orange and black utensils, cups, and plates and a cheap plastic witch's cauldron were all used on the food table.
We decorated the outer edge of our long food table with spider string lights and used stretchy spider web to create a backdrop.
I filled two mason jars with small plastic skulls, but Barbie heads would be creepy too!
My favorite decoration was my "Keep Out" Halloween door!
The tables were all dotted with various Halloween candy bowls and shelf sitters my daughter brought from her own stash.
We also created a Halloween playlist and had that playing on an iPad through a Bluetooth speaker during the party.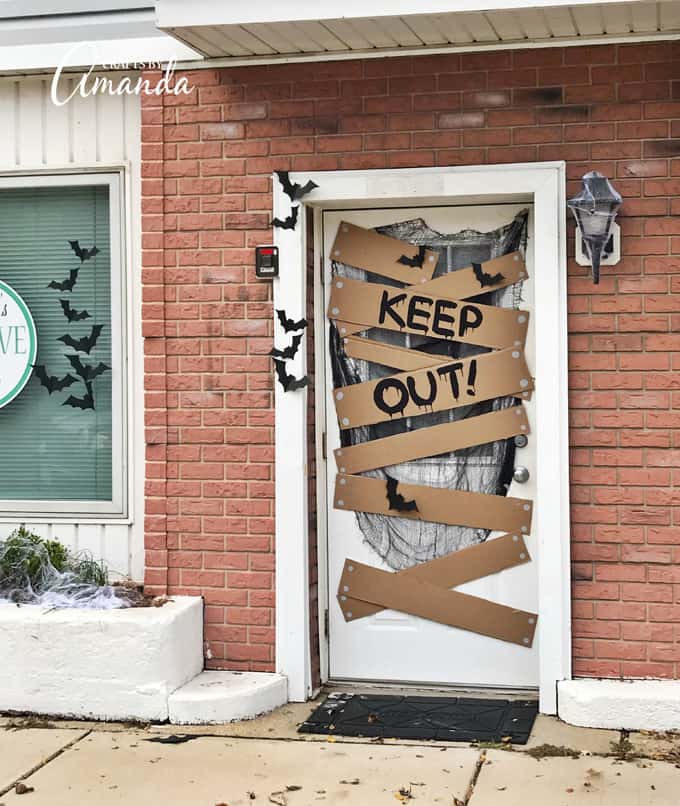 Planning and shopping
Create a shopping list. This is key! We all know how we can go to the grocery store without a list and forget at least two things we needed.
Planning the food
We scoured Pinterest looking for ideas. My daughter and I had a shared Pinterest board where we collected ideas, then we got together and decided on the final choices. See all the Halloween food ideas we chose!
Craft supplies you will need for your pumpkin painting party
We provided the pumpkins for our guests and charged a $10 supply fee to cover the pumpkins and paint. We felt this was the easiest way so all they had to do was show up! If you prefer, you can certainly tell your guests to bring their own pumpkins.
For each guest you will need:
Pumpkin
Paper towel
Plastic cup for water
For each table you will need:
A container of baby wipes
Cup or jar filled with paintbrushes
Other items you need or can provide:
Paint of course! We had tons of colors in a bin on a separate table
Stencils
Glitter
Paper doilies
Markers
Embellishments (gems, jewels, buttons, yarn, etc)
Spray acrylic sealers (gloss and matte)
After lining the tables with tablecloths, we placed a pumpkin, a paint palette, paper towel and cup at each seat. Baby wipes are a crafter's secret weapon and are ideal for removing craft paint from fingers, so be sure to have one at each table!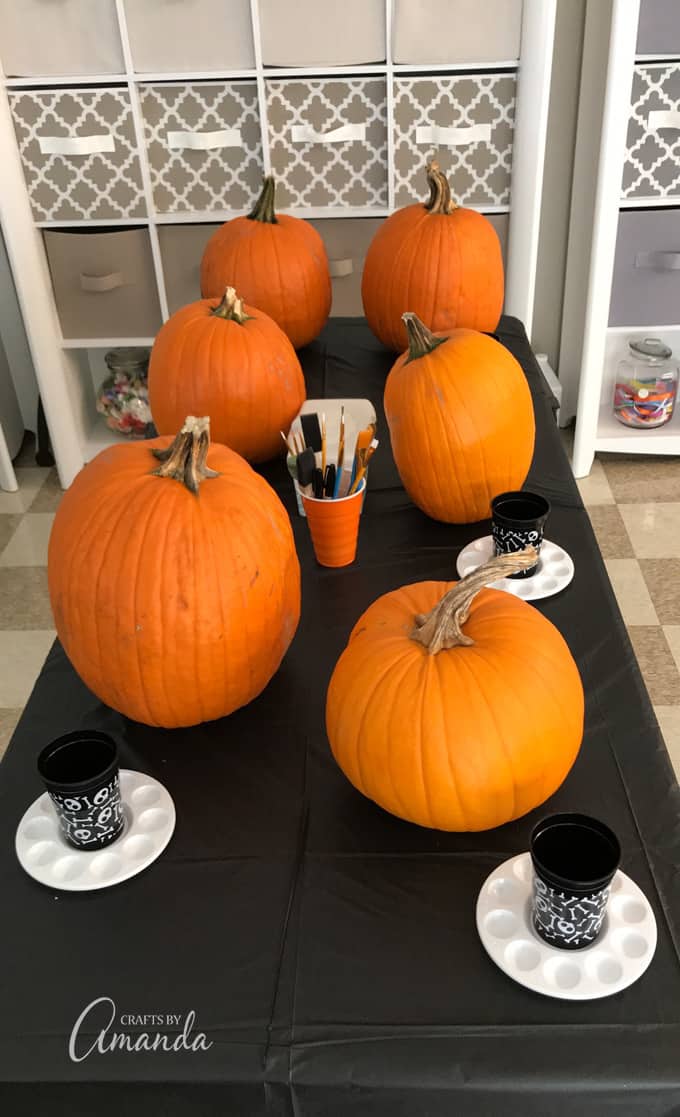 We placed teeny tiny plastic spiders at the tables and on the paper towels. Can you see them?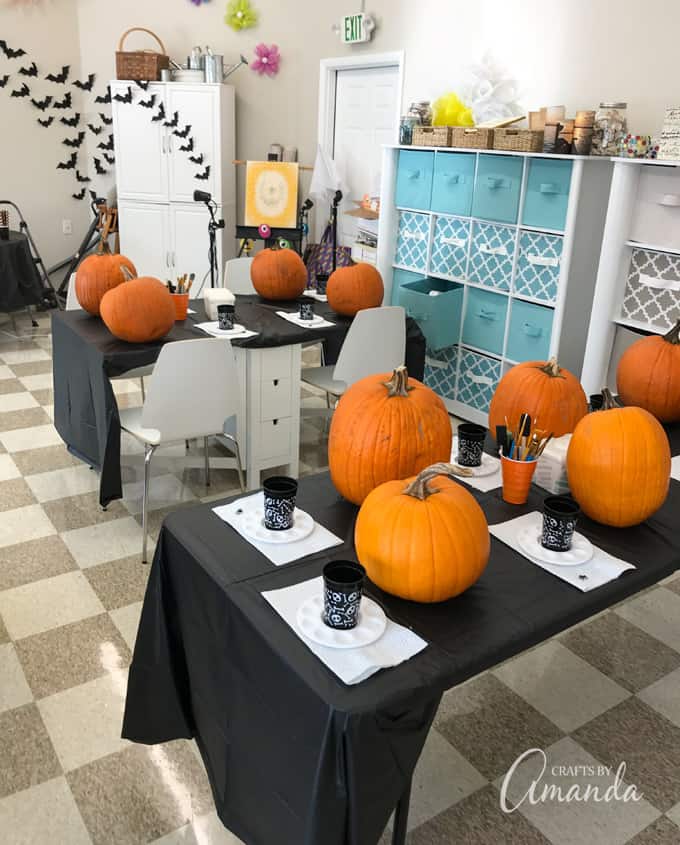 When guests arrive
Once our guests began to arrive we mingled a bit and had something to drink and eat. Each guest chose a pumpkin and their paint then took their seats. Some guests wanted to use glitter, while some wanted to use Mod Podge. Just be available to help them while you are painting your own pumpkin!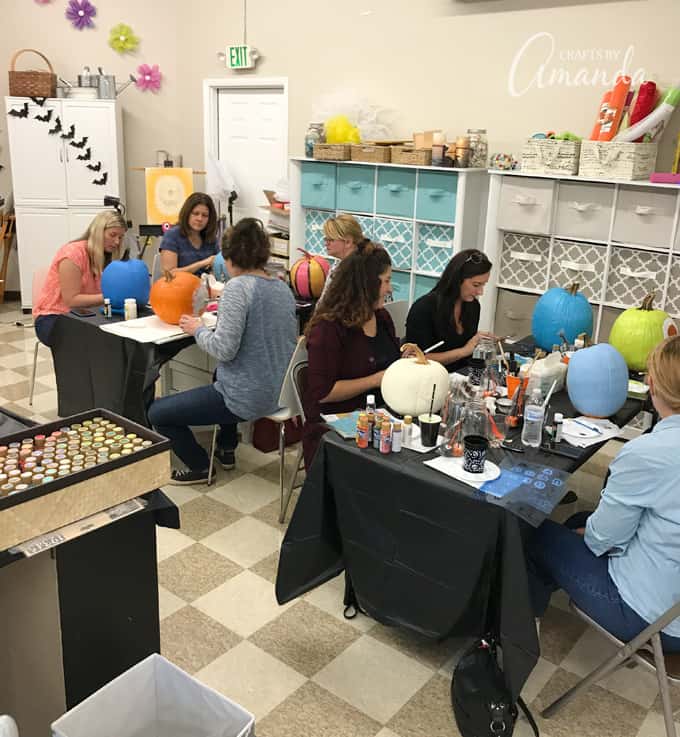 My friend Diane really wanted to make a Cookie Monster pumpkin, so we found some large Styrofoam balls to use as the eyes and inserted them with toothpicks. Tan felt worked great for the cookies.
Lisa found a picture of a decoupaged doily pumpkin, so we found some paper doilies and figured out a way to paint them first before decoupaging them to the pumpkin. A glitter top coat really made it shimmer!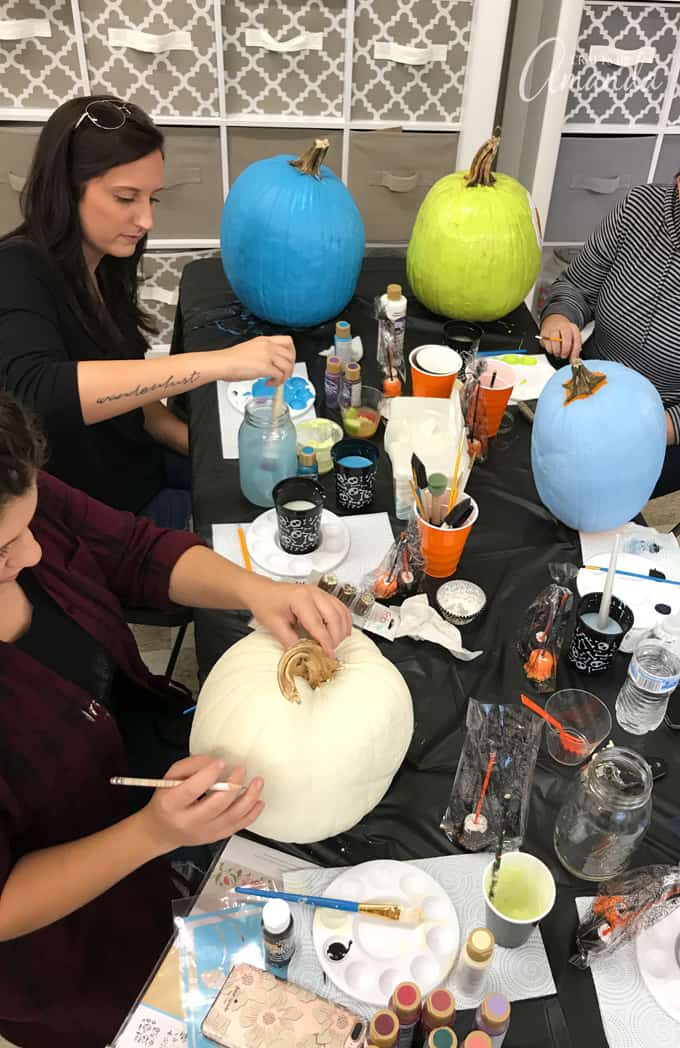 My daughter's friend Dakota used some fall themed stencils to make pretty designs on hers. Everyone's pumpkin was different!
Games!
After everyone's pumpkins were finished I took them outside and sprayed them with acrylic sealer. We left them outside to dry while we had snacks and caramel apple sangria! Then one silly game and a guessing game to pass the time.
Junk in the Trunk – Lots of entertainment factor here! You need empty rectangular tissue boxes, plastic ping pong balls (ours were actually eyeballs!), and some wide ribbon. Cut a couple slits in the bottom of the box and run the ribbon through. This acts as a belt, tie it around the player. Fill the box cavity with ping pong balls. Players have to jump and wiggle to release the balls. The first one to empty their box wins!
Guess How Many Candy Corn – The hardest part of this game was having to count the candy corn before putting them in the jar!
Name that Tune – During the party the Halloween playlist was on. As a new song started guests could yell out the name of the song. The person to name the most songs won.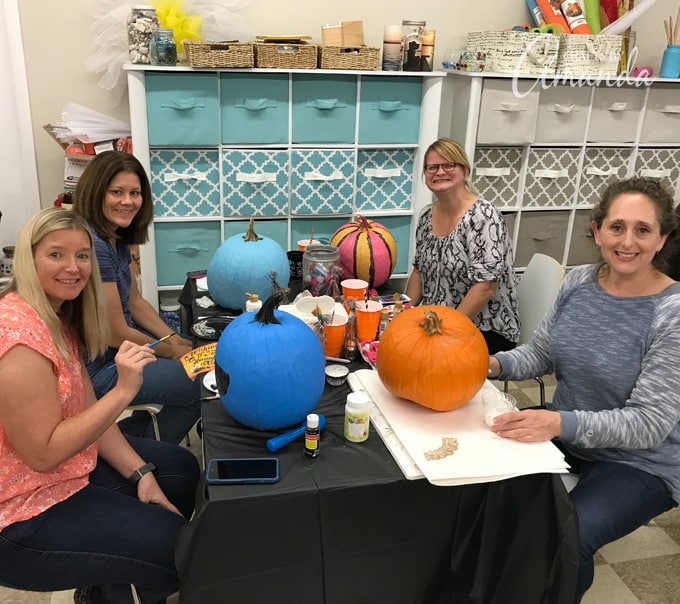 I feel confident in saying that everyone had a great time and it was super fun watching everyone take their pumpkin home!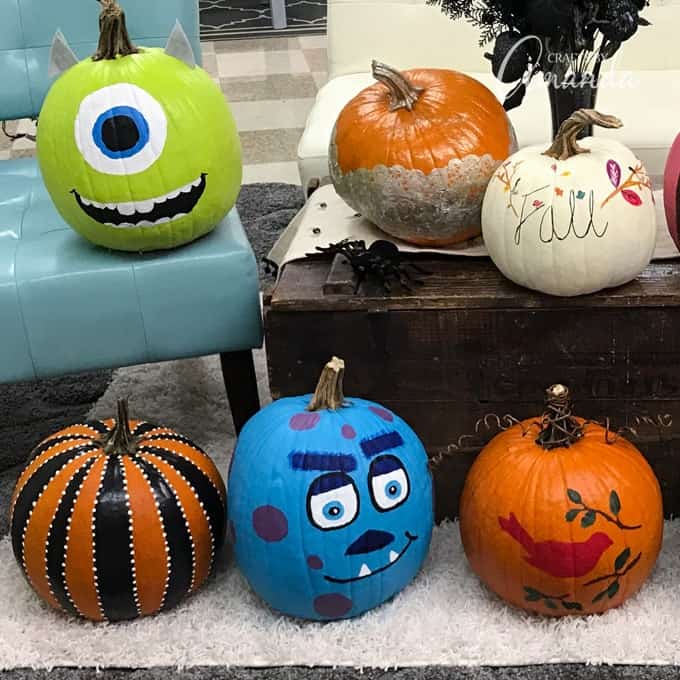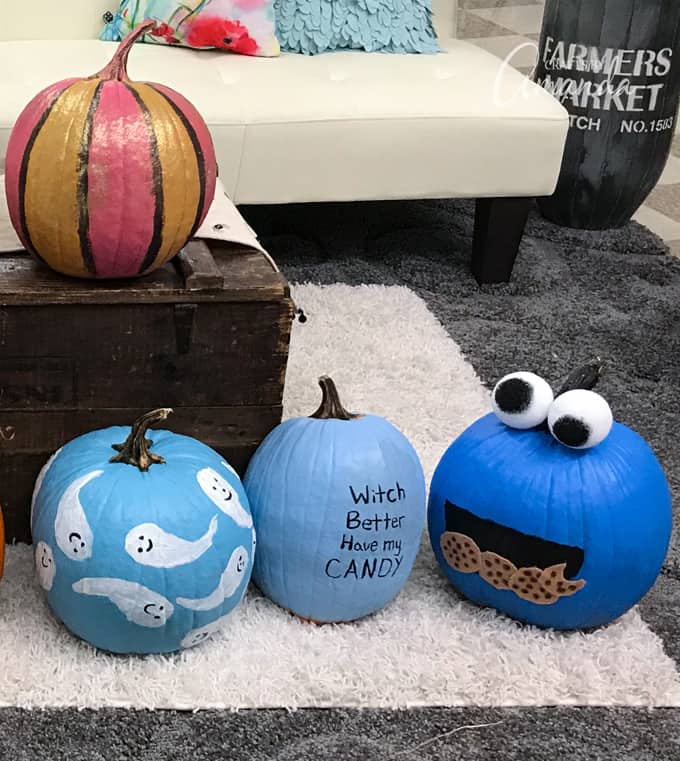 You can see all the delicious treats we served at this party here!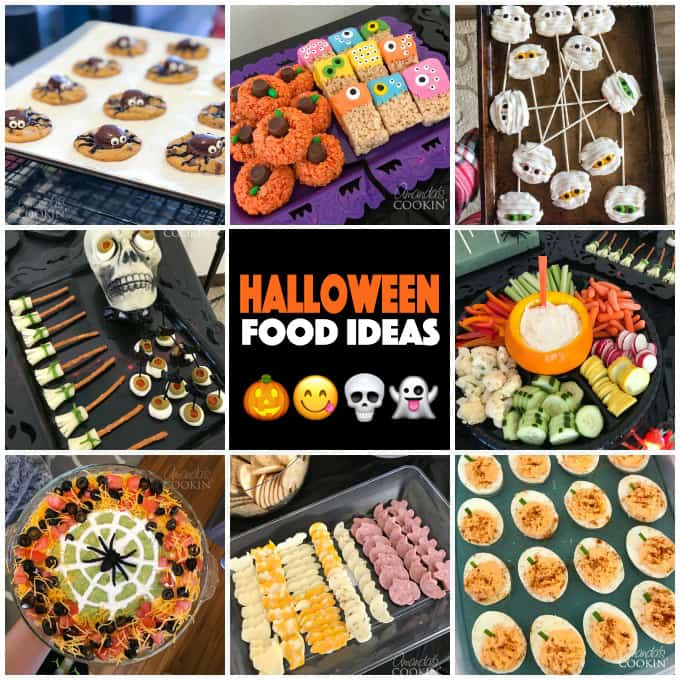 I hope you enjoyed our party and it inspires you to host your own pumpkin painting or decorating party. Happy Halloween!
This post originally appeared here on Sep 25, 2018.
Latest posts by Amanda Formaro
(see all)