This post brought to you by Astrobrights Papers by Neenah Paper. All opinions are 100% mine.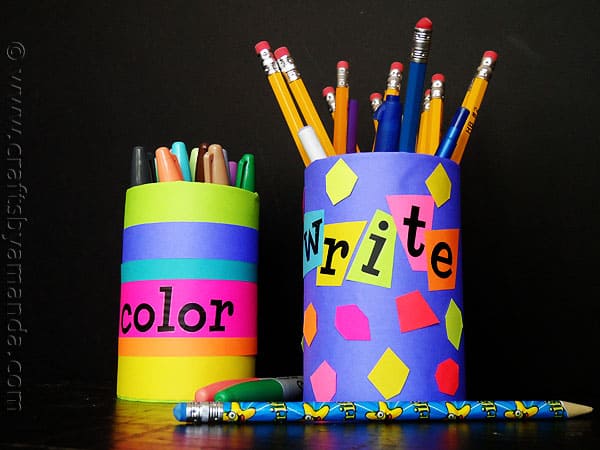 It's time for the kids to head back to school! Mine have just under two weeks of summer break left, and then it's back to routines for us. While summer is fun and all, they've reached the "I'm bored" stage and are ready to reconnect with friends and recharge their brains. This back to school craft is easy to do and I've included a no-mess feature! Ready?
Astrobrights paper asked me to try out their beautiful line of papers and to create a project with it. The colors are so vibrant it would be pretty tough not to come up with something fun and bright. I like what Astrobrights says, "We provide a bold color canvas because we believe ideas are important, thoughts aren't shy and we are not afraid to stand out from the crowd." Well said!
Related – Back to School Checklist Printable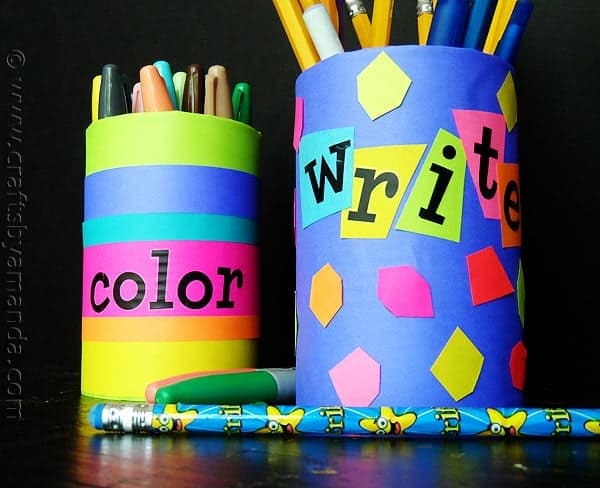 As kids head back to school their creativity will come alive, and bright colors are a fabulous stimulant. I've taken several of their 23 different colors and created these fun pen and marker holders that kids will be proud to use on their homework desk.
Parents can benefit from these papers too. Imagine your PTA flyers, bake sale notes and scrapbook pages on these babies!
They are also sponsoring a marvelous sweepstakes I wanted to tell you about. You can support your local elementary school by entering the "Give a Brighter Year" sweepstakes. You can win a cash prize and school supplies valued at $30,000 for the school of your choice! We all know that there are children who go to school without the proper supplies, many in our own communities. Help out, be sure to enter, visit Astrobrights on Facebook.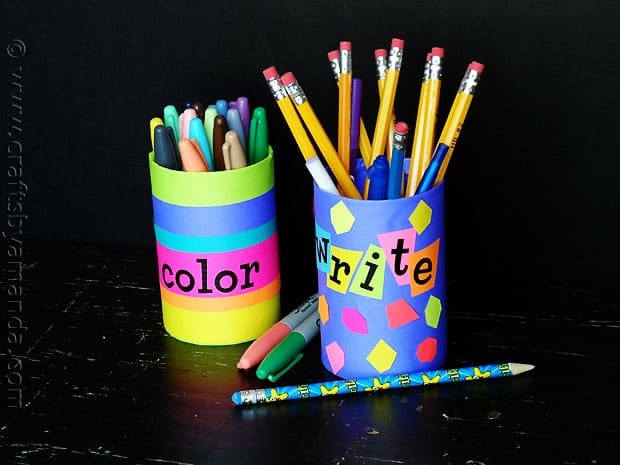 So get your kids together and make something fun with bright colors. Let their imagination run wild, you'll be amazed with what they create. :)

To make these colorful pencil holders you need nothing more than some glue dots, a recycled can and Astrobrights paper. You can also use rub-ons like I did, or you can simply write on your cans if you like. You may also choose to leave them bright and colorful without words. You'll wrap the can in paper, using glue dots to secure it.

Cut strips and attach them around the can to make stripes. Cut funky shapes to make a polka-dotted design. Very easy and no glue mess! Enjoy. :)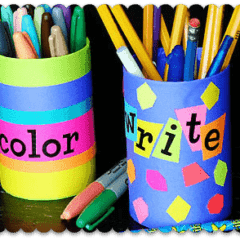 Print Project
Back to School Pencil Holders
Supplies
Recycled vegetable cans

Astrobrights paper in your choice of colors

Scissors

Cutting board

Glue dots

double sided tape roll, or glue stick

Rub on letters

optional
Instructions
Place 2 glue dots on the side of the can. Line up a piece of paper on the dots and wrap around the can, securing the end of the paper with glue dots. Use scissors to cut slits in the excess paper that is above the can. Place a glue dot on each slit and insert into the can pressing against the side to secure.

To Make stripes, cut colorful paper with a cutting board in different widths. Use a double sided tape roller or a glue stick to attach the stripes to the can. Alternately, as with my "write" can, cut unusual shapes from different colored papers and attach your rub-on letters to each one. Secure to the outside of the can with double sided tape roller or glue stick. Cut more shapes and attach all over the can.

Fill "color" can with markers and/or colored pencils, fill the "write" can with pens and pencils. Use on your homework desk!
Latest posts by Amanda Formaro
(see all)