If you've ever searched for barbecue bridal shower ideas you already know how fun everything looks! My daughter is getting married in less than a week (!) and in August I hosted a barbecue-themed bridal shower to celebrate.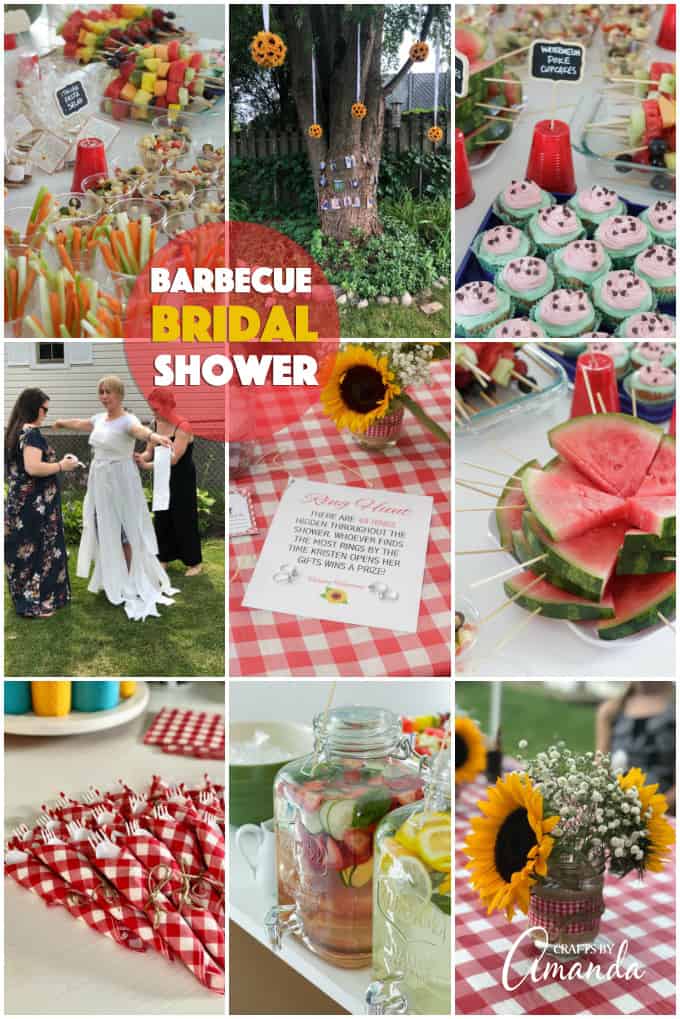 Barbecue Bridal Shower
When my daughter's maid of honor came to me and asked if I would help plan a fun barbecue bridal shower I was thrilled. I recently bought a house and have a great backyard for just this sort of get-together.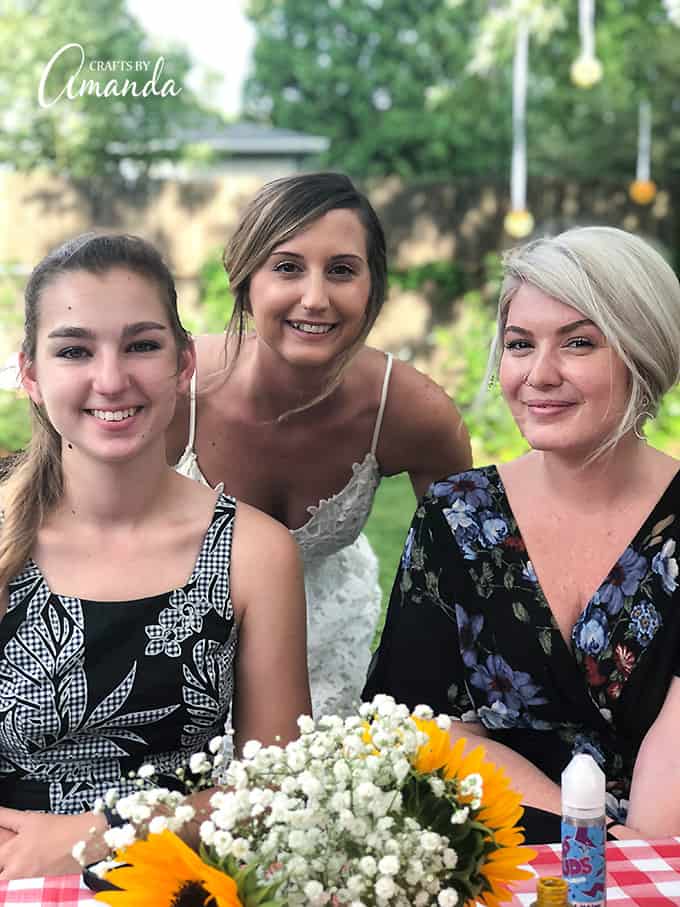 Planning the Bridal Shower
I learned quite a few things when planning this barbecue bridal shower, but overall I think we did a great job. There are definitely some planning aspects I would do differently next time because I ended up inside for much of the shower, finishing up recipes and other things I didn't plan as well as I should have. So with that in mind, I'm including tips I wish I had adhered to myself, so you can enjoy the shower with your guests.
Finding Ideas
In this Pinterest-filled world, it only made sense to us to create a shared Pinterest board where the maid of honor and I could share ideas and inspiration. We started the Pinterest board about two months before the shower.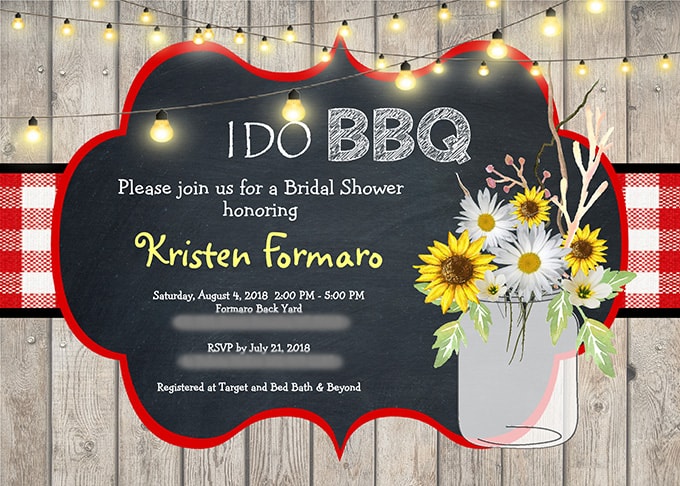 Sending Invitations
The best time frame for sending invitations is about a month before the shower. This gives people enough notice so they can secure the date on their calendar. This also allows them time to peruse the bride's registry and purchase a gift.
You can make your own invitations, but they were so affordable on Etsy that we went that route. We found quite a few "I Do BBQ" type invitations, but this is the one that caught my eye, especially because our shower would be dotted with sunflowers! I printed them on 5×7 photo paper and purchased some envelopes from Hallmark.
UPDATE – it's a year later and the design above is no longer in her shop. Here are some alternatives.
Making Your Lists
Two weeks before the shower we put together our final list of choices from our Pinterest board. Be sure to include all finalized choices for decorations, games, party favors, and food. Planning also included renting chairs (be sure to call and reserve!) and putting together our canopy cover.
I made a checklist of things that needed to be done before the party. Be sure to coordinate with the bridesmaids and if needed, ask them to bring a dish to pass. In our case, we just needed all hands on deck! The bridesmaids came two hours before guests arrived to help set up the party area. The Knot has a very detailed bridal shower checklist here.
And, of course, don't forget about the grocery and supply list! Print out all the recipes you plan to make and check your pantry and fridge to see what groceries you will need. Make a full supply list for any crafty decorations you plan to make or purchase.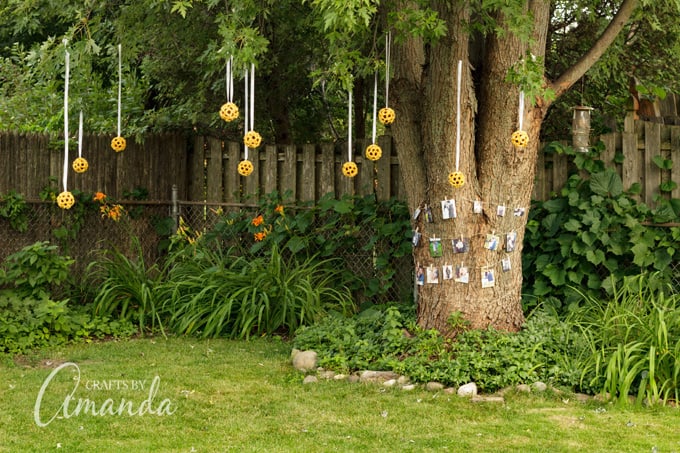 Decorations for Our Barbecue Bridal Shower
This was, of course, really fun for me since I love to craft! We made our own centerpieces and kissing balls for our fun barbecue decor.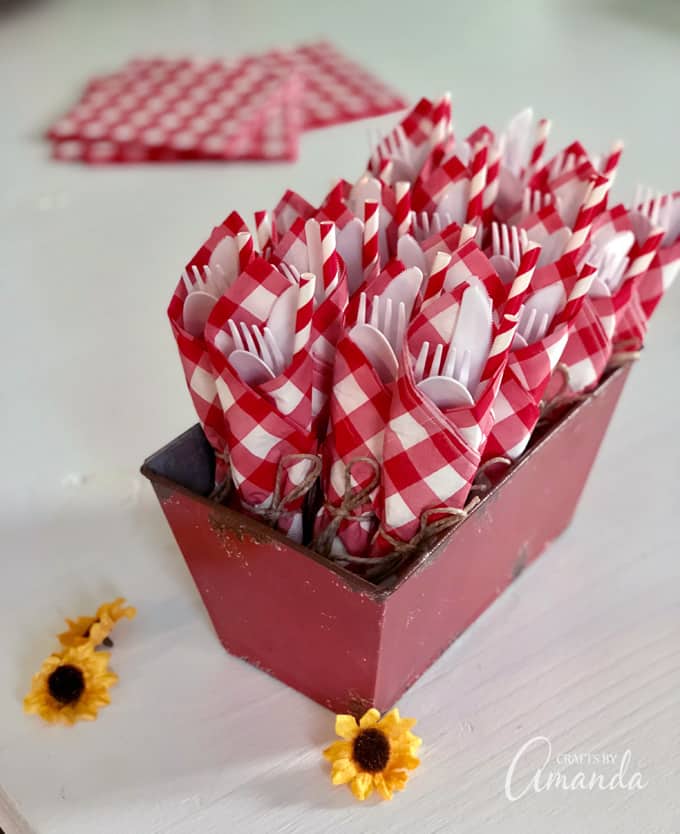 Tablecloths & Utensils – Picnic themed red & white gingham tablecloths are perfect for a barbecue bridal shower. I wrapped white plastic utensils and a cardboard red and white straw inside of picnic themed paper napkins, each secured with a piece of twine. You can see step photos for making the wrapped utensils here.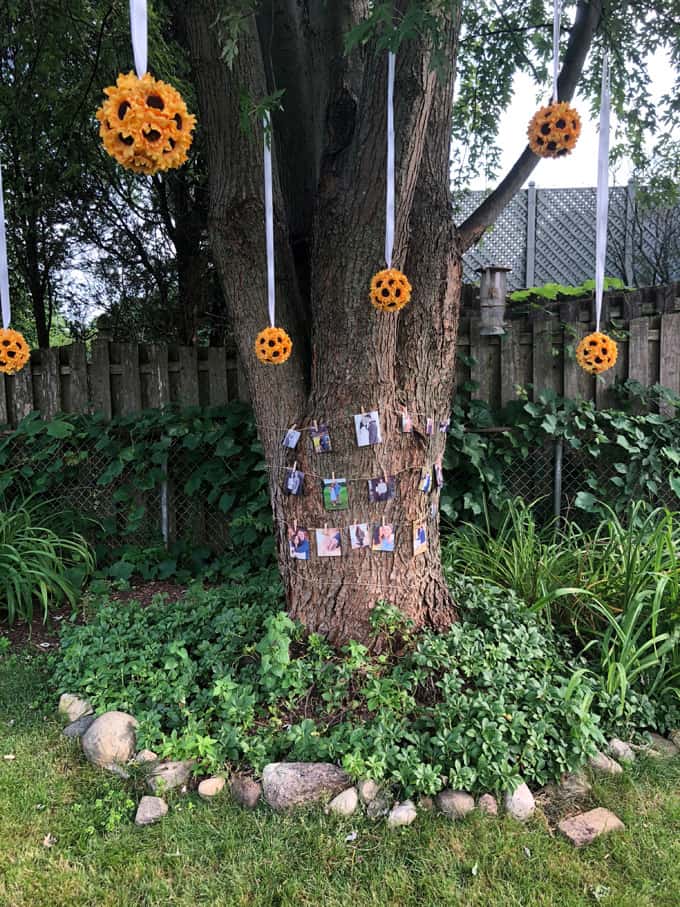 Photo Tree – I have a lovely old tree at the back of my yard that was perfect for this. We wrapped twine around the tree a few times and attached photos of the engaged couple with miniature clothespins.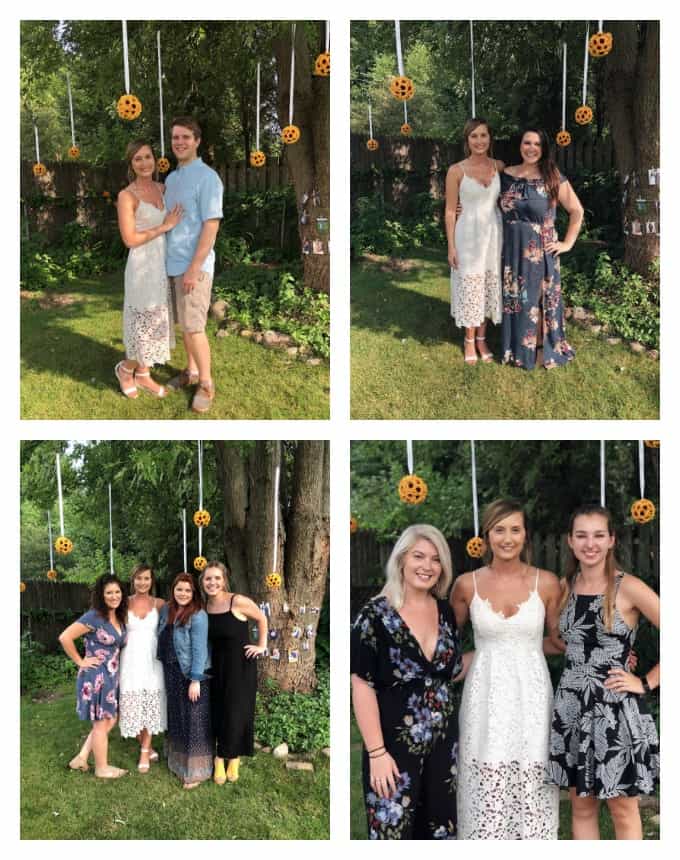 This ended up being a favorite spot for taking photos during the shower!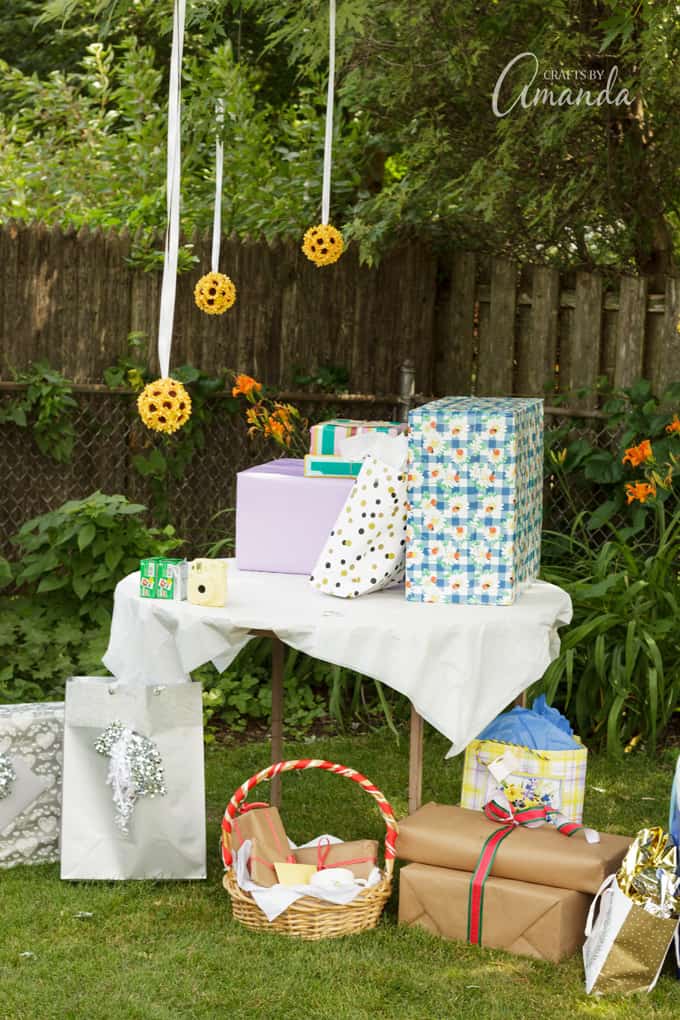 We put a round table near the tree for all of the gifts, and also placed an Instax camera there for people to use and take pictures!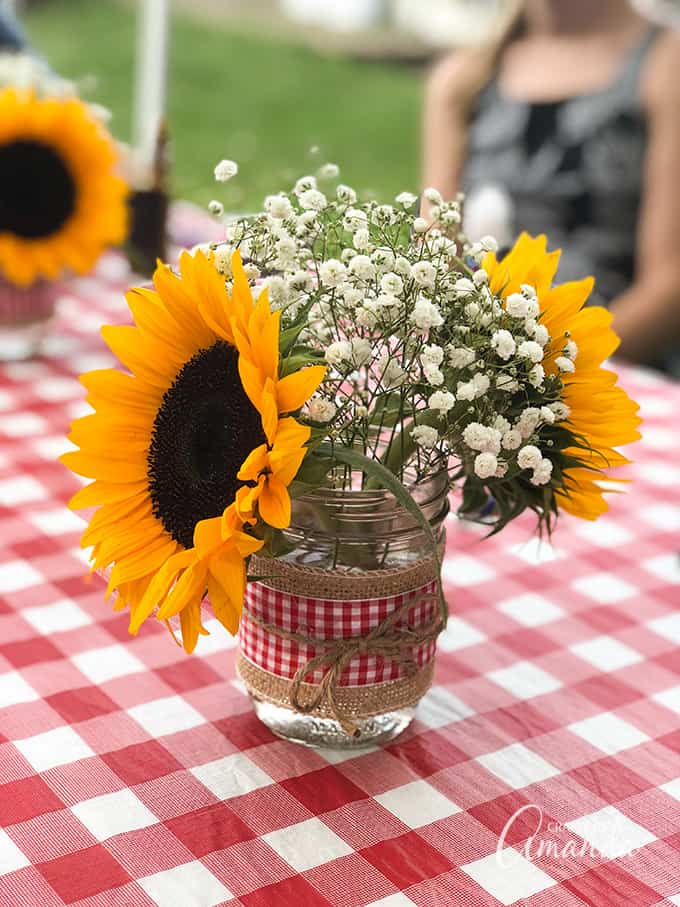 Sunflower Centerpieces – I made enough sunflower mason jar centerpieces to have two at each table, one at each end. If you have a sunflower farm nearby they will likely cost less than buying from a florist. I suggest picking up the flowers 1-2 days before the shower so they are still fresh for the party.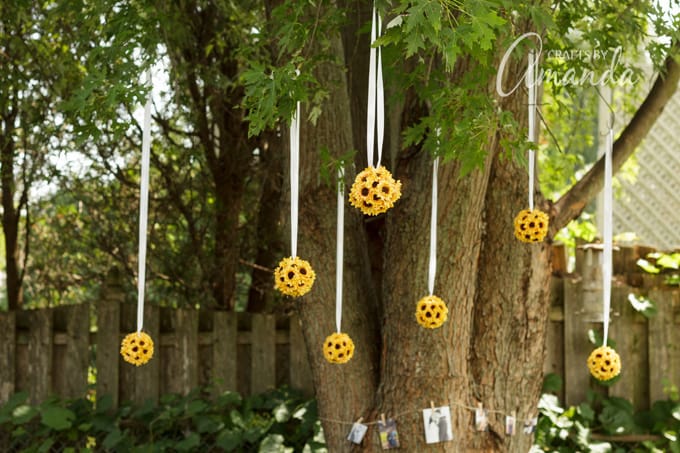 Sunflower Kissing Balls – The sunflower kissing balls were actually my favorite part of the shower decorations! It was my daughter's idea to hang them in the big tree and it looked so beautiful. I wish the weather would have allowed me to keep them up all year!
Games, Prizes & Party Favors
There are quite a few ideas out there for games you can play at a shower. We chose three games and two activities.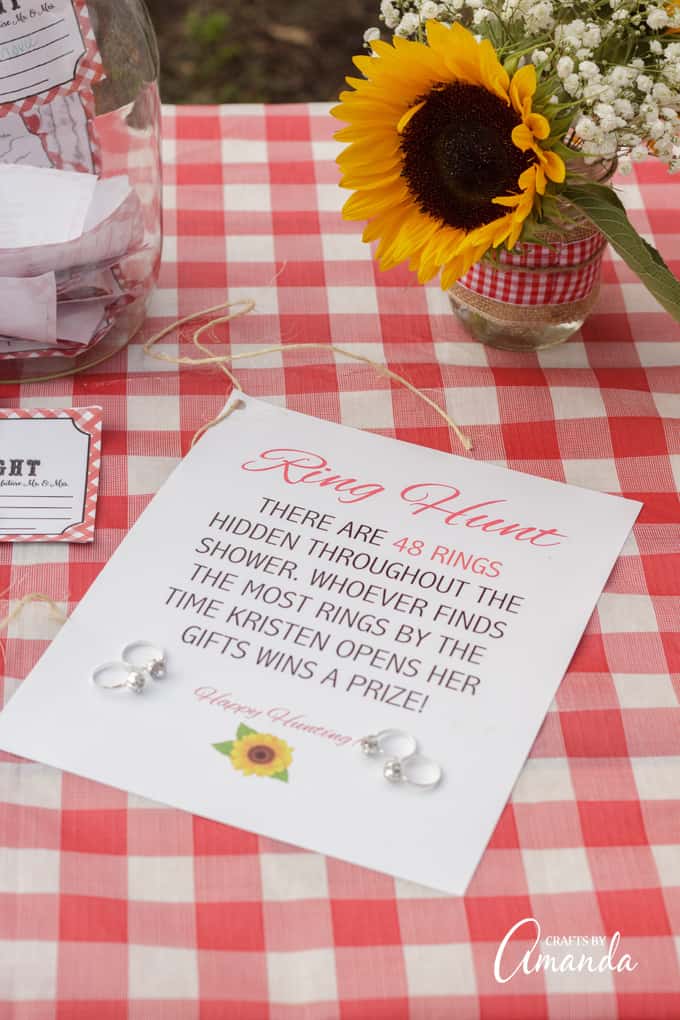 Ring Hunt – I created my own in Word, but you can also purchase the ring hunt printables from Etsy. Before guests arrive, hide plenty of plastic engagement rings around the party area. Put the sign out where guests can see it, whoever finds the most rings wins a prize!

Toilet Paper Wedding Dress – This game was so fun! We had teams of two and three. One person was the "bride" and the other person/people had to wrap her in toilet paper to create a wedding dress.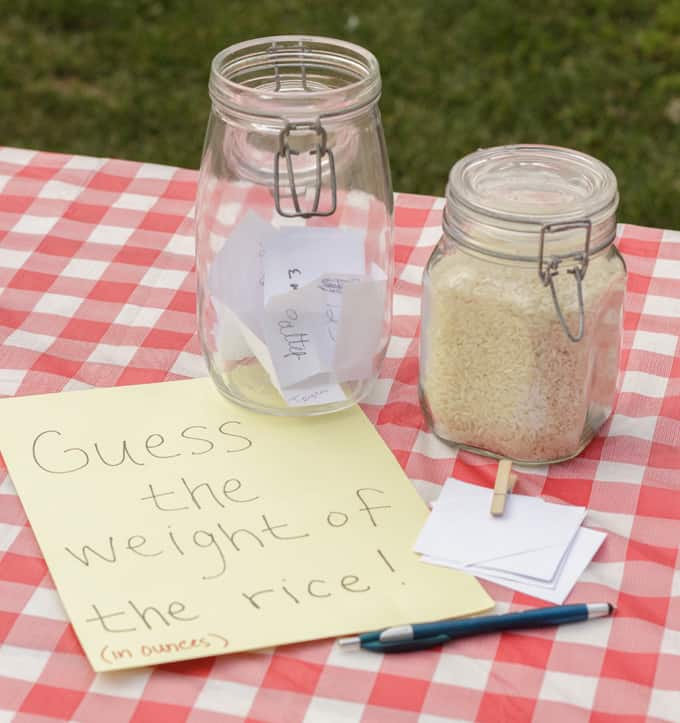 Guess the Weight of the Rice – We bought two bags of rice, weighed it out on a kitchen scale (we didn't use the full bags so it wasn't easy to guess) and put it inside a glass jar. Guests could pick up and look at the jar, then wrote their guess in ounces.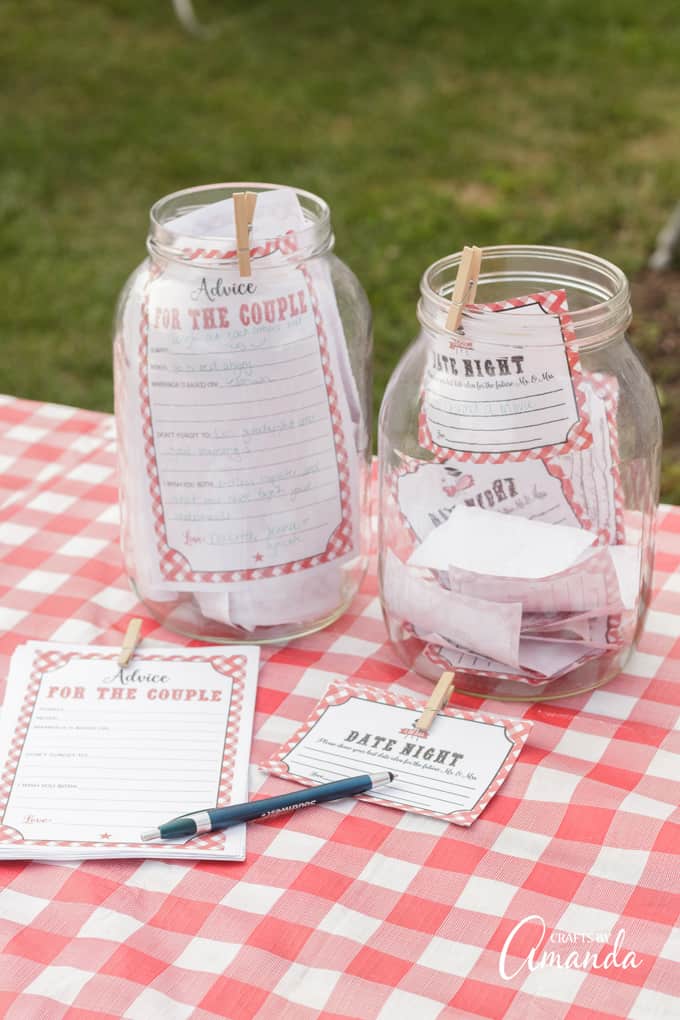 Date Night Ideas – Place a large jar on a table with plenty of pens. We purchased this download from Etsy and printed out several of the cards and one of the sign. Guests visited the table throughout the shower and filled out the cards, dropping them in the jar when they were done.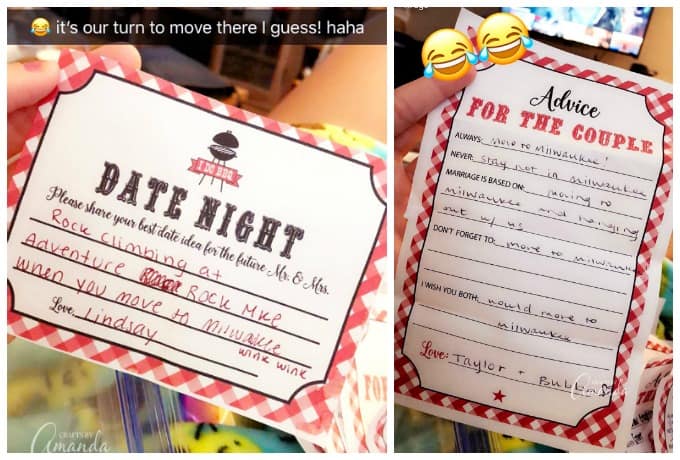 Advice for the New Couple – We purchased this download from Etsy and printed out a bunch, displaying them in a similar fashion to the date night ideas with their own jar. My daughter actually said these cards were a lot of fun to read when she got home!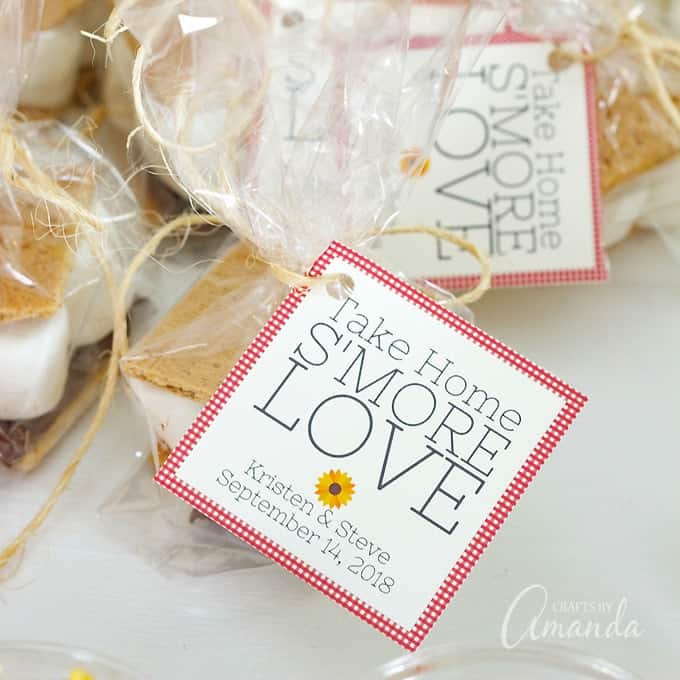 Party Favors – For our barbecue shower, we chose to send guests home with a cute little package to make their own s'mores. We made a "Take Home S'more Love printable tag" that you can customize, or you can buy one from Etsy.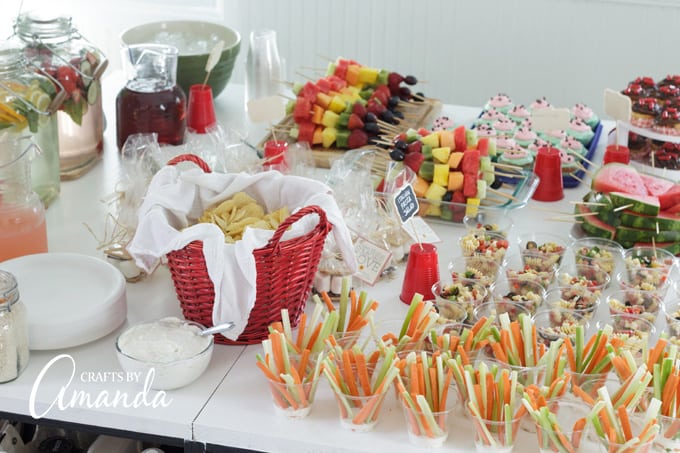 Food for the Shower
The most important thing when it comes to the food is to be prepared. Plan ahead, make your grocery lists, shop for supplies, and make out a list of what can be made ahead. Chopping fruits, vegetables, and meats, making marinades or rubs, preparing pasta or potato salads, and mixing up dressings and dips are all good ideas. Be sure you will have enough help in the kitchen the day of the party so you too can enjoy the festivities!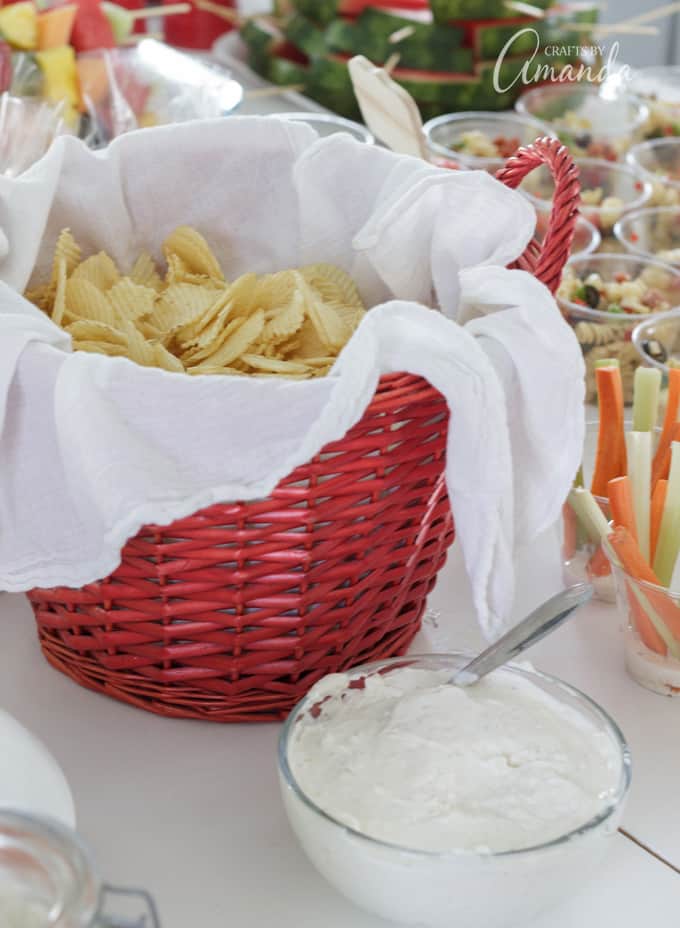 Appetizers & Snacks – Our veggie ranch cups started with a healthy squirt of Ranch dressing in a clear plastic cup, then we stood thin cut celery and carrots sticks in the dressing. A red basket lined with a white flour sack towel was filled with potato chips served with a bowl of dip.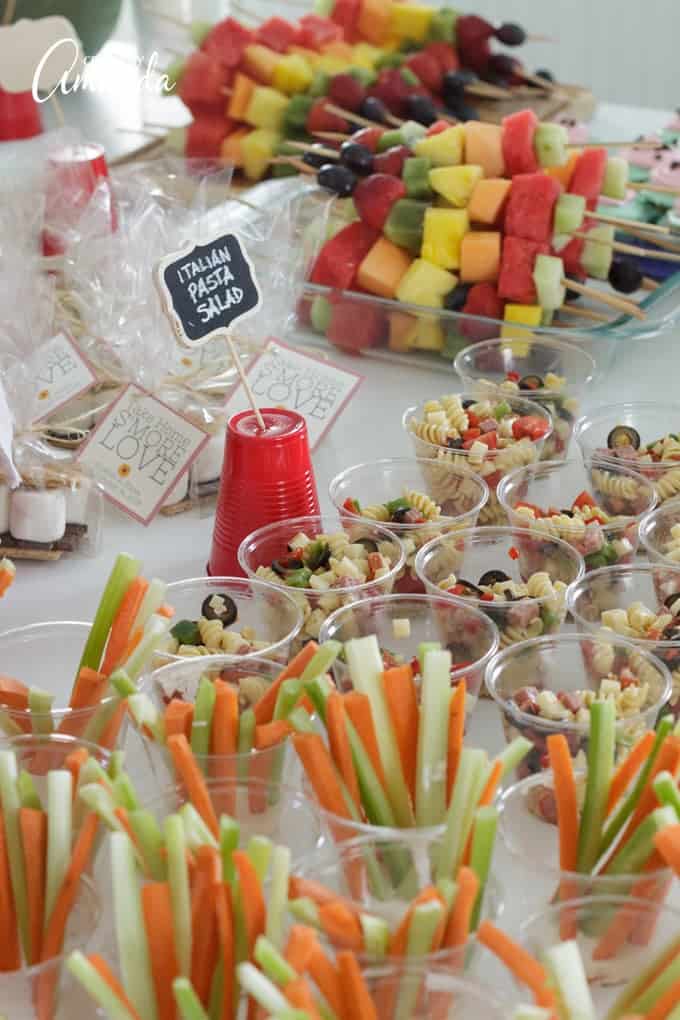 Entrees & Sides – we chose grilled shrimp and Hawaiian chicken kabobs. Both of these were skewered and grilled, but we cooked them on 6-inch skewers so they weren't too big and guests would feel comfortable taking one of each. To serve on the side we made this delicious Italian Pasta Salad and portioned it into small plastic cups.
I also chose corn on the cob on a stick cooked in a cooler! Cut each cleaned cobbed into three pieces. Insert a 6-inch skewer all the way through the cob to form handles on both ends and cut off the pointed end. Place all of the corn cobs into the cooler about 3 hours before guests will arrive. Cover the corn cobs with boiling water and close the lid. When guests arrive the corn will be done! I served the corn with cubed homemade cilantro butter.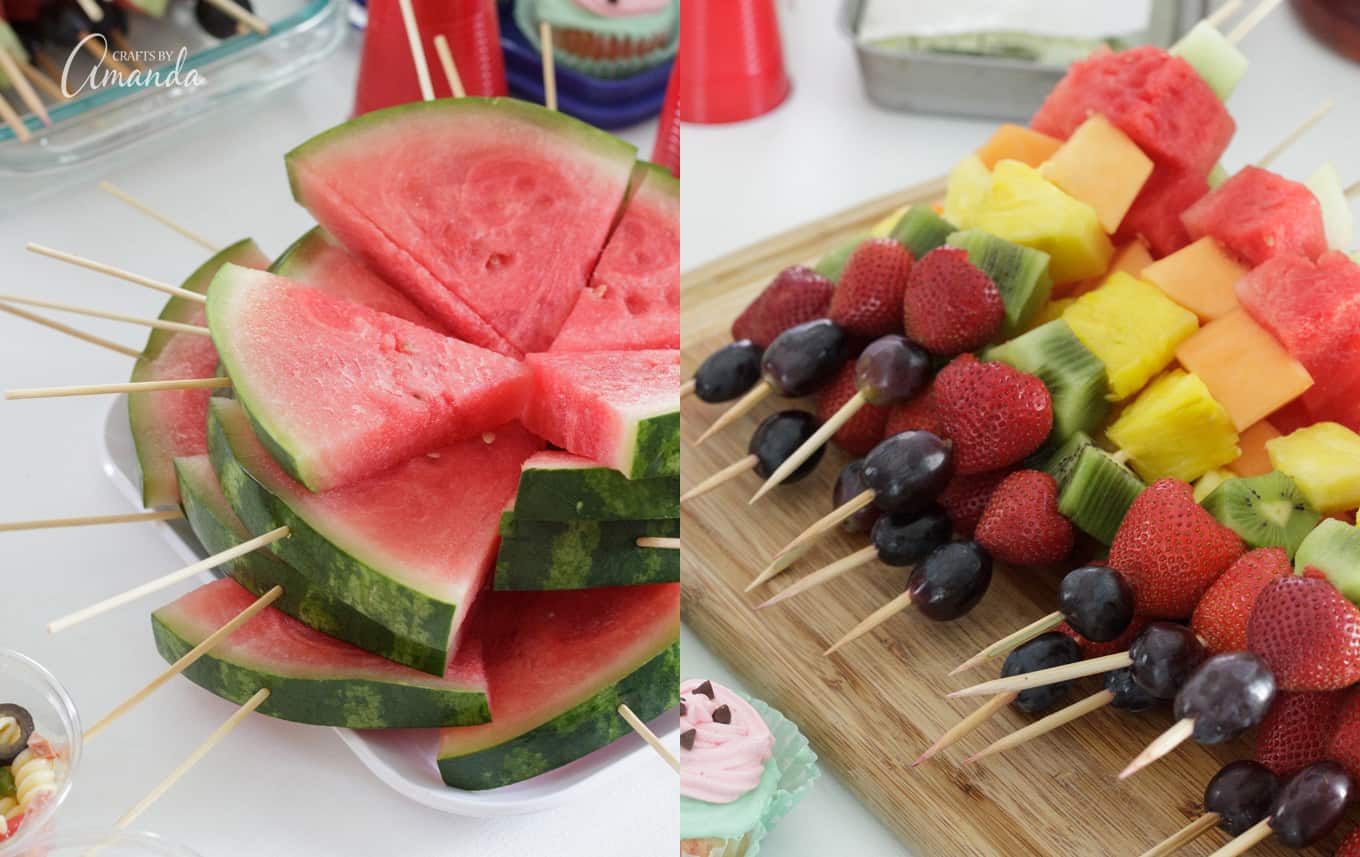 Sweets & Desserts – For healthy sweet options, we served watermelon wedges on a stick and skewered fruit, alternating colorful pieces of fruit to make it pretty. For the sweet tooth, we made grill cupcakes and watermelon poke cupcakes.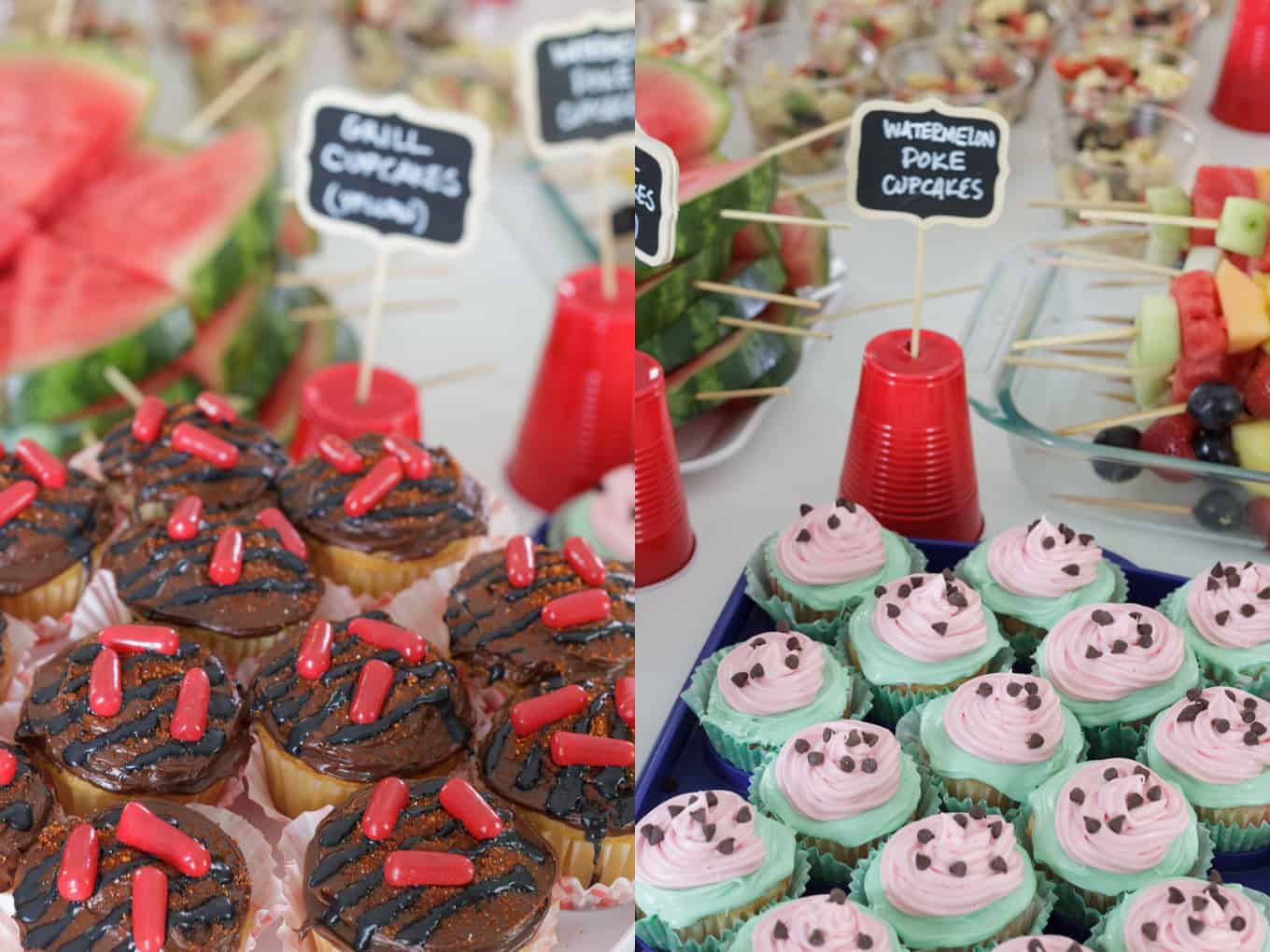 Beverages – We served two types of flavored water, iced tea, one alcoholic option, and a few water bottles as well. I used large water decanters for the flavored water. One was strawberry cucumber basil (my favorite!) and the other lemon orange mint. The most popular beverage at the party was this Moscato Strawberry Lemonade. It's positively delicious and refreshing!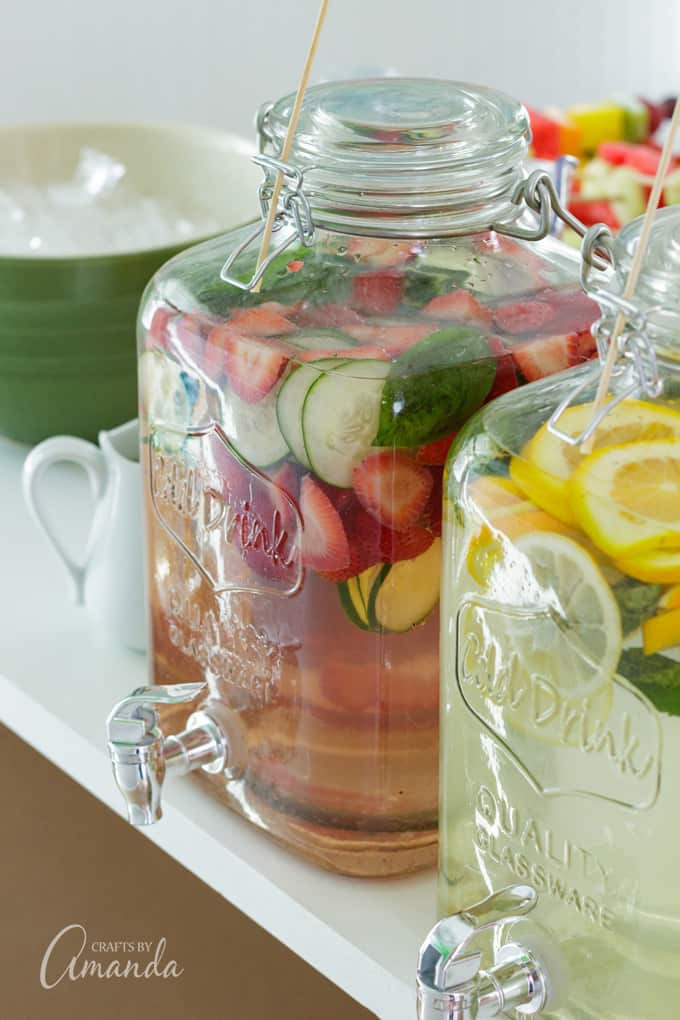 After the Bridal Shower
Don't get stuck cleaning everything up yourself! It's likely that people will offer to help, do not turn them away! Hosting a party at your house is a big job, so always graciously accept help when it is offered. I hope you enjoyed our barbecue bridal shower, I know we did!
This post originally appeared here on Sep 4, 2018.
Latest posts by Amanda Formaro
(see all)