If you are hosting a barbecue bridal shower, you'll definitely want to make up some s'mores favors and attach our free printable "Take Home S'more Love" tags! You can add the bride and groom's names as well as their wedding date in any photo editing software.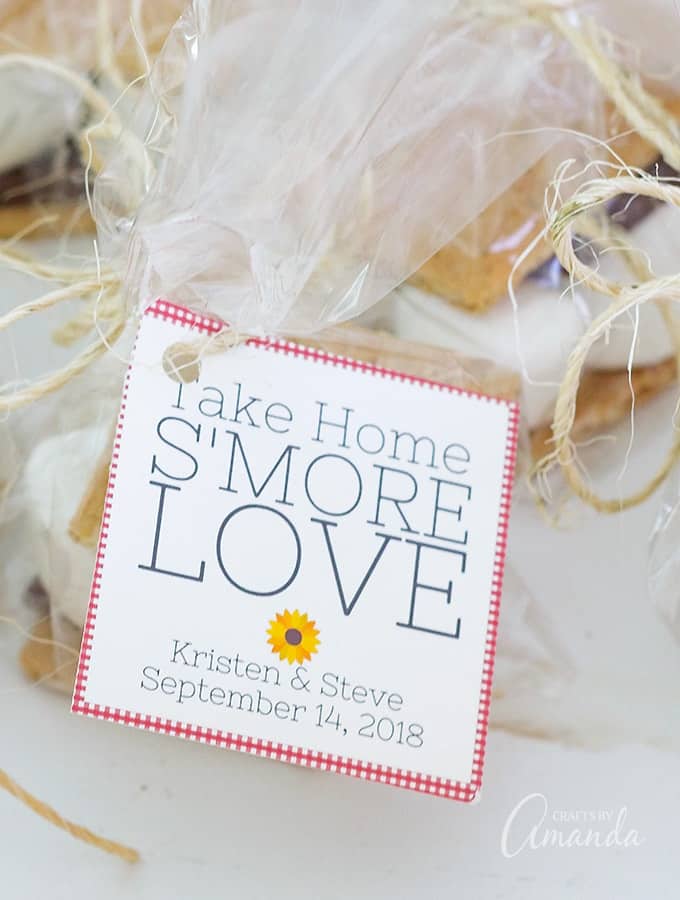 In August I hosted a barbecue bridal shower at my house with an I Do BBQ type theme. My daughter is getting married in September and it was so much fun putting everything together! In fact I'll be posting about all the different food we made on my food blog later. I'll have more details for you over the next couple of weeks, just in case you ever want to host an I Do BBQ!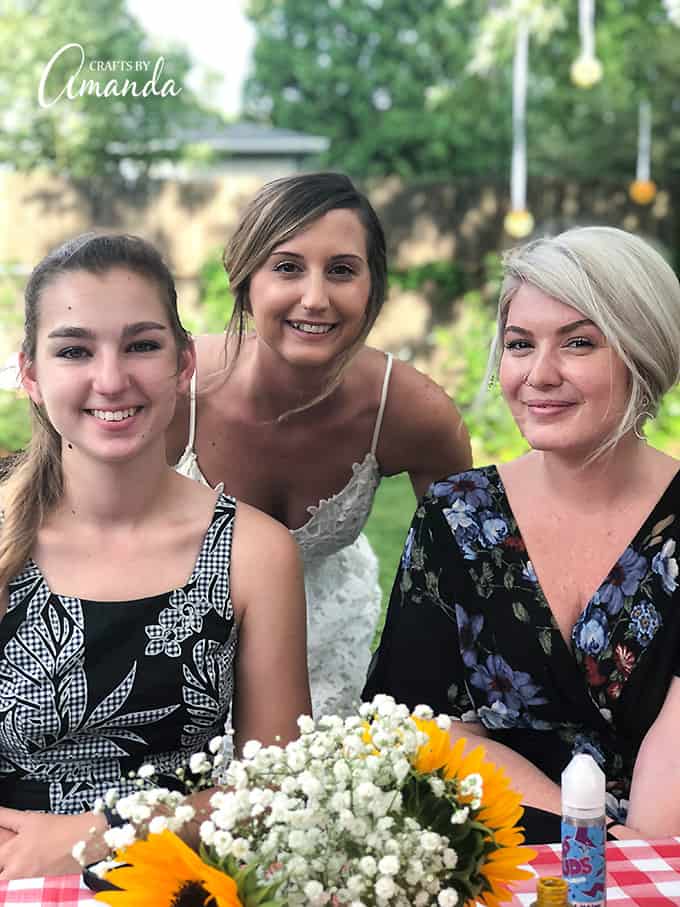 The photo above is of my daughter Kristen (center), my son Dominic's girlfriend, Lindsay (left), and my other son TJ's girlfriend, Taylor (right). These girls are the light of my life.
PREFER TO BUY? There are several Take Home S'more Love tags on Etsy that you can buy and download.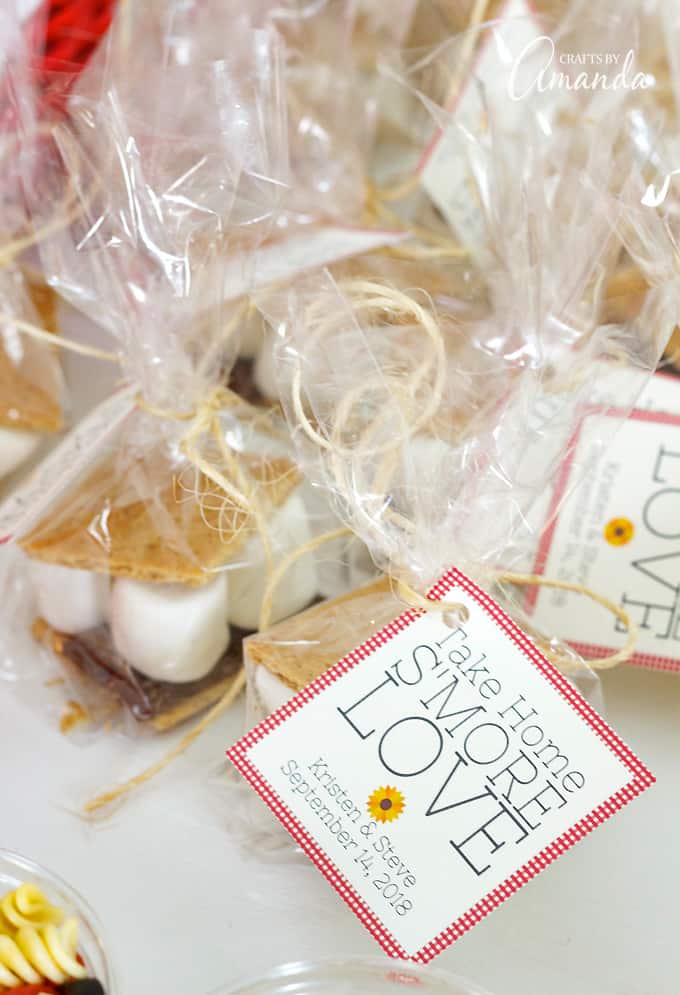 Printable Take Home S'more Love Tags
I have a wonderful contributor on this blog that does printables for me, Jessica Hill. She was kind enough to honor my last minute request and create these adorable tags. The bridal shower theme was a backyard barbecue with sunflowers.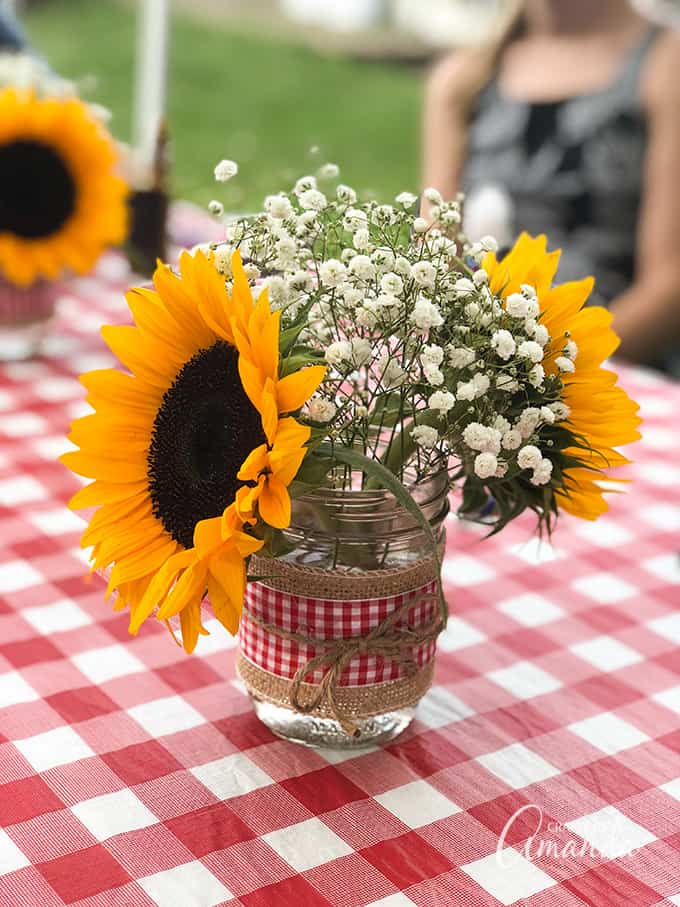 You probably remember the sunflower centerpieces I posted a little while ago. For the tags, Jessica used a red gingham border for that picnic/barbecue look and added a pretty sunflower just above their names.
You can download this free tag and then take it into any photo editing software and add your bride and groom's names as well as their wedding date. The font is called Nixie One.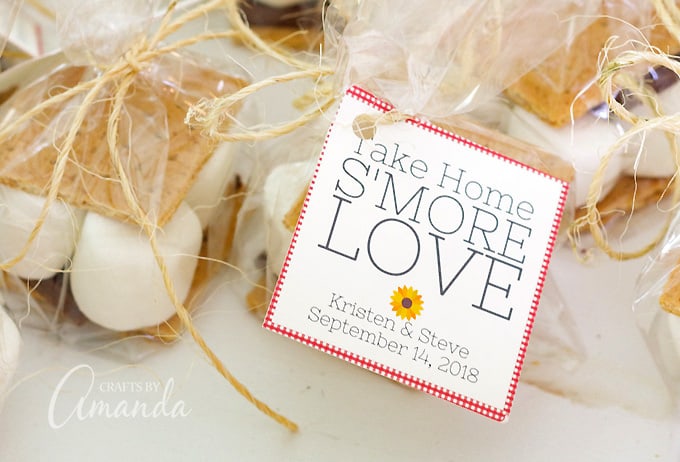 How to make the S'mores favor bags
We wanted something cute as well as delicious to send home with bridal shower guests. A bag filled with the ingredients to make your own s'mores were just the thing!
For each bag you will need:
Printable tag (to add names open in photo editing software, the font we used was Nixie One)
4 regular sized marshmallows
Half of a Hershey bar (6 rectangles)
2 squares of graham crackers (one sheet)
Assembling the favor bags:
Place one square of graham cracker in the bottom of the bag.
Place chocolate on that square and top with 4 marshmallows.
Place second graham cracker square on top.
Punch a hole in the top of the tag.
Run the twine through the hole.
Tie the bag closed with twine.
Bridal Shower Games
We had several fun games at the bridal shower as well. Here are the invitations and games I purchased from Etsy for the shower as well as things I made myself. I loved them all!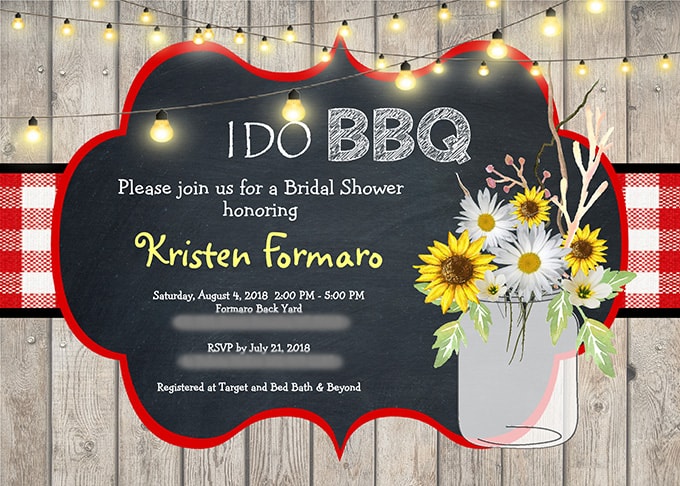 I Do BBQ Invitation – UPDATE – it's a year later and the design above is no longer in her shop. Here are some alternatives. The turn around time was quick and I was sent a proof copy with all of the party information on it to approve. Once I approved it the shop turned it around quickly. I printed them on 5×7 photo paper and bought some envelopes from Hallmark. They looked wonderful!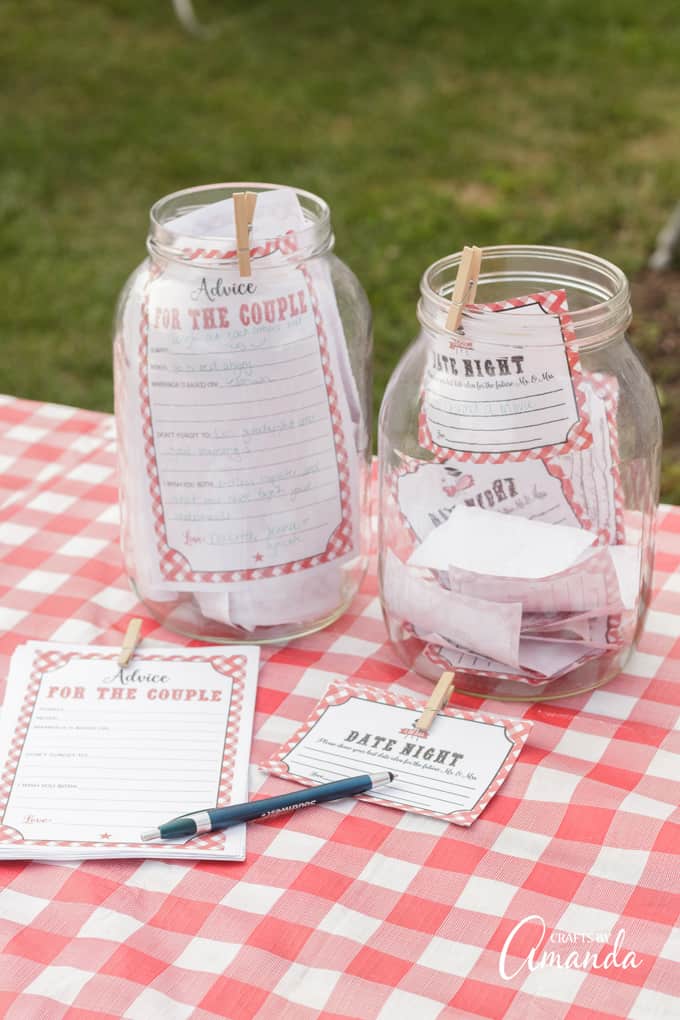 Date Night Jar – The maid of honor found this fun barbecue-themed date night jar idea. We placed a large jar on a table with these cards and pens. Guests wrote date night ideas on the cards and dropped them into the jar. My daughter said it was a lot of fun reading them after the shower!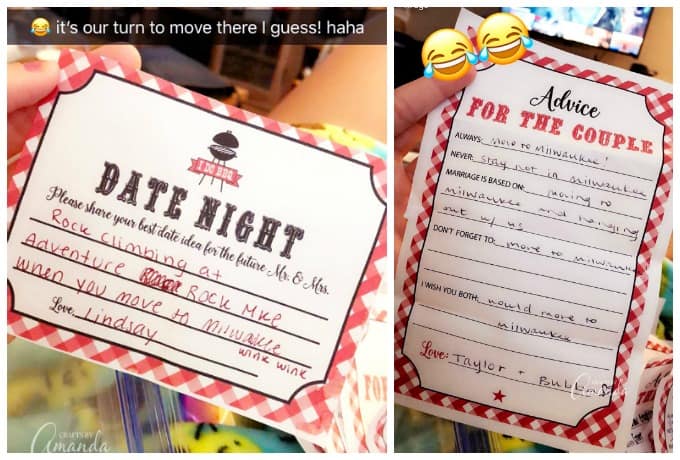 Advice for the Couple – Another fun fill-in-the-blank printable, guests filled out marriage advice for the new couple and dropped them into another jar.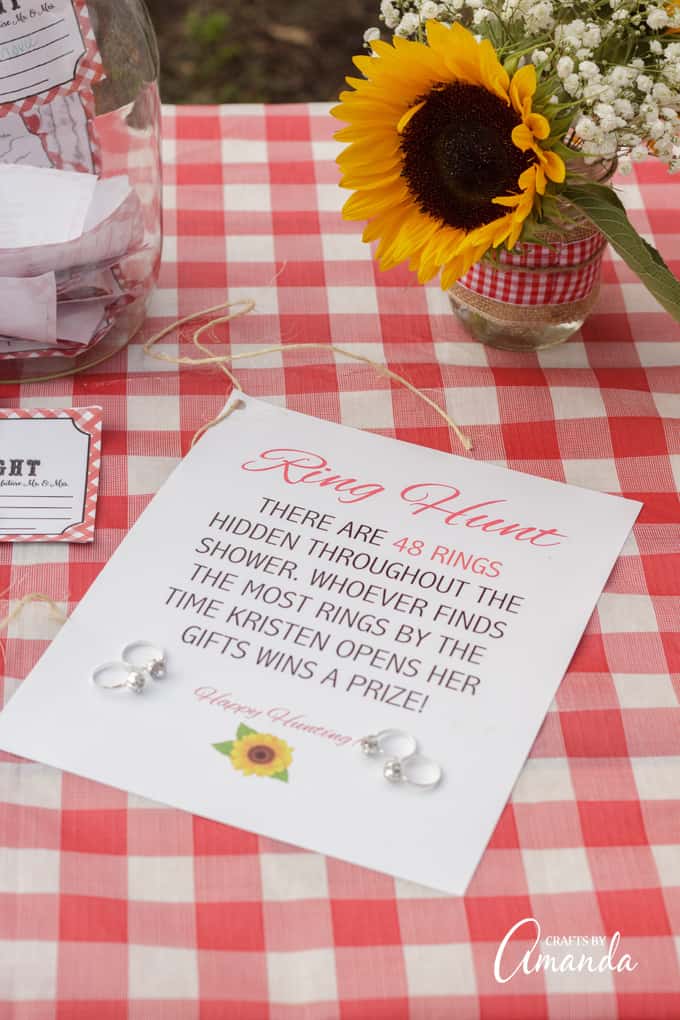 Ring Hunt – We actually created our own in Word, but you can find lots of ring hunt game printables on Etsy! We bought little plastic engagement rings and hid them around the party area.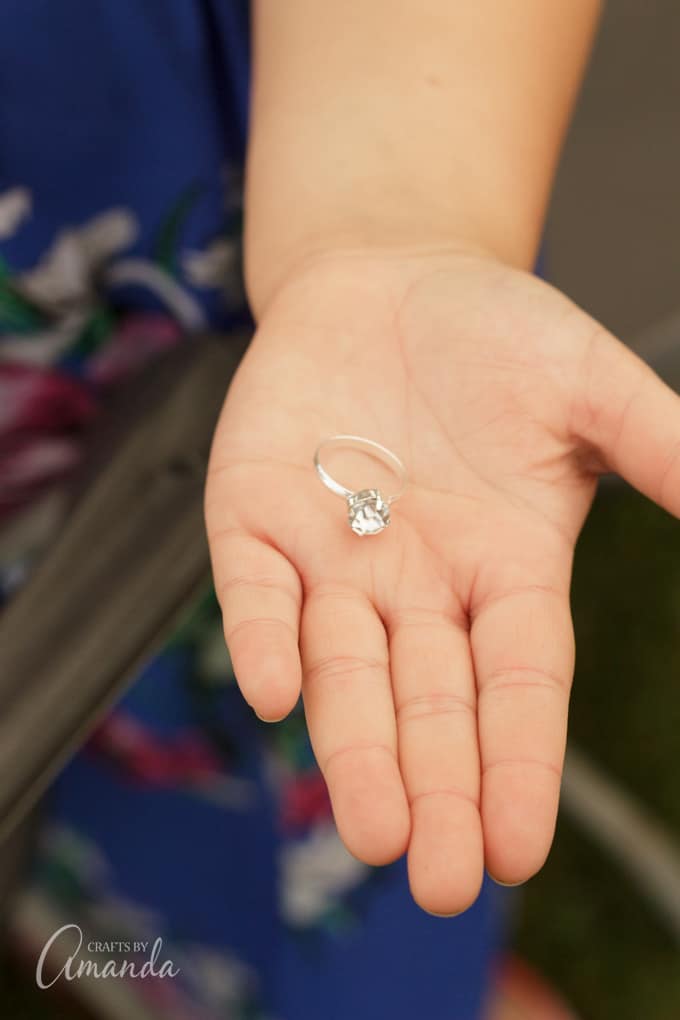 The person who found the most won this fun S'mores prize!
Guess the Weight of the Rice – We bought two bags of rice, weighed it out on a kitchen scale (we didn't use the full bags so it wasn't easy to guess) and people had to write their guess in ounces.

Toilet Paper Wedding Dress – This game was so fun! We had teams of two and three. One person was the "bride" and the other person/people had to wrap her in toilet paper to create a wedding dress. I'll have more pictures and fun soon!
---
---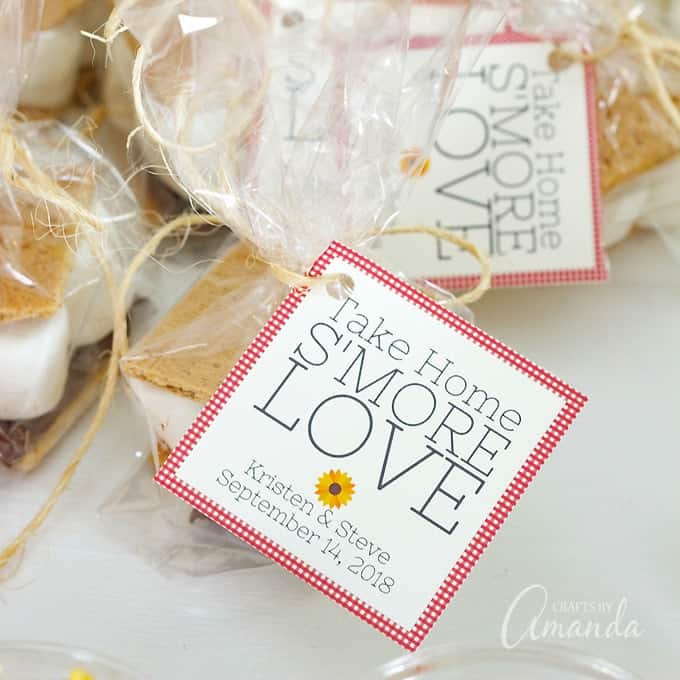 Don't forget, if you prefer to buy, there are several Take Home S'more Love tags on Etsy that you can buy and download.
Latest posts by Amanda Formaro
(see all)