This birds on a branch silhouette painting is a beautifully simple painting that looks great just about everywhere. Try your hand at making this fun home decor project today!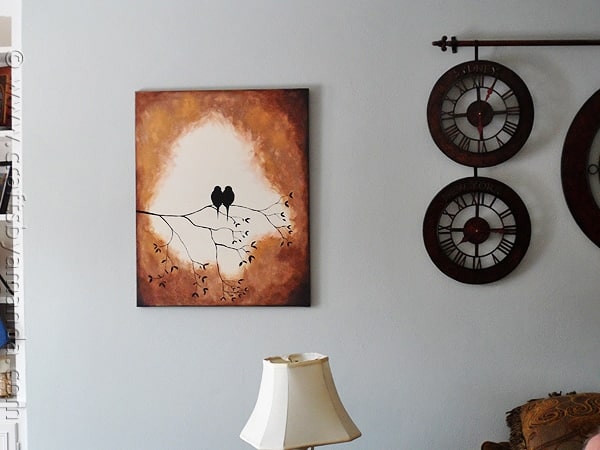 Birds On A Branch Silhouette Painting
I made this birds on a branch silhouette painting for my daughter for Christmas. She recently moved into her first apartment and I wanted to give her a special gift. It had to be a surprise, though. I didn't want her to know what it was. Let's face it, when kids become young adults, Christmas presents aren't really much of a surprise anymore, but I really wanted this one to be. Besides, her favorite holiday is Christmas and she has always loved the secret, magical element of it. So how could I disappoint her?
Looking for an easier painting for beginners? This Modern Circle Tree Painting is easy enough for just about anyone to tackle. Pick your favorite colors or the colors that match your decor and you have a simple and pretty piece for your home!
There are affiliate links in this post. That means if you buy something from that link, I will earn a small commission, but it won't cost you anything additional.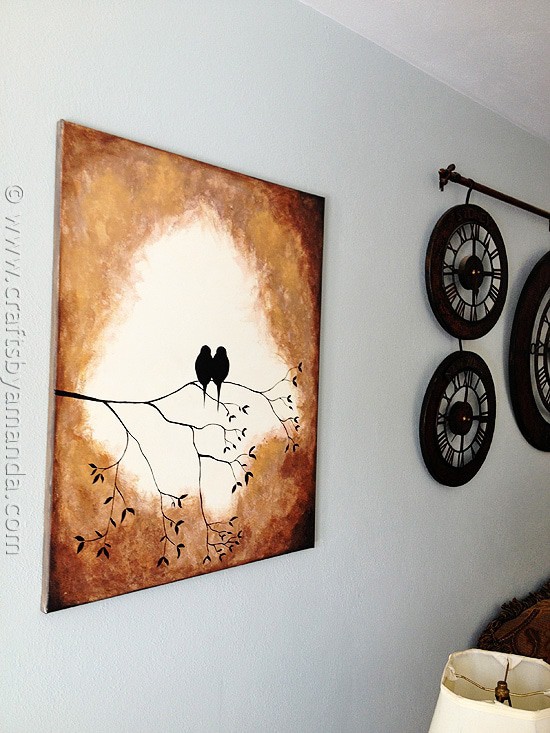 I started snooping around on her Pinterest boards to see if there was anything I could draw inspiration from. Boy was I in luck! I came across this photo…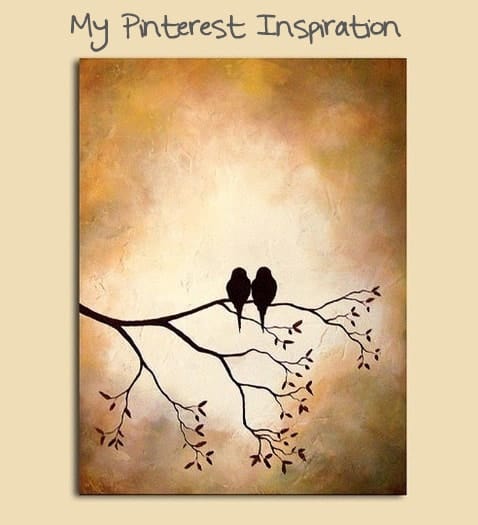 However, the link for the silhouette painting from Pinterest was a dead one, it went to a blog that had been closed down. I did some searching but couldn't find the source of this lovely painting.
Now here's a funny story. I finished the painting a few days before Christmas, but because my daughter is a Facebook fan of Crafts by Amanda, I couldn't share my results there for fear of her seeing it. So instead I shared the photo with a group of craft blogger friends. My friend Colleen from Just Paint It replied saying she was almost finished with a very similar painting using the same inspiration! How's that for a coincidence?
Anyway, my daughter absolutely loved it and has it hanging in her room. I have to say I'm really happy with how it turned out and almost wish I had made two simultaneously so I could have one too!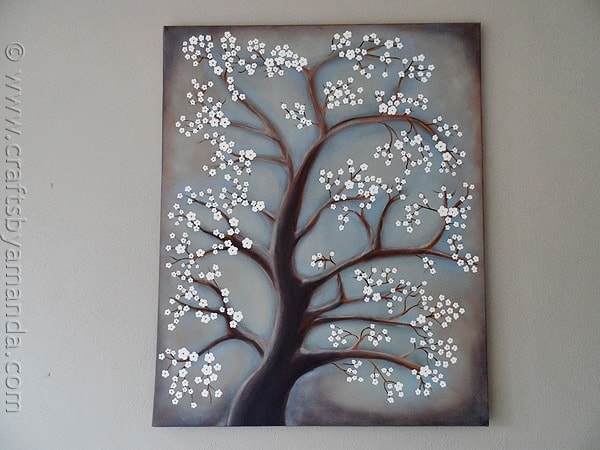 Here's the painting I made for her when she moved into her new place. This one is hanging in her living room. White Cherry Blossom Tree Painting.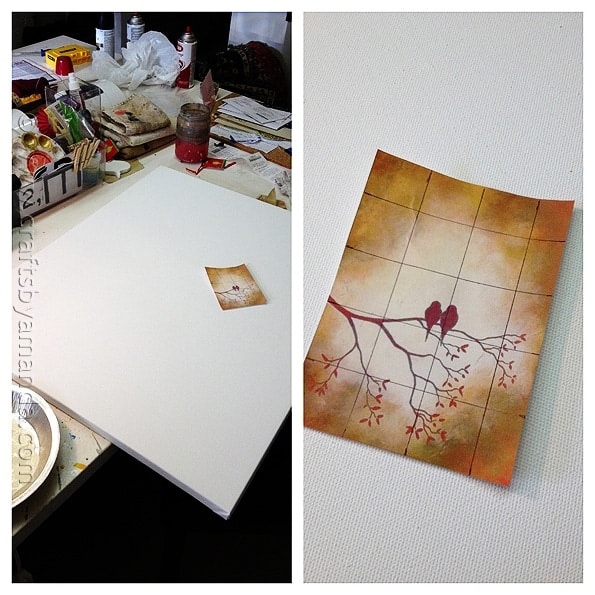 I started out by grabbing a screenshot of the Pinterest inspiration and printed it off and used that as my template. I scored some lines on the picture to give me a better feel of placement on the canvas since I would need to draw freehand.
I used Americana acrylic paints for this silhouette painting. Here are the colors that I used: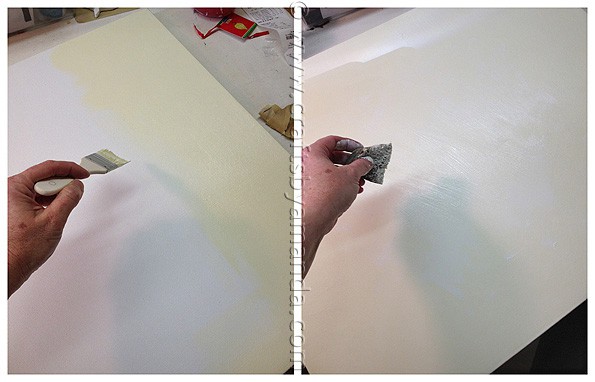 I started by painting the canvas with Light Buttermilk then softening the center with Warm White. I wanted it to have a little texture in the middle so I used a household sponge, applied the paint a little heavy, and dragged the sponge through in a criss cross type pattern.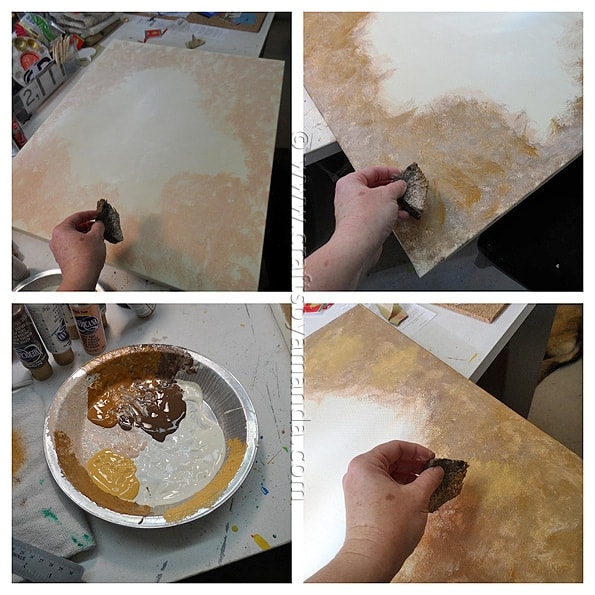 I used the sponge for the entire background starting with Flesh Tone. Just dabbed it here and there, really random but following the frame of the inspiration photo. Next I used Traditional Raw Sienna, dragging and blending with the sponge, just until I liked how it looked. For the highlights, mostly at the top with some at the bottom, I used Butterscotch. As you can see from the paint in the pie tin I was not concerned about my colors touching each other, in fact it's good to have them mix a little. It adds to the flow and dimension of your painting.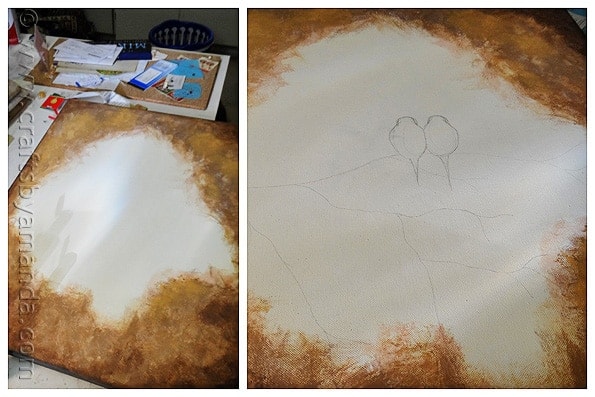 I darkened the corner and edges with Dark Chocolate and finished off the edge shading with Black. Once the paint was dry I sketched on the main outline of the branches and the birds.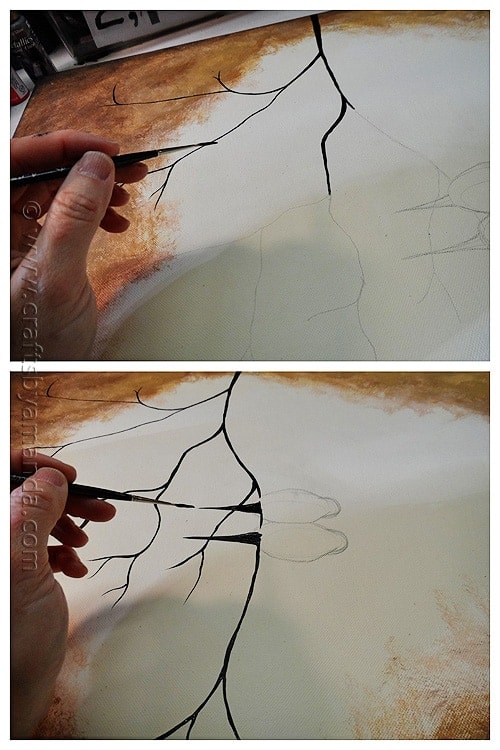 The rest is really easy. It's just black, so use a long liner brush to add all the branches and the outline of the birds. Fill in the birds with a flat brush. Use the liner to add smaller branches and simple leaves.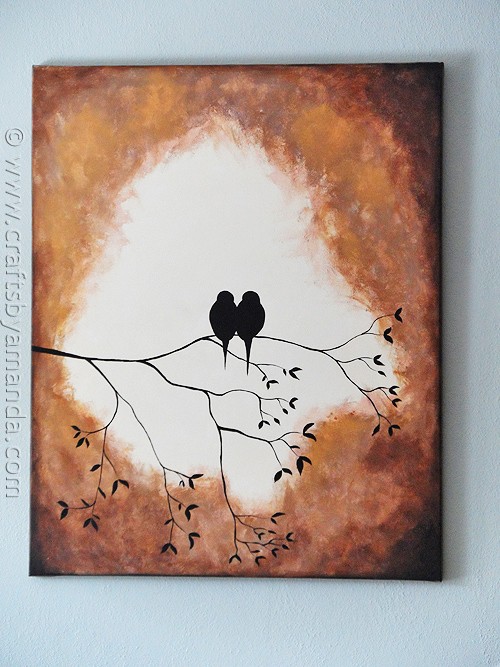 That really is it! I hope you like this beautiful silhouette painting, I had a blast making it and surprising my daughter with it. You can find more adult crafts like this Dandelion Painting I did for inside my studio, might I add, it's one of my favorites!
Latest posts by Amanda Formaro
(see all)