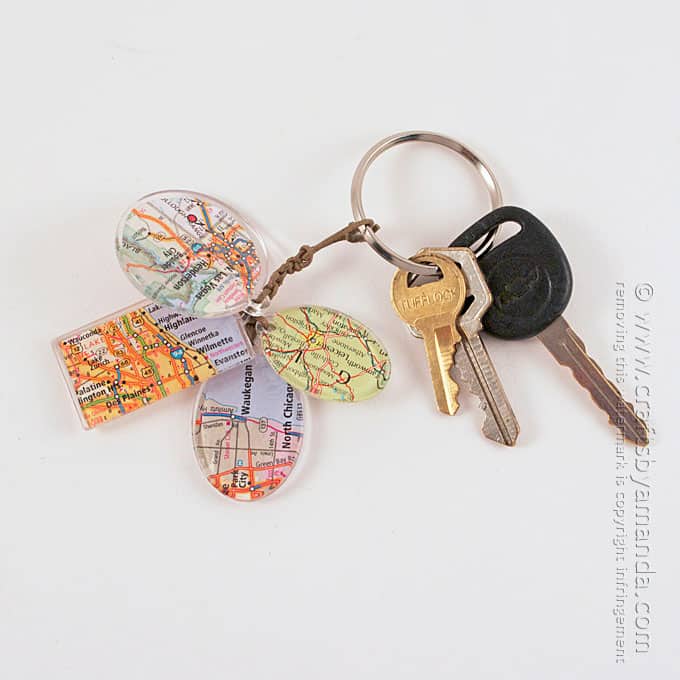 I often have a hard time coming up with Father's Day and birthday gift ideas for my husband. He's a mechanic, so many of the traditional cards and gifts out there won't work for him as they are geared around the office or wearing a tie. In fact, that's why I made this Blue Collar Uniform Shirt Card several years ago, because the Internet was seriously lacking in the blue collar sector. Not all dads wear ties to work. :)
Yesterday while making projects in my craft room I was trying to come up with ideas when it suddenly hit me. I have lots of maps and road atlases sitting around, so I decided that I would create some charms that represented where everyone in our immediate family was born. My husband was born in Waukegan, Illinois and I was born in Leicester, England. Two of our children were born in Highland Park, Illinois, while the other two were born in Henderson, Nevada during our years there. So I found those cities on the maps that I had and created this fun and unique keychain that is specific to him, to us. I'm saving it until Father's Day, but this would also make a great Christmas gift, wedding gift or anniversary gift.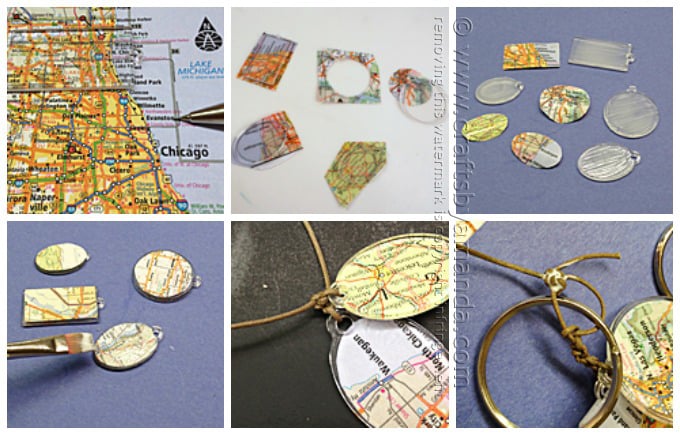 If you preferred, instead of birthplaces, you could use places you have traveled to or where you met and got married. There are lots of possibilities! I used Mod Podge Acrylic Shapes
, which I love for keychains and magnets!
Another great project, especially for the car lover in your life, is this Mod Podge Photo Collage Clipboard.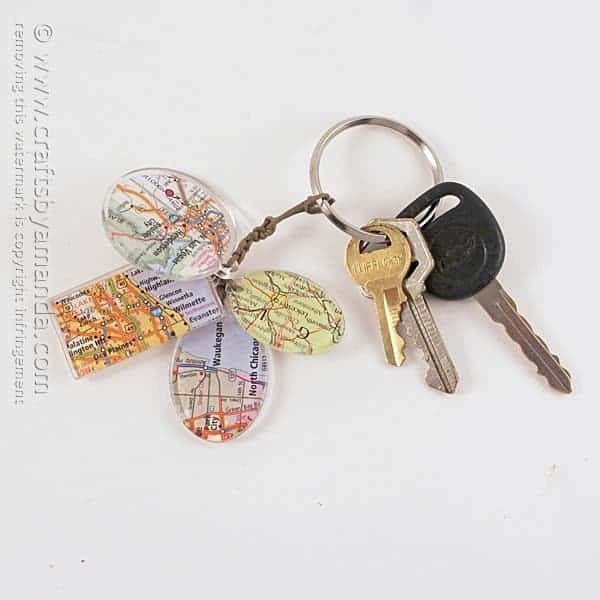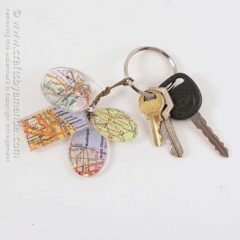 Print Project
Birthplace Map Keychain Charms
Supplies
Road Atlas or road maps

Mod Podge podgeable acrylic shapes

the ones with the built in hanger hole

Cording

Large round keyring

Tools: scissors

white craft glue, Mod Podge decoupage, paintbrush
Instructions
Go through your maps and find the birth city of each member of your family. Place a podgeable shape over the city and position it where you want it then trace around it onto the map.

Cut out the map shapes, cutting the shape a little smaller than your tracing line.

Paint a moderate layer of Mod Podge onto the back of each podgeable shape and to the FRONT of each map piece.

Press the back of the podgeable shape onto the front of the map piece. You will have a short window of time where you can move the piece around to position it. Don't wait too long or it will start to dry! Get it in place then press to make sure it's flat. Next paint a layer of Mod Podge onto the back of the map to seal it. Allow the shapes to dry.

Measure a piece of cord to about 18-inches long. Run the cord through the hole at the top of the shape and tie the cord in a knot. Add another shape and tie again. Continue until all maps are added. Tie two more knots at the end.

Run one end of the cord through the keyring. Tie the cord loosely once, then tie in a second knot, and leaving a loop so that the keyring can move freely, tighten those two knots together. Secure the knot with some white craft glue and leave it to dry. Snip off the excess cord with scissors.
I originally made this project for Spoonful. Spoonful has since closed and the instructions were taken down. I am putting the instructions here until such time that Spoonful projects are redirected to a new home. At that time I will remove the instructions and link directly to the project on their site.
Latest posts by Amanda Formaro
(see all)